This is a cruise log we dug up from our very first cruise in 1995. It isn't nearly as detailed as the blogs we post these days and, frankly, it was so full of gossip about our family members that it took extensive editing to make it safe for public viewing! We tried to leave in enough of that sort of stuff to give our readers the gist of what went on without alienating anyone we have to see on a regular basis. Rest assured we did learn our lesson and we now travel alone!
Menus from this 1993 cruise are included with links in the text to scans of the actual menus, which should prove informative for those of you who are into that kind of thing as much as we are.
Dave was recruited by his mother to plan a cruise for our close family. In addition to Dave's mother, Mánya, this trip included Dave's cousins Nancy and Karen, plus Karen's husband Len, and, of course, Dave and Bill. In spite of the fact that we had never been on a cruise before, the responsibility for planning and booking the trip fell onto Dave's shoulders. That was fine with him because that way we chose the cruise line, ship, and itinerary to suit ourselves. Nobody else seemed to care one way or the other where we went or on what ship. The only reason we chose the Noordam was because we had driven some friends to the ship the year it was introduced (1985, we believe). In those days non-passengers were allowed to board as guests without prior arrangements, so we had at least seen the ship before.
Although a relative non-issue, this cruise was an Auto Club of Southern California charter. The only effect it had on the cruise itself was that the AAA logo was printed on almost everything and there were gifts given to us throughout the cruise. There were also AAA representatives on board to assist us, but we didn't require any assistance at the time. However, we are still in contact with some of the people we met from AAA to this day and we still book all of our cruises through them.
So, let's get started with this abbreviated "blog". Remember these were the days before ship-to-shore internet access, so everything you see here is taken from our written diaries and recollections.
Thursday, September 16 - Travel from Los Angeles to Vancouver - Embark Noordam
<![if !vml]>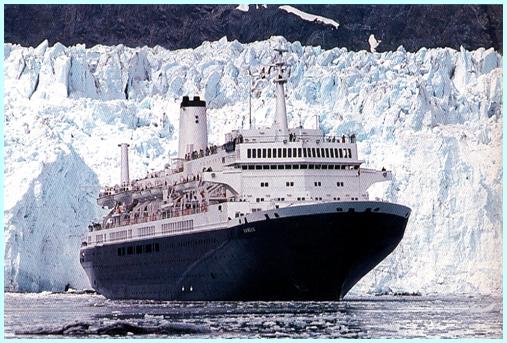 <![endif]>
ms Noordam
"You need a bigger van!", "My foot's asleep already", "That's not all going to fit!", "Nancy's suitcase is going to cut off my head!", just a few of the exclamations during the van transfer to the airport and just the beginning of what was to come. We have become accustomed to tuning out this kind of thing, but in a packed van it was a chore to keep our mouth shut. We might complain in our blogs, but we would never blurt out complaints in public.
On the plane, Nancy, Mánya and Karen didn't want to sit in row 13. Mánya whined about having to sit in the center seat. The three men sat in their own row where we thought we could have a sane conversation, which we did until the women started turning around trying to steer the subject to something they cared about. Why were they listening to us anyway? Ugh, women. Other than that, the flight was nice enough.
Upon arrival in Seattle, Nancy whined about having to drag her own luggage to the curb, literally no more than 30 feet away. While waiting at the curb for the bus we almost called a friend of ours to come and get us because Nancy and Mánya kept demanding to know where our bus was...every five minutes, no kidding. Like it mattered? What's the rush? It wasn't as though we stood there for five hours, it was no more than half an hour, if that. We moved our stuff to the back by the terminal to get out of earshot after being asked for the fifth time when the bus would come.
The bus ride from the Seattle airport to the Vancouver pier was about four hours. It was boring and a bit of a drag, but not unpleasant. They handed out box lunches to the passengers as we boarded the bus. Of course, everyone (except us) immediately polished them off, so people were pretty hungry hours later. The rush for snacks at the half-way point rest stop was comical to watch. The bus driver never stopped talking and supposedly "forgot" to stop and pick up a load of people at the Sheraton in downtown Seattle.
Embarkation was nothing remarkable and there were no problems. Once on board, we went directly to the Bon Voyage AAA cocktail party on deck, which was extremely crowded. This cruise is an Auto Club of Southern California charter, by the way.
Click for the "Day at a Glance" schedule.
All of us are booked into category B suites adjacent to one another on an upper deck. Our cabin vibrates so badly that it is impossible to sit in the chairs and read or write. The beds are on the outside wall and they seem to be a bit more stable.
We went downstairs and made our shore excursion reservations. Karen and Len are doing their own thing. Mánya and Nancy booked whatever we suggested, except Nancy skipped the raft trip because she doesn't like water (What does she like???) We booked the Misty Fjords Flight-Seeing in Ketchikan, Mendenhall River Rafting, the Ice Fields Flight in Juneau, and the Historical Tour and Raptor Center Visit in Sitka.
Click to view the Bon Voyage Dinner menu. The service in the dining room was poor tonight, but our food was very good (we both had pepper steak.) Mánya said her halibut was the worst she had ever had. Nancy had the fruit cup, a plain baked potato, sautéed vegetables with coconut milk, and fruit for dessert. Apparently she is on a no-fat kick or some other fad diet of the moment. She claimed there was still too much fat in the meal! She claims she eats no fat, but doesn't count calories. Yeah, that's a logical way to diet...not. Karen's dessert didn't arrive until the rest of us were finished with ours.
AAA gave us each Bushnell binoculars and an Inside Passage Tour Guide (maps, etc.).
Friday, September 17 - Cruising the Inside Passage
Protected from the open sea by forested isles, sheltered from the windy mainland by the tallest coastal mountains in the world, this 1,000-mile waterway seems custom-made by nature for a cruise. The deep, calm waters of the passage meander between dense pine forests where wild game abounds, with occasional rustic towns along the way.
Click for the "Day at a Glance" schedule. The temperature today is in the low 60's. Our breakfast in the Lido Restaurant was just OK. Holland America sort of invented the concept of the lavish Lido buffet, but it seems like an afterthought on this ship because the room is too small for the ship's capacity crowd. However, it is possible to get cooked-to-order eggs and such from the buffet. We found out later that there is a special cooked breakfast item each day, such as waffles or Eggs Benedict.
Nancy and Mánya were playing bingo and not paying the slightest attention to the stunning scenery outside the window. We gazed in awe at the view, then took a kitchen "tour" that lasted all of five minutes. It was a total waste of time.
After the kitchen tour we went to a slide show about Alaska wildlife, etc. that was very boring. Then we watched ice sculpturing demonstrated by the pool, which was more interesting than we expected after the first two activities today. Later this afternoon we listened to a lecture about Ketchikan that was adequately informative.
We met up with everyone for cocktails and watched Nancy eat the cherries out of everyone's cocktails. The bar service was not very attentive. Very slow and disorganized. Mánya and Nancy are playing Bingo again because they might win $4,000 if all of their numbers are filled in. Even as neophytes to cruising we can figure out that the big prizes are not awarded until the last day, but that logic doesn't seem to occur to anyone else since the lounge was packed. The girls insisted that they were going to attend the Karaoke bar tonight, but they never did.
We have the shower from Hell! The temperature changes minute to minute. Hot, cold, warm, freezing, and every combination in between.
The sea was quite rough all day and night, but the Transderm patch worked, so we haven't had any problems in that regard.
Before dinner we attended the Captain's Cocktail Party. There was free champagne and a few hot snacks available during the party. The dress code tonight is formal.
Click to view the Captain's Welcome Dinner menu. The meal overall was very good. Some had the shrimp appetizer, Dave had the Chinese Egg Roll. All were quite good. For the entree Karen had Cornish Game Hen, Nancy had a vegetable casserole with a pastry top, the rest of us had prime rib. Service improved somewhat over yesterday.
The Maitre d' Hotel stopped by to ask if we want to keep the same table for the Coastal Cruise. We do because it's right by the windows – a good spot!
The evening entertainment was a short routine by the Noordam Dancers then a "fake" Russian guy played a Balalaika. He was good, but went on too long. If he was really Russian we'd be shocked.
AAA gave everyone rain ponchos. Holland America provided canvas tote bags.
Saturday, September 18 - Ketchikan, Alaska
Ketchikan, one of Alaska's most Southeastern cities, is the first stop for many cruises on their way to more Northern climes. A stay in Ketchikan itself can be rewarding, however, as the city is the gateway to Misty Fjords National Monument, an area so beautiful, it is known as "The Yosemite of the North." With steep valleys formed by glaciers and lava flows left by volcanic activity, Misty Fjords offers gorgeous views of natural formations, all reflected in the calm waters of Pacific inlets.
Click for the "Day at a Glance" schedule. Today's temperature is in the low 50's. Our first stop was breakfast in the dining room (French toast), then off for a short bus ride to the float plane dock. The women kept harping on the shore excursion person from the ship because the bus wasn't there yet. Every time a bus went by they'd ask if it was ours, which became really annoying after the tenth time (we are not exaggerating!!) This is basically the same routine they had at the curb at the airport in Seattle.
Our flightseeing tour took us over the "Misty Fjords" area, then landed in a remote fjord where we were encouraged to step out onto the pontoon to take pictures. A gentle drizzle was falling and the solitude was amazing. The scenery was awe inspiring, but trying to balance on the narrow pontoon was a bit scary. Nancy just stayed in her seat, looked annoyed and checked her watch while complaining about the headsets we all wore to muffle the engine noise and hear the narration. Mánya and Nancy couldn't wait to get off that plane and back into town to shop for Lladro figurines.
Back in town, we bought a silver necklace as a birthday present for Mánya's upcoming day, some smoked salmon for our friend Dick, an oil lamp made from Mt. St. Helens ash, and a couple of T-shirts for ourselves.
We pretty much avoided everyone all day, which made for a relaxing afternoon for us, and probably for them, as well. Lunch in the Lido was OK, then we attended a port lecture about Juneau. No other members of our group were there and most of them never glance at the daily newsletter, so they have no idea what is coming up in the next few days.
We sat in a lounge for a while watching the scenery and listening to a couple of old women ordering their husbands around. It was almost impossible to get a drink the service was so poor.
We napped until 7:00 PM then went down to dinner.
Click to view the International Dinner menu. Dave had the "California" Chicken Breast stuffed with cheese, herbs and salami. It sounded weird, but it was actually pretty good. Others had rack of lamb, steak, and pork loin, all of which were excellent. The breads and pastries have been very good all along. The butter is wonderful.
The "flambé" steward asked, in advance, if he could make Bananas Foster for us, which we accepted. He didn't force it on us, which was nice. Nobody had a clue what he was talking about except for Dave who was actually paying attention. The dessert was very good. The ice cream was the best we've ever tasted!
After dinner we watched the Noordam Players do a show called "That's Entertainment". They aren't too bad, but we hope they don't take this job too seriously!
The sea became very rough during the show, much worse than yesterday. We had to hold onto the handrails to walk along the corridors.
Mánya and Nancy must have asked us twenty times when we are supposed to meet the float plane tomorrow! Giving them the answer never stopped them from asking again though and we're sure they will start asking again the moment we see them tomorrow. Nancy and Mánya never read the daily newsletter, so they never have a clue when or where any of the activities are taking place.
The gift from AAA today is a panoramic camera and a roll of film.
One of the wall sconces in our cabin went crazy and started flashing. Hopefully the steward will have it fixed soon! The shower from Hell was still at it with the added attraction of gurgling and occasionally spitting water up from the drain.
Sunday, September 19 - Juneau, Alaska
Because of its ideal location between the base of Mount Juneau and the Gastineau Channel, the Southeastern Alaskan city of Juneau has been the home of Native American fisherman, European fur traders, and American gold prospectors. Now a free-spirited state capital, Juneau is the perfect base for a journey into the gorgeous Alaskan wilderness, whether it's for fishing, kayaking, and dog sledding in the National Parks, whale-watching at Icy Strait, or glacier hiking at the Juneau Icefield.
The temperature today is in the 40's - 50's. We had breakfast in the Lido Restaurant, as usual.
Mánya and Nancy went out early and toured around town with one of Mánya's friend's daughter, so we didn't see them this morning. We assume they asked someone else what time the tour leaves since they did manage to show up for it.
We took the flightseeing tour over the Juneau ice fields at 10:00 AM. The pilot was friendly. He would bank and dive fast to spot wildlife, most of which were mountain goats perched precariously on the peaks below. The glaciers were incredible! Dave, Mánya and Nancy got airsick from the turns, but it was worth it. Nancy complained loudly about breaking a nail getting into the plane as though that was anyone's fault but her own.
"Lunch" consisted of an ice cream sundae in the Lido Restaurant. After lunch we went rafting on the Mendenhall River starting at the lake below the glacier. Nancy skipped this one (thank God). We all looked ridiculous in the layers of ponchos, coats, hats, rubber boots and life jackets. The view of the glacier from the lake is breathtaking. The guide was fun, telling jokes, etc. We had a raft to ourselves, so it was a lot of fun.
We became stuck on a rock in the rapids for a few minutes, but we managed to get free while all the other raft loads watched. Everyone got soaked during the rapids and it was COLD. Mánya found it necessary to constantly point out to the guide that the boat was leaking. It was, but through a tiny pinhole. Every few minutes she would tell him the water was another inch higher (it wasn't). We saw a couple of eagles by the river's edge. Mánya asked if they were real.
It rained a bit, but so far this was the best part of the whole trip, very fun! All of the rafts stopped in the middle of the trip for snacks and a drink called Martha's Mendenhall Madness (cider, brandy and two other liquors.) Dave dumped his when the guide wasn't looking. The snack consisted of cheese, crackers and reindeer sausage that tasted like salami to us.
The raft trip was great because it was just the five of us, plus the guide. The other rafts had ten in them. The ride was a bit too long though. It should have ended at the snack break.
The bus driver for the return to town, a woman, was very nice, as were the raft guys. Every "Alaskan" we've encountered has been extremely pleasant. So far they all appear to be transplants.
Click to view the Klondike Dinner menu. Tonight dress code is casual. Dave had a "light entree", Chicken Waldorf, very tasty, a boring salad and a lasagna appetizer that was great. Nancy had the same entree, fruit cup, consommé and lemon sherbet. She didn't throw it on the floor or anything, so we assume it was acceptable.
The entertainment tonight was a couple doing Spanish dances, briefly, thank God, and a very amusing comedian who made fun of the ship. After the "professional" show there was a traditional Filipino Crew Show that was much better than we expected it would be. But, as usual, it just went on way too long.
We went out on deck to watch the ship sail out of Juneau. The city is even smaller (it seems) than Ketchikan. It only took us an hour to walk through the entire town. We bought a bronze sculpture of a seal at Cha's Gallery that was shipped home for us.
Monday, September 20 - Cruising Glacier Bay
This stunning amphitheater of glaciers and granite peaks is best viewed from the sea. The ice in Glacier Bay fell as snow centuries ago on the mountains that ring the bay. Compressed by its own tremendous weight, it flows seaward, producing some of the fastest-moving glaciers known. In the summer, rare humpback whales come here to feed-with luck, you'll see one of these gentle giants.
Click for the "Day at a Glance" schedule. Today the temperature is in the 40's to 50's. We arose at 9:00 AM and went right out on deck for glacier viewing. The ship was very close to two glaciers and we were fortunate to witness them "calving" icebergs. The thunderous sound and cracking is impossible to describe. You just had to be there. Spectacular!
Nancy slept in and missed the best part. She sauntered out later and complained that it, "Just looks like a bunch of snow. What's the big deal?" We saw hundreds of seals lounging on the floating ice.
We had some exceptional split pea soup in the Lido and then went back out on deck. It was freezing, but worth every minute of it! We stayed on deck until 1:00 PM then had lunch in the dining room. Dave had Pasta Primavera that was very good. The raspberry cake was very tasty also. All of the baked goods and desserts have been fantastic. Even the cakes were good!
It was extremely windy this evening. We watched the deck-walkers blowing around the corner at the bow, then went for tea and pastries accompanied by a string quartet playing show tunes in the Explorer's Lounge. The pastries were the best we have ever tasted.
Later we had ice cream sundaes in the Lido. The ice cream was fantastic. We bought some sweatshirts, T-shirts and a book about the Inside Passage in one of the ship's shops.
It was very rough sailing tonight. We found Mánya sitting on the stairs, she didn't make it down to dinner. Len turned green and left the table before the food arrived. Dave concentrated on not getting sick and just had soup, salad and dessert. Nancy and Karen were queasy, also. Bill felt fine and had duck for dinner.
Click to view the Dutch Dinner menu. Obviously it was a Dutch theme with little white Dutch-Girl hats for the women and black caps for the men, but obviously we didn't wear them! 90% of the passengers did wear the hats. Many of them continued to walk around the ship wearing the hats after dinner, too. Geez!! We figure they give out the hats just to amuse the staff.
We went to bed after strolling around the deck for a few minutes.
Tuesday, September 21 - Sitka, Alaska
The city of Sitka, located on Baranof Island along the Alaska Panhandle, was once the capital of Russian America. Nearby Sitka National Historical Park was established to commemorate the Battle of Sitka in 1804, the last major conflict between Europeans and the native Alaskans. The park now helps preserve the culture of the Tlingit people, as well as the Russian and American settlers, with collections of rare artifacts, the preserved remains of the Tlingit fort and a Russian Bishop's House.
Click for the "Day at a Glance" schedule. It is rainy today and in the low 50's. We were up by 5:30 AM to get ready for the Historical Tour and Raptor Center. This is the first port where we aren't docked and have to use tenders to go ashore.
This was the best organized tour we have taken. It was run by a privately owned tour company and was much more professional and polished than the previous ones. The city is more "presentable" and better maintained, as well.
At the Raptor Center, a sort of halfway house for injured birds, we saw an eagle close up and several others in their "mews" on the grounds. All were in various stages of rehab waiting to be re-released into the wild.
The drive took us around the city (there are only a total of thirteen miles of road in the whole city) to a stop at a Totem Park. A guide took us on a short walk into the rain forest to show us how the trees grow right out of fallen trunks because the soil is so shallow. They get over 100 inches of rain per year, so the roots are not strong enough to support the trees and they die young. She pointed out salmon spawning in a creek.
The guides in Sitka collect pins from visitors and display them on their tunics, which are interesting to inspect. We were supposed to visit the Russian Orthodox Cathedral (an exaggeration of the term!), but the head church guy from Russia was there conducting a service for the first time ever, so we weren't allowed inside.
We viewed a presentation by the New Archangel Dancers, all female. It was interesting and they were quite good. During one dance they had faces painted on the back of their head, so when they'd turn around quickly it looked like they had changed costumes/characters.
It is raining, so we just walked around town for about an hour, bought a print called "Eagle Tails" and some shirts. Then we walked down to the bishop's house, the only remaining original Russian building in the city. Then, we returned to the ship by tender.
We had lunch in the dining room consisting of soup, chef's salad, and chocolate truffle cake. Bill had a strange version of a gyro sandwich that had the filling put between two slices of pita bread instead of inside the pocket. It was a nice try, but difficult to eat. Everything was excellent. The cake was exceptional.
We napped until 6:00 PM. The sea is extremely rough tonight. They hung the barf bags on the railings near the elevators.
Click to view the Farewell Dinner menu. Today is Mánya's and Nancy's birthday. We ordered a bottle of German champagne in advance for dinner. Most passengers made it down to dinner in spite of the rocky ship. Nobody appeared to be sick tonight. We had smoked chicken ravioli that were average, salad, and roast turkey. The chestnuts were repulsive, but everything else was good. The baked Alaska came in with sparklers, but other than that it wasn't too obnoxious. They spooned flaming cherries jubilee over it.
Even though we had asked for it to be done, nobody sang "Happy Birthday" or did anything else to commemorate the birthdays. We didn't care, of course, but several tables around us got it and Mánya and Nancy were obviously annoyed. The details of the service are really poor, but we're not sure if it's our waiter who is at fault or just a lack of proper supervision and training in general. The issue we have with the lack of recognition for the birthdays is that we know we won't hear the end of it.
The show tonight was pretty good with excerpts from "Anything Goes", "Phantom", and "Fiddler on the Roof". Nancy was appalled by the "Phantom" number, but it wasn't all that bad. The actors were good, but the orchestra was worse than a junior high school band, absolutely terrible!
There was nothing to do after the show so we looked around for a lounge to sit in for a while. We ended up in the Explorer's Lounge listening to the string quartet. We left after about ten minutes (11:30 PM). It was weird because all they served was a very limited list of after dinner drinks. The waitress got all bent out of shape when we asked for something else, so we gave up. All the other bars were too smoky, so we went to look at the latest pictures. They had shot pictures ashore with some sort of giant beaver character. We were wondering aloud what the significance is (with some guy we think is gay, also). The photographer made a gesture indicating that there was no point. It's just a gimmick to sell more pictures.
We couldn't find anything else to do after 11:30 PM so we just went to bed. Today's gift from AAA is a stuffed bear.
It is strange that there is no food available anywhere after 11:30 PM, only coffee and tea. There are many gaps during the day when nothing is being served anywhere on the ship. Room service could keep someone from starving, but the selection there is extremely limited.
We found out that we're keeping the same cabins for the Coastal Cruise to San Diego. We have to turn in our tickets tomorrow. They gave us "In Transit" passes so we can get off the ship in Vancouver if we want to. They will arrange lunch for us in the dining room if we tell them in advance.
Wednesday, September 22 - Cruising the Inside Passage
Click for the "Day at a Glance" schedule. The temperature is in the 60's today. Breakfast in the dining room was terrible, as usual. It tasted like the waffles were kept warm too long. Even so, they were cold by the time we got them.
There's not much on the agenda for today. We just strolled around the deck and up to the top of the ship.
The Indonesian lunch in the Lido was OK. Roast beef, some sort of spicy stewed beef that was good, and a marinated chicken breast that was very dry. The orange sherbet was great though. There was a large selection of diabetic desserts that looked tasty, but we didn't try them.
We attended a video about killer whales. Mánya and Nancy fell asleep during the show. There were only about twenty people there. The naturalist, Cindy, wasn't very exciting. She seems nice enough, but is sort of a geek and doesn't have much of a personality.
We lost Mánya and Nancy and went out on deck. Then we sat in lounges for a while to kill some time. We tried walking around the Promenade deck, but we kept being run over by the "Walk-A-Mile" people. Old ladies with walkers were passing us!
We intended to watch some of the games or an afternoon show, but the room was always packed to standing room only, so we napped in our room instead.
Click to view the Dinner menu. The prime rib was very good tonight with some average potstickers, good onion soup, and a boring chocolate truffle cake not worth finishing. Karen's watermelon sherbet was ghastly. We all tasted it and decided it tasted like Kaopectate.
This is masquerade and talent show night. Some sort of games and dancing were going on when we arrived. The cruise director, Susan Wood, is very entertaining. Quite funny and witty. She couldn't be better! The games were entertaining primarily due to her hilarious running commentary.
The masquerade was pointless. There was a woman in a clown outfit with one of those big rainbow afros, a man hawking faux tours of some sort, a woman dressed as an eagle (we had lunch with her one afternoon and she was very strange then, so no big surprise tonight), and an old couple dressed as George and Martha Washington who obviously drag their elaborate outfits along on every cruise. All of them had little routines that were not funny in the slightest and dragged on ad infinitum.
The talent show was relatively entertaining. The first act was a woman singing a song from Brigadoon. She was pretty bad and forgot part of the words. A man and an old woman played the piano well. Another woman, who rides around in a wheel chair all day, but was standing now, sang extremely professionally. An older man sang "Proud Mary" as he played the drums, but it wasn't as bad as you might expect!
We have nothing on the agenda in Vancouver. It's a hassle to get off the ship, but we'll try to at least walk around a little.
We really don't think Mánya and Nancy are having any fun at this point. They continue to complain about the food every chance they get. Their main complaint is basically that it isn't exactly what they expected from the menu description. Mánya was annoyed because no mashed potatoes were served with the turkey the other night, although she didn't ask for any. Nancy wanted popcorn for the movies. The food has been perfectly acceptable, so they are being unreasonable in our opinion. They both let small things bother them. Karen and Len have been fine. They just go with the flow like we do. Karen thinks Nancy is being obnoxious, too, so it isn't just our opinion! God knows we aren't Pollyannas, but at least we don't whine aloud about things not being exactly as they are at home. If you want the same routine and food as you get at home, then stay home!
Our cabin walls are paper thin. We can hear snoring, talking, you name it, as though we are in the room with the people. We are always very quiet, so our neighbors probably don't realize how thin the walls are.
Thursday, September 23 - Vancouver, Canada
Blessed with a spectacular Pacific Rim location, Vancouver is a study in contrasts and cohesion. Set between the mountains and the sea, the city blends cultures and landscapes, allowing visitors to enjoy a modern, cosmopolitan city alongside the great outdoors. You could spend all weekend exploring Stanley Park, but you don't want to miss the panoramic vistas from the Capilano Bridge or the Sea to Sky Highway, or the opportunity to ski or explore a mountain trail. A temperate year-round climate makes Vancouver enjoyable in any season, though the winter months do bring a string of rainy days.
Click for the "Day at a Glance" disembarkation issue. It is warmer today, in the 70's. We had breakfast in the Lido, then went ashore at 10:30 AM, after the disembarking passengers had left. A Holland America representative showed us to an information booth. A very friendly woman helped us decide where to go.
We walked to the Gas Town District, bought some sweatshirts, a book and some Christmas ornaments. Mánya and Nancy started complaining almost immediately about the walking and wanting to eat even though we had eaten just an hour earlier on the ship. We stopped to watch the famous steam clock strike noon. Nancy's reaction was, "Is that it?" After that she never stopped wondering aloud why we waited to see it chime. We went into a Brazilian restaurant, but lost Mánya and Nancy when they discovered it wasn't tacos and enchiladas (they wanted to go the Spaghetti Factory anyway.) They set off for the chain restaurant while we stayed put. The food was kind of odd, mostly Tapas to be shared. We had meatballs, paella rice, chicken and nachos, all of which was perfectly acceptable.
We never saw Mánya and Nancy again as we walked back to Canada Place. We walked around the general area, called our friends at home and re-boarded the ship. Lots of people were embarking for a Panama Canal cruise. It seems that very few are only going as far as San Diego. We didn't see Mánya and Nancy on board, so we commented that they'd probably be left in Vancouver without us there to tell them how to find the ship again, although it is clearly visible from the street.
Mánya and Nancy did managed to find their way back on board, but stayed in their cabin and missed dinner. Nancy was in a foul mood again. We assume they are mad at us for leaving them alone to find their way back to the ship (you could see it from where we were!) Keep in mind that these aren't two feeble old women or anything of the sort. Both of them are perfectly capable of finding their way back to a ship that is no more than 100 feet from the restaurant where they had lunch.
Click for the "Day at a Glance" embarkation issue.
It turns out that many passengers are leaving in San Francisco and San Diego, so for them is is only a 2-day cruise. The class level of the passengers has hit rock bottom. It looks like most of them are young and on a budget. There are lots of kids running around, too.
Click to view the Welcome on Board Dinner menu. Again, the meal was good overall. Chinese egg roll, salad and an Indonesian beef stew, all very good. Bill had duck a l'orange which was also very good. The carrot cake was exceptional. The banana cream pie was a strange interpretation, but satisfactory.
We went with Karen and Len to the "Icebreaker Party" and were actually served a drink! They played some stupid games and introduced the cruise staff. A new Mr. & Mrs. Noordam game started. This game is designed to initiate interaction among the passengers. The cruise director appoints a couple as Mr. & Mrs. Noordam and then whoever figures out who they are wins a prize. Len left when they asked everyone to turn around and ask their neighbor if they were one of them. When Len returned, Dave asked him if he is Mr. Noordam and he is! There is some sort of prize for finding him, but we plan to tell him to forget it and let someone else win. If he doesn't care, we'll go ahead and claim the prize, otherwise we'd rather forget about it.
There isn't much information available on shore excursions. There was a tour in Vancouver, but we didn't find out about it until it was too late. There's supposed to be a tour in San Francisco, too, but we don't know anything about it yet. Things have become pretty vague since the Alaska Cruise ended. This is the start of a Panama Canal cruise, but so far it seems as though most current passengers will be disembarking in San Francisco.
It is very foggy tonight. The ship's fog horn blows every few minutes. It is smooth sailing otherwise.
We observed yesterday at the dessert buffet that there are always quite a few diabetic selections available. One was a strawberry cake that looked really tasty. Several other choices are on the menu for both diet and diabetic options. There has been a good variety of low-calorie items, as well. Nancy said the no-oil vinaigrette was very good.
Friday, September 24 - At Sea
Click for the "Day at a Glance" schedule. Today's temperature is in the high 60's. We were up early because crew members were clamoring up and down the metal stairs outside our window. We had brunch in the Lido, then just sat around until 2:00 PM when we went to see the movie "Dave", which we enjoyed.
After that we went up to the Crow's Nest for a drink and to watch the view. Later we found Mánya, Nancy and Karen playing Bingo. We napped until dinner time.
Click to view the Dinner menu. The steak was the best ever, exceptionally tasty with no fat at all.
As we mentioned previously, the class level of the passengers hit bottom after Vancouver. There are way too many kids and the dining room has become very noisy. On the Alaska portion everyone followed the dress code. Now some people show up in sweats for the formal night.
Tonight's show was pretty good. Four entertainers from Broadway doing excerpts from shows. Much better than the Noordam entertainers, but the band is still awful.
We strolled around after the show and watched the Noordam entertainers rehearse the show we saw last week. The entertainment, including Susan's jokes, are starting to repeat. The difference now is that no one responds. We felt kind of sorry for her. It must be a drag for the entertainers to rehearse because there is no way to close off the show lounge to guests. Guests have to walk through it to get to the front part of the ship and so there is no way to avoid walking through it.
During the Alaska portion of the cruise, other passengers would always smile and say "hello" as they passed, but now they don't even look at you. It is very odd. Dinner hour is now at 8:15 PM. Everything has shifted to a half hour later. We have no idea why. It is strange to see people in shorts and barefoot! It hasn't been all that warm yet.
Mánya and Nancy are still whining about the lack of recognition on their birthday. They just won't drop it. We found out they complained on their questionnaire that there isn't enough variety on the menu even though nothing has repeated, so in our opinion it is a ridiculous complaint.
Various stewards are starting to stop us to talk. One we met in the Lido always chats with us. Some guy in the Admiral's Lounge we'd never seen before commented that we are still here from the Alaska cruise.
We never see our cabin steward, but our waiter is very nice. He is one of the few who ever smile and he's actually starting to joke around a bit.
We heard someone say they ordered six appetizers tonight and saw a woman finish a lobster then make the waiter get her another entree. People have been arriving late for dinner and staying too long afterward. The dining room is never ready on time for the second seating now. It gives a clue about this group of passengers. That never happened during the Alaska cruise.
Saturday, September 25 - San Francisco, California
One of the best things about San Francisco is that you can be in a museum in the morning and on a mountain in the afternoon. Mind-expanding cultural attractions exist alongside invigorating outdoor activities. Gaze at the work of Jackson Pollock at the San Francisco Museum of Modern Art in the morning and then head to Muir Woods to peer up at gigantic redwoods in the afternoon. From the hippie haunts of Haight-Ashbury to the colorful Victorian architecture of the predominantly gay Castro District, and from Japantown to Chinatown, San Francisco is all about neighborhoods. Each has a distinct look and vibe. You could easily spend a day in each or hop on a streetcar to sample a few.
Click for the "Day at a Glance" schedule. It has warmed up considerably and is in the 80's today. Breakfast in the Lido, same old stuff.
We went out on deck around noon for the transit under the Golden Gate Bridge. Very impressive! We had a quick burger for lunch while waiting for the announcement to go ashore for a city tour. We stood on deck and watched the ship dock at one of the dilapidated old piers close to downtown.
Mánya and Nancy must have asked at least ten times when we are supposed to go ashore. We told them the same thing each time, "When they make an announcement." That announcement came at around 2:00 PM.
While waiting for the tour bus Mánya and Nancy kept pushing ahead of other guests for no apparent reason. Dave had the tour vouchers, so they couldn't get on the bus without us anyway. When we refused to participate in their rudeness, Nancy claimed that Mánya had to sit down, which is bullshit. The woman is not feeble in the slightest.
We had a very nice bus and driver/guide. We went all over the city and his commentary was very entertaining. The bus stopped at Twin Peaks, City Hall (lots of graffiti and homeless people everywhere), the conservatory in Golden Gate Park, through the Presidio, and to the Golden Gate Bridge Visitor Center. We also stopped at a modern Catholic church.
After the tour, some people were let off at Fisherman's Wharf, but we went back to the ship totally exhausted. Back on the ship we had a couple of virgin coladas and hot snacks. Service in the lounges has improved considerably since the Alaska cruise.
A large number of English passengers joined the ship today, but more people departed than arrived.
Click to view the Dinner menu. A new, rowdy group next to us in the dining room appalled the head steward. There is a table for ten that has only four people sitting at it (lots of people are still ashore.) 45 minutes after the dinner hour began, seven people arrived and "borrowed" their extra chairs to join another table of ten that was already filled. The head waiter stopped them from sitting at an empty adjacent table. He informed them that they have to sit at their assigned table, but they ignored him and added the chairs anyway. Of course, they also ordered a full course meal even though everyone else in the room was already being served their entree. Next they whipped out the day's purchases and started showing them to everyone at the table while the waiter was trying to take orders. Two other people were standing at the table by now. Dave suggested to the head steward that he "accidently" spill the water pitcher on them which elicited the first smile out of him we've seen the entire cruise!
We decided to go watch "Aladdin" in the movie theater. The same obnoxious group from dinner showed up and spread themselves all over the theater with their kids running around among them, talking, etc. When the movie started one of the adults stood up and made hand puppet shadows on the screen. Eventually a steward came in and they sat down and behaved the rest of the time. We're curious to see what happens at dinner tomorrow.
Out on deck after dinner we watched the sail away from San Francisco, very beautiful! It is definitely one of those "Kodak Moments".
This cruise has let passengers on and off at every port so far. It's billed as a Panama Canal cruise that ends in New Orleans, but it seems like there are no rules regarding where one may or may not join or leave the cruise.
Sunday, September 26 - At Sea
Click for the "Day at a Glance" schedule. Breakfast in the Lido, same as usual. We continue to be checked out by the entertainment guys, but no one has spoken to us yet.
We attended the disembarkation talk at 11:45 AM then sat around until the 2:00 PM bridge tour. We had burgers for lunch from the pool grill. The bridge tour was interesting and about what we expected.
We found out from a waitress that they work for nine months without a day off, then get three months off. It looks to us like they work at least twelve hours a day, if not more.
We had to attend Bingo this afternoon because the Mr. Noordam winner is to be announced. Dave is still the winner. Bingo is so boring!!! Lucky for us they announced the Mr. Noordam winner after just two games. Dave won several Holland America logo gifts: Flashlight, clipboard, coasters, and a travel clock.
Bill talked to another passenger while waiting for the contest to be over. He said his waiter told him that one of the stewards hanged himself in his cabin because he hated his job so much. We had noticed an ambulance at the dock in San Francisco, but we didn't think anything of it at the time.
Now that the cruise is almost over the gay staff members and entertainers are starting to open up and talk to us. One of the entertainers told us that they work for six months. He doesn't mind the entertaining part, but the other duties (hosting games, etc.) are a nightmare because the passengers are so stupid. Dave was chatting with him previously by the shuffleboard court when a woman came up and asked him to repeat the rules to her for the fourth time that afternoon.
The Bingo jackpot ended up at $1,999. Nancy and Mánya didn't win anything, of course. We just killed time until dinner and had hors d' oeuvres and a couple of drinks in the Piet Hein Lounge.
Click to view the Bon Voyage Dinner menu. The chicken cashew for dinner was very good. Dessert was a dry chocolate cake. Our waiter gave each of us a packet of all the menus from our whole cruise. Nancy said, "Why would we want the menus?" and, "What am I supposed to do with these?" The waiter didn't hear any of this, so it was OK, but so typical of her attitude. She made fun of Dave earlier for collecting swizzle sticks with the same, "What's the point?" comment. Dave said then that he hadn't planned on forcing her to collect them, so what business is it of hers? And, by the way, there is a nostalgic reason he does this. His father was a salesman and traveled frequently. He would always bring Dave the swizzle sticks he collected while he was away. This was the 1950's and 60's when the sticks were elaborate designs of airplanes and other fancy logos.
"Four on the Town" entertained again tonight. Some of it was OK, but most of it was absolutely ghastly. After the show we went right to the room to finish packing.
Monday, September 27 - San Diego, California - Disembark Noordam
Elegant and sunny San Diego is truly a city with something for everyone. In town, a whole day or more could be spent in Balboa Park playing golf, touring the world-famous San Diego Zoo or visiting a museum. Just outside of town, Torrey Pines State Reserve offers a somewhat wilder terrain where visitors can view rare birds and the stately trees the park is named for. Children, and in turn parents, will be delighted with the city's wide range of family-oriented activities. From SeaWorld to the historic Gaslamp Quarter, there are events and exhibits to keep even the most hard-to-please happy. San Diego boasts an array of fine and trendy restaurants covering a melting pot of cuisines, world-class shopping and hotels from lavish to budget.
Click for the "Day at a Glance" schedule. Disembarkation was uneventful other than the usual whining about when are we getting off the ship from Nancy and Mánya. After claiming our luggage we just walked out the door of the terminal right into our waiting van. We were home within 2 hours!
You may think we are being harsh with our comments about our whining family members, but rest assured that this is the sanitized version of what really went on. Yes, we have learned not to participate in group adventures again! From this point onward, we always sit at a table for two in the dining room and we would be very unlikely to cruise with other people again, family or not.
We found out after the cruise that the rest of our group thought we were pushy because we "forced" them to do the shore excursions we wanted to go on. Honestly, the most we did was announce what we were planning to do and they immediately said they would do the same thing. It was a very odd reaction considering we would have preferred to be out on our own all along. Oh well, live and learn!
The cruise itself was fine and did serve to indoctrinate us into the lifestyle for years to come. We went on from here to enjoy several more Holland America Line cruises and then quickly graduated to Crystal Cruises in 1995.