Welcome to our 2003 World Cruise Blog!
Our travels began two weeks early this year, January 5th, because Crystal Symphony's World Cruise departed from Fort Lauderdale, Florida rather than Los Angeles, California for the first time. So, we took the opportunity to visit Walt Disney World for about two weeks prior to traveling to the departure point and the complimentary overnight at the Mandarin Oriental Hotel Miami and Gala Bon Voyage Party.
Following is a map of the itinerary, "Wonders of the Southern Seas". Click on a port to jump to that segment in the blog.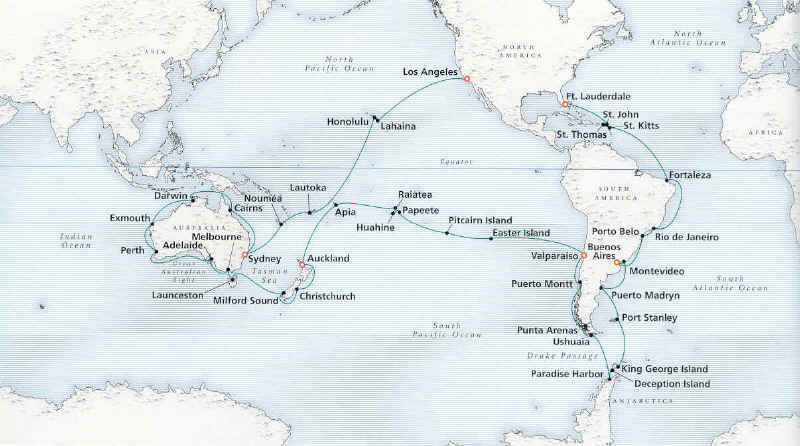 Walt Disney World - Disney's Grand Floridian Resort & Spa - January 5 to January 18, 2003

Segment 1 - Discovery of the Americas - January 19 to February 7, 2003

Segment 2 - The Last Frontier & Beyond - February 7 to February 25, 2003

Segment 3 - Romance of the South Pacific - February 25 - March 18, 2003

Segment 4 - Kiwis & Kangaroos - March 18 to April 14, 2003

Segment 5 - The Great Pacific Crossing - April 14 to May 3, 2003
Remember to click on the buttons below or the ports on the map above to view each section of the blog.