introduction & Trip Planning Information
Our planning for this land adventure began about a year before we departed. Unfortunately, most Japanese hotels do not accept reservations until four to six months ahead of your arrival, which is a bit of a problem for people who like everything in line ahead of time. In addition, getting a reservation at a Japanese hotel, the Tokyo Disney hotels in particular, is a nightmare. We tried our usual travel agent, agencies in Japan, booking through the internet and any other combination one can imagine. Obviously it works out in the end, but it really appears that they'd simply rather not deal with foreign visitors at all. We were told more than once that a ryokan or hotel was sold out, but had no problems getting a reservation once we found an agency with an inside track to the property. The whole procedure is set up for the convenience of the establishment rather than the guest. Our advice is to be prepared to be flexible and have several choices in mind for each city where you plan to stay. Do your research and be persistent!
The Tokyo Disney hotels make it very difficult for a foreigner to make a reservation from outside the country. Not only do you have to start calling for reservations exactly six months to the day of when you want to stay, but you are allowed to reserve only two days at a time. You then have to call back two days later to add two more days, etc. On top of that, there is a limit of five days, after which you will require "special permission" to add more days. The explanation for all of this was that if they didn't do it this way, "All of the rooms would be taken." Isn't that the whole point of running a hotel, to fill rooms? Is it really that unusual for anyone to stay in one place for seven days? Oh, be prepared to do your own legwork unless you have an especially generous travel agent. The Tokyo Disney hotels do not pay commissions!
Another glitch we kept running into was in trying to book a traditional Japanese ryokan in Takayama. Apparently, the agencies in Japan do not believe foreigners want a truly traditional experience because no matter what we asked for, they always suggested a contemporary version of a ryokan. Yes, these are nice, but if we're going to stay in a modern hotel, why sleep on the floor and eat fried fish heads? If you're going to feed us stuff like that, it had better be authentic! We're game for anything, so let's go for it. We kept trying through our own travel agent and contacts in Japan, but every request to "try again" turned up yet another modernized version of a ryokan. After being told that all of the traditional ryokans we suggested were "fully booked" (six months in advance in the off season???), we went the direct route and got what we wanted right away at our first choice (see below for details). Well, the second choice since we were told twice that our original choice (which has been in business for 250 years, by the way) is going out of business the end of 2008. I guess they REALLY don't want us to stay there!
If Crystal Cruises had cooperated, we would have avoided two airplane flights during this trip. We had intended to stay on board the ship for an additional four days and disembark in Japan, then we would have taken another cruise from Japan to Los Angeles. Alas, it was not to be. Crystal wouldn't book us for the extra few days unless we paid for the entire cruise. So, we cancelled the return trip and will fly home. Hey, it saves us about $40,000.00, so we're not complaining too much. Crystal's loss is our gain! If the economy keeps going the way it is right now Crystal may be begging us to book those four days.
So far we are leaning toward not purchasing a Japan Rail Pass because the cost of the pass doesn't work out to our advantage. While it would be a lot simpler to have the pass and avoid buying tickets for each train, we figured that if we have to make seat reservations anyway, why not just buy the tickets then? Our plans are laid out so that we don't have a strict schedule to keep, so if we miss a train or two it won't matter too much. We don't have to make a final decision on buying a rail pass until the month before we leave, so there is plenty of time to change our mind.
If you are new to this site, you may feel it is a bit shallow of us to go all the way to Hong Kong and Japan, then skip the major sites and go to Disneyland. Rest assured we have been to this part of the world before. We have been to Hong Kong several times. We visited Japan as part of the 2002 World Cruise and toured the areas around Hiroshima, Kyoto, and Tokyo with private guides. The point is, we aren't missing anything, but will be filling in the gaps with some lesser cities and sites this time around. None of these places are particularly off the beaten path, but they aren't usually the primary focus of a visit, except perhaps on a day trip from Tokyo or Kyoto. Of course, the real purpose of the trip is still the two Disneyland Resorts, but we'll manage to travel around the country a bit in between. If you'd like to catch up on what we visited in Japan previously, click here.
October, 2008: We thought it might interest some of our readers to know what is involved in making your own travel arrangements to Japan. So, from this point onward we'll add the dates that certain things were changed, booked, etc. Our planning began several months before this, obviously, but most Japanese hotels do not take reservations more than six months ahead, so we are only now getting into the thick of it. Everything written above took place prior to October, 2008.
This month it became apparent to us that if we want a traditional ryokan experience in Takayama that we're going to have to book it ourselves. Even the Japanese agency we contacted kept trying to place us in modernized (read that Westernized) versions of a ryokan. We were told that 250-year-old inns were going out of business or were fully booked. Undaunted, we contacted www.japanican.com and booked exactly what we wanted for the same dates we had been told were "fully booked". This site has short videos of most accommodations, so check it out if you want to see where we are staying. We also highly recommend www.tripadvisor.com for first-hand reviews of hotels around the world. It is an invaluable tool for us.
October 14, 2008: This was the first date that coincided with open bookings at the Tokyo Disney Resort on our itinerary. Our travel agent was instructed to start calling Central Reservations on the fourteenth, which she did. We had already given her information regarding calling the resort that we obtained from the book, "Tokyo Disney Made Easy" by Kevin Yee. First off, heed this advice: Do NOT rely on this book! The only accuracy so far is the telephone number for Central Reservations! Otherwise, the booking information given is useless. That said, our agent did manage to reach an English-speaking agent (in spite of the incorrect telephone tree codes from the book). She booked what she could at the time, two days, the 14th and 15th of April, 2009, at the DisneySea Hotel MiraCosta, Porto Paradiso Side Harbor View. That would have been great except we are arriving there on the 15th!
No problem, the arrival date was corrected when she called to book the next available day, which was Friday, April 17. This was where things went terribly wrong. In spite of our very clear instructions to call the resort on Saturday, she neglected to do so and didn't follow up until Monday, October 20, 2008, which is Tuesday in Japan. By this time, the weekend was sold out for Harbor View and the only rooms available were on the Venice Side of the hotel. Rather than move twice, we planned to keep the Venice Side room for the duration of the stay.
Dave, not one to sit idly by when his anal-retentive plans are going awry, called the Tokyo Disney Reservations Center himself on October 21, 2008, which is when he found out that our travel agent had dropped the ball and hadn't called until Tuesday. Although furious, he couldn't do anything about it now, so he asked the fluent English-speaking reservations agent if there was anything at all available with a Harbor View on the Porto Paradiso Side of the hotel. Nope, nothing until after the weekend. Well, OK, we could have booked a suite at $1,500 per night, but even we don't care that much. She did say to try calling back periodically in case there is a cancellation, but that they do not take names for a waiting list nor will it be remotely possible to stay in the Harbor View room we have booked for the first three days unless we succeed in reserving it. Lessons learned: Rules are rules in Japan and MAKE THE CALL YOURSELF. By the way, if you aren't a Disney geek and you want to know what the heck we're talking about, click here.
October 22, 2008: Dave made his displeasure with the situation known to our travel agent, who did, to her credit, admit that she didn't believe him when he had told her the hotel would book up overnight. Nevertheless, it was time to pull in the reins on this booking situation and take control of it ourselves.
October 25, 2008: A decision was made to push our stay in Japan out by a few days and arrive at Tokyo Disney Resort on Friday, April 17, 2009, stay at the new Disneyland Hotel until Monday, and then move to a Harbor View room at the Hotel MiraCosta for the duration. These changes would be easier said than done, however. On this day, Friday (Saturday in Japan), the final days of our new itinerary would open up for reservations in Japan, so Dave called Tokyo again, pushed all of the numbers on the phone that supposedly gets an English-speaking agent, and got someone who was very nice, but who said, "I do not speak English, one moment please." A few minutes later, she came back and said, "I cannot speak English. I am reading from a paper. Please call back later." Later today or later meaning another day? Who knows? He decided to wait several hours and tried again. "I do not speak English, one moment please." Then another person came on the line, "I cannot speak English. The English speaking operator is not here now. Please call back later." OK, apparently there is no one there on Saturday who speaks English. We figure that calling on Sunday isn't the best idea, so we'll wait and try again to reach them on Monday. Sigh.
Quite the contrary to the experience at the Tokyo Disney Resort, we were able today to book our stay at the Hong Kong Disneyland Hotel via the internet. It took all of about five minutes and we had a confirmation emailed to us within ten minutes of sending the reservation request. In addition, the cost of the room at the Hong Kong Disneyland Hotel was about one-third that of a lesser class of room in Tokyo (or Orlando for that matter).
At this time, we decided to start investigating the reservation process at some of the other hotels in our plans. To say that booking a Japanese hotel is unusual is quite an understatement. Hotels in the same chain do not accept reservations for the same time periods. For example, the Nikko hotel at Kansai Airport is taking reservations now, while the Nikko Hotel Himeji claims there are no rooms available at this time. Back to Japanican.com to verify that there certainly are rooms available. Oh well, we're not quite there yet with the exact dates for the stays, so they can be as vague as they like, for now. We're still waiting for reservations to open up for the Hotel Kajikaso in Hakone Yumoto, but we're definitely watching every day because it is another hotel that books up with the speed of light. You haven't lived until you have tried to use one of the Japanese hotels' English websites. Talk about incoherent! We have yet to get one to work properly, but we're still holding out some hope it will work when we need it to.
October 27, 2008: After calling Japan three times during the day and again being told there were no English-speakers available, we finally reached an English-speaking operator at Tokyo Disney Resort when we called at midnight our time. She was extremely helpful and made the changes for both the DisneySea MiraCosta Hotel and added the stay at the Disneyland Hotel. Ordinarily one would have to call a special reservations desk for the Disneyland Hotel, so there is some advantage to requiring the English-speaking agent. We were not able to get the Harbor View we originally wanted, but when the agent was asked whether she would take the Porto Paradiso Piazza View or a room on the Venice Side, she immediately said the Piazza View is better. Then added, "You don't want the Tuscany or Venice Side rooms unless all of the Porto Paradiso Side is sold out." As far as the Disneyland Hotel goes, they do not guarantee any of the views, so she suggested taking the Standard Superior Room and hoping for the best when we arrive. There is a preferred "Park Side" to the Disneyland Hotel, but we honestly don't care that much and certainly not enough to pay a premium for it. The view of DisneySea is another thing entirely since the Hotel MiraCosta is inside that park. Fifteen minutes after this fruitful telephone conversation, we received a confirmation by fax. Check the updated itinerary below.
November 5, 2008: Heard from our travel agent today with a price for all of the hotels we haven't booked yet, but the price is so low we know there is a mistake somewhere. We're not sure what company she is dealing with in Japan to put this together, but nothing that has come from them has been acceptable so far. In other words, no progress to report.
November 7, 2008: Our travel agent confirmed that the price for the hotel package was the per person price, as we had guessed. Doubling the quoted price to adjust for two people makes the price too high according to our calculations, so we're still not sure where these prices are coming from. At this point, we have not booked anything and are still researching prices and availability.
November 25, 2008: One of our readers (thanks Leah!) pointed out that the Tokyo Disney website is now offering online reservations in English for their hotels and park tickets. We checked it out and it shows all of the "good" rooms as fully booked, so we're guessing that they are using the site to push rooms that aren't selling as well, such as those at the Disney Ambassador Hotel. However, if you don't want to brave the calls to Tokyo, now you have another option. We're sure the site will improve over time and anything is better than nothing. As of today, park tickets can be purchased only two months ahead of time, but this would be the way to go during the busy season if you aren't staying at one of the Disney hotels. Here is the link to the Tokyo Disney Resort website where you can find links to reservations and information: http://www.tokyodisneyresort.co.jp/index_e.html
No other progress has been made as far as reservations go. We did contact Hotel Kajikaso directly and were told, "Please call back in two weeks." Boy, are they sticklers for rules or what? Rest assured we'll be busily booking everything left to reserve the first week of December. We did get a quote from our travel agent for a couple of the hotels we're not confident doing ourselves, but we're still waiting to determine if that's the best way to handle it.
December 1, 2008: True to their word, the Hotel Kajikaso reservations opened up this morning precisely as they told us two weeks ago. We were able to reserve the room type we wanted through their website with no problems. It was important for us to book this hotel directly if possible because of the limited number of rooms with the Japanese/Western combination and the private onsen. We are still waiting for a few other hotels to begin accepting reservations for April, 2009, but none of them are important to us and there are plenty of other options just in case.
December 6, 2008: We have mostly given up trying to get a room at the Nara Hotel for the three days we plan to be in that city. Apparently our plans coincide with prime cherry blossom viewing weeks, something that hadn't crossed our mind. Therefore, we have booked a back up stay at Shikitei Ryokan just across the pond from the Nara Hotel. Besides being a traditional Japanese style inn (a very upscale one apparently), it nearly triples the cost of our stay in Nara. However, it does include breakfast and a lavish Japanese dinner, so perhaps it works out better in the long run. Our travel agent is watching for available rooms at the Nara Hotel, but we're not expecting that to work out. At least our new plans will fit the theme of old Nara! We worked with Michi Travel in Japan for this reservation and found them to be extremely responsive (www.michitravel.com).
December 7, 2008: This cherry blossom thing sure is making things difficult! We never expected to have any problems with room availability in major cities, but that hasn't been the case. We did make reservations today for the Nikko Kaisai Airport via their website with no problem. We were waiting for reservations to open up for April at the Granvia Hotel Kyoto and today they did. However, the week we are staying already has minimum stay requirements (not a problem for us) and there was only one type of room available, a king, non-smoking room. That isn't a problem for us either, but the point is that any other weeks we have checked there are many rates and choices of rooms available. But, we were successful booking online for both Kyoto and the airport overnight stays, so two more cities are taken care of. All that are left for us to book now are our stays in Himeji and Nagoya. Hopefully there aren't cherry blossoms there, too!
December 12, 2008: We have continued to correspond with Mari at Michi Travel in Japan, who has proven to be the most responsive person we have dealt with so far. She answers emails so quickly it is amazing and the information she provides has been invaluable. Currently we are reviewing a revised itinerary provided by Mari that includes private transfers from the airport, private tour guides, etc. At the moment we are not planning to include everything she has proposed because we just don't like every minute of the day planned in advance (plus it adds considerably to the budget), but she has done a very good job of tailoring the itinerary to suit our interests. At this point we highly recommend her services.
Mari filled us in on what happened to the Nagase ryokan in Takayama. It was the most prestigious historic ryokan in the area, but it will indeed go out of business at the end of December. Apparently there are no family members interested in continuing the 250-year tradition of operating the inn, so the only alternative is to shut down. What a shame. To get a truly authentic experience that meets the standards of Michi Travel, we would have to stay in the countryside, which is not what we had in mind. We have already booked Tanabe ryokan directly, but according to Mari it has some issues with maintenance and it does not meet her standards for booking her clients there. She says that it is about 50/50 good/bad in the reports she gets from Japanese tourists who stay there. We have not made a final decision about whether to change properties or not, but we are 90% certain that we do not want to stay outside of the city.
December 18, 2008: A few adjustments were made today to our itinerary and accommodations based on recommendations from Mari at Michi Travel in Japan. We will be staying in Kobe and doing a day trip to Himeji rather than staying in Himeji for two nights. She did try to convince us to stay in Osaka instead, but Kobe has a couple of attractions that interest us enough to fill an afternoon. Plus, the hotel is connected to the shinkansen station, which is very convenient. When we had planned to arrive in Japan by ship, the Crowne Plaza was the hotel we had chosen, so the stay in Kobe isn't a totally new idea.
The other change made tentatively today is our ryokan in Takayama. Mari doesn't believe that Tanabe ryokan will meet our standards and she said it quite firmly without putting the place down too much. So, we will change reservations and stay at Honjin Hiranoya Kachoan instead. It is billed as the next best thing to Nagase where we originally wanted to stay.
December 19, 2008: A quick change of hotels today. When Mari contacted the Crowne Plaza they informed her that there was a scheduled power outage for the night of our arrival. We'll give them a lot of credit for mentioning that for a date so far in advance, but it meant that Mari wasn't comfortable booking us there. So, upon her recommendation, we have changed to the Hotel Okura on Kobe harbor instead. We thought the location of the Crowne Plaza, attached to the shinkansen station, would be convenient, but Mari says that we should use local trains rather than the shinkansen in Kobe, so it wasn't important after all.
December 25, 2008: We received our revised itinerary and tour suggestions from Mari today. It is more suited to our style of travel than the previous schedule, so it is likely we will approve it once we research the pricing. We made our reservation for the Marriott Nagoya Hotel today through the Marriott website.
January 6, 2009: We received and approved the final itinerary from Michi Travel today after cutting out two excursions with a private car/driver we deemed to be more expensive than it was worth to us. Only two hotels are part of this, the Hotel Okura Kobe, and the ryokan in Takayama. The plan includes train tickets, private airport transfers, and a guided full day tour in Kyoto with private tea ceremony, a visit to a private villa with the owner, and a Kyoto-style cooking class, among other things. The travel company will also provide maps and instructions for visiting sites on our own in the other cities we will visit. As already mentioned, the service we have received from this company is exemplary, so we expect that attention to detail will continue when we arrive in Japan. All that remains for us to do is to make the flight reservations, which we plan to take care of within the next week or so.
January 9, 2009: E-tickets were purchased for the flight from Hong Kong to Kansai Airport today via the Japan Airlines website. If you want to immediately have your credit card blocked for "security reasons" just try to buy a ticket online! Once that was resolved, the reservation was made and the tickets purchased. Most shocking of all was the phone call from Japan Airlines confirming that the e-ticket receipt had been received and to thank us for choosing JAL. We can't imagine a U.S. airline doing something like that.
January 22, 2009: The last of our reservations was made today with the booking of our return flight from Tokyo to Los Angeles on Japan Airlines. This was made in spite of American Express blocking our account AGAIN "for security reasons" the minute we tried to pay for the tickets. What is with that? Get this, the security question asked to verify identity was how many square feet is your house and when told she said the answer was wrong! Geez. Asked how they would even know that since it had never been asked of us before, she said they look up your billing address and get it from that. OK, but how old is that information? After all that, the card still didn't work and we had to call them again and go through the entire process from scratch, losing our seat assignments in the interim. The second time we made the representative stay on the line while we tried to buy the tickets. Good thing we did because it didn't go through AGAIN. At that point we were transferred to a third person who did manage to fix it. Do we have all the luck or what?
February 6, 2009: Our final payment for the hotels and tour booked through Michi Travel in Japan was made today. This in spite of both American Express and Chase blocking the payment ""for security reasons" FOUR TIMES. We finally managed to get Amex to accept the charge by insisting the agent stay on the line until it went through. Tough luck for Chase. We never did get the security alert lifted there. The explanation from Amex was that, "Fraud is a big problem for us with the economy the way it is." Yeah, it's an issue for YOU, it shouldn't be an issue for the customer who pays off his balance every month! We're planning to take enough Yen with us to get by if we have to without credit cards, but what a drag that is.
February 18, 2009: A few loose ends were wrapped up this week. Our foreign currency purchases for Hong Kong and Japan were delivered quickly from www.ezforex.com. The customer service received from this company was fantastic. We also made a change to our room type at the Granvia Hotel Kyoto by checking every day for availability. It is a slight upgrade, nothing major, but is the room type we had originally wanted that was not available when the reservation was made online. Also, while routinely checking all of our online reservations, we noticed there was a special offer at the Nikko Kansai Airport for members of the Japan Airlines program. We changed that reservation online to the exact same room type including breakfast for $100 less than our original reservation. We recommend joining the JAL program if you are planning to stay at any Nikko or JAL City Hotels. There is no fee to join and there are some substantial discounts offered to card holders.
February 20, 2009: We redeemed some of our Marriott Rewards points to obtain two Marriott Certificates for Y5,000 each to use toward our bill at the Marriott Nagoya (that's about $100 total). The certificates were received just two days after ordering them online. We had enough points to use for one free room night, but we wanted a higher category than we could get with the reward points.
February 22, 2009: Arrangements were made with www.rentafonejapan.com to rent a cell phone for use in Japan. The phone should be waiting for us at our first hotel upon arrival.
March 6, 2009: Mari at Michi Travel in Japan, send us our final itinerary for the entire land portion of the trip today. Even though we did not book everything through her, she incorporated all of our independent plans into the itinerary to create a seamless, step-by-step plan for us to follow. We are very happy with the help she has given us so far.
March 8, 2009: All of our Japan and Hong Kong arrangements have been finalized. Tomorrow we embark on the cruise that will deliver us to Hong Kong in 17 days! Let's hope the exchange rate stays as reasonable as it has been this past week, so at least the hotels that will be paid as we go won't be too outrageous!
March 19, 2009: We received an email from Hong Kong Disneyland confirming our reservation for our arrival on March 27th.
Friday, March 27 - Hong Kong, China - Disembark Crystal Symphony - Transfer to Hong Kong Disneyland Hotel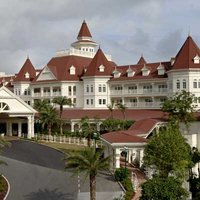 Hong Kong, one of the world's most popular tourist destinations, and a true economic powerhouse, was once just a small fishing village on the edge of the South China Sea. That all changed in the mid-19th Century when the British arrived, turning this quiet, out-of-the-way village into a modern, vibrant and sparkling jewel of a city that still flourishes today. In July of 1997, the British (via a long-standing agreement) officially returned control of Hong Kong to China, and it became a Special Administrative Region (or SAR) or China. In the exchange, China agreed that until 2047, Hong Kong will enjoy a high degree of autonomy in all matters, except foreign and defense.

Welcome to the newest jewel in the crown of Disney theme parks, Hong Kong Disneyland. Step into four lands based on stories of fantasy, adventure, space and Americana. In each land, enjoy the high-quality rides, meet your favorite characters, and watch amazing Broadway-style shows.

A grand hotel with Victorian style, the Hong Kong Disneyland Hotel will surround you with elegance. Enjoy our famous hospitality, including unparalleled service and child-friendly facilities. Our caring staff will ensure your stay is a memorable one.
We arrived at the Hong Kong Disneyland Resort at around 10:30AM after disembarking Crystal Symphony at 10:00AM. The ship had arranged a private car to transport us to Disneyland. The drive took about twenty minutes from the Ocean Terminal which is adjacent to the Star Ferry Pier.
Once on the grounds of the resort, the attention to detail Disney is famous for becomes apparent. Although the resort as a whole appears to have a lot of unused space in anticipation of future expansion, it does not look unfinished. Tall hedges mask the view of anything unfinished or unsightly. If only the Disney parks in the U.S. were as well maintained they'd really be onto something.
The moment we stepped out of the car the amazing friendliness of the cast members began. There was not a single employee that we passed who did not greet us, in perfect English, including a woman polishing the floors. We were pointed in the direction of the front desk. Even though there was no line, a woman rushed over to ask our name and then took us to a woman at reception who took care of the actual check-in. Everyone had a greeting and smile. We both worked at the original Disneyland back in the day, and even we were impressed.
Our room wouldn't be ready until 3:00PM, so the receptionist printed our Stay and Play tickets to Disneyland. This is a two for one deal where you pay for one day and get the second one free. She also gave us a list of hotel activities and dining hours, a property map of the public areas, pointed out various features of the hotel, such as where to eat breakfast, etc. She offered to make breakfast reservations for us, but we decided to wait until we come back to get our key before doing that. We're not sure how much the admission tickets cost, but the two for one price makes it a bargain no matter what.
We reserved a Fantasia room, which is a turret room with a king bed and ocean view. The price per night was about $335, which is less than one-half the price of the allegedly equivalent Disney's Grand Floridian. This hotel design is the same Victorian style, with a soaring atrium lobby, crystal chandeliers, inlaid stone floors with Mickey heads in the pattern, etc. We wandered around taking pictures to kill time. Mulan was in the foyer greeting guests when we arrived, a nice touch.
The Grand Salon is the all day restaurant for all meals, but it is mostly just part of the lobby. There is an adjacent lounge that also serves meals when the hotel is busier than it is now. All of the rooms are magnificent to say the least. The Disney decor sometimes can be a bit much, but once you get used to it, it really is tastefully done with what appears to be an unlimited budget. The crystal chandeliers in the lobby for the ballrooms have glass slippers as part of the design. The stone floor is enough to make Liberace swoon.
Although the Hong Kong Disneyland Hotel is modeled on the Grand Floridian, it is a fraction of the size. There are no rooms in out buildings. There is just one large main building that houses 400 guest rooms and a handful of restaurants.
Speaking of restaurants, we asked if we could take a picture of the Chinese restaurant, Crystal Lotus, that wasn't open yet. The hostess kindly allowed us to come in and take some pictures of the beautiful dining room and etched glass lighting. Adjacent to the restaurant is a bar that has a waterfall on one wall that features projections of koi swimming up the waterfall. In the floor are two large squares of glass that have projections of koi swimming around as though they are right under your feet. When you step on the glass, the water ripples. The effect is amazing, but impossible to photograph properly, although we did try.
While we were gawking at the chandeliers, Sleeping Beauty and Cinderella emerged from the elevator and said, "Good morning," before strolling off for their photo session in the lobby. A little Asian girl was so cute when she timidly went up to Cinderella. She just stood there with her mouth open until Cinderella bent down to her level and spoke to her in Chinese. The look on the little girl's face was priceless.
It was raining, so we didn't explore the grounds of the hotel, but we will do that as soon as the sun comes out, assuming it does eventually. We decided that since we had our park tickets and it wasn't pouring rain that we would take the resort shuttle bus to the park and take some pictures. We checked our carry-on bags with the bell desk who already had our other luggage. They even asked if there was a laptop in any of the bags so they could be extra careful.
We weren't sure where the walkway to the park was or how far the walk would be, so we took the shuttle bus. The stop is located to the left of the front entrance of the hotel. There were a few people waiting when we arrived, but the line quickly grew to be quite long. We expected a chaotic stampede for the door when it arrived, but everyone was orderly and waited their turn. They do not allow standing on the bus, so the driver kept track of available seats and only let on enough people so that everyone has a seat. That would be fine except the bus filled to capacity and it still had to stop at Disney's Hollywood Hotel before arriving at the park.
Only a few people got off at the Hollywood Hotel, so only a few people were allowed on and the line was just as long as the one at the Disneyland Hotel. The transportation system needs some adjustments, especially if this park ever meets expectations for attendance.
The drop off point for the park is the transportation hub where one can find taxis and busses into Hong Kong. There is also a special train line that has its themed station right outside the gates of the park. Guest relations is the first building you see on the way in. Beyond the welcome marquee there is a wide promenade leading to an enormous fountain that has Mickey surfing on the water spouting out of Montro's head. Surrounding the whale are bronze figures of various Disney characters each with a different type of water effect around it. At intervals, the music swells and the fountain does it's thing. Speaking of music, the entire length of the promenade (which is quite substantial) is fitted with speakers playing themed music. This is repeated everywhere you go in and out of the park itself. It really adds to the emotional impact of whatever vista you happen across.
That brings up another aspect of good design. No matter how you approach the park, you can't actually see anything until you turn a corner and an entire panoramic view is revealed. The same thing took place again at the fountain. You are drawn past the marquee, down the promenade, and up to this huge fountain. Turn to the right and there is the Disneyland train station with the floral Mickey in all it's glory. Amazing. Take the time to look at the details and you'll find something amazing at every turn. Even the manhole covers have hidden Mickey's on them.
There were far more people arriving than we anticipated, but it wasn't terribly crowded by U.S. Disneyland standards. There were no lines to purchase tickets, for example. There were cast members everywhere directing guests in the proper direction. We were amazed at how friendly every single one of them was. Even the girls selling giant Mickey hands at carts waved and smiled at everyone walking by. This is how it should be done at all Disney parks.
Here is a scan of the Times Guide for today.
We have the two-day tickets, so we had to stick our finger on a reader to validate it for the following day. That prevents you from giving the second day away to someone else and is similar to the method used to verify the owner of an annual passport. There were banners all over announcing a deal whereby you may upgrade your single day ticket to an annual pass and get your "Special VIP" in with you free. It seems to be somewhat similar to getting in free on your birthday at U.S. parks this year.
Since this Main Street used the plans from the original Disneyland, we pretty much had a flashback to working in the park ourselves. Town Square has the gazebo Walt Disney had removed because it blocked the view of the castle. Apparently someone didn't learn their lesson because it does just that. It is used at a character greeting location. Mickey and Minnie came out while we were wandering around.
We waited for about fifteen minutes for the train that circles the park. It was almost full when it arrived, but we squeezed in anyway. Most guests seem to be very well behaved contrary to what we had read in reviews. They are no worse than in any public place and in many ways they are more polite.
Riding the train around the park shows just how small it really is. We thought it was similar in size to the original, but in actual fact it is much smaller than that. It is definitely beautiful, no doubt about that, but Disney needs to get snappy and expand this park.
After returning to Main Street, we happened to catch the Muppet Mobile Lab as it was coming onto the street from backstage. We didn't see the main show it does, but the language was Chinese (we assume Mandarin). However, it was very well done and quite clever. It moves very slowly and took forever to get around the hub. As cute as it may be, it did not belong on Main Street because of its futuristic appearance.
Many of the buildings around Town Square appear to have had hastily added attractions slapped into them. The Opera House houses the Art of Animation, but the Animation Academy is only offered in Cantonese. It didn't look at all popular either.
Main Street is the same scale as the original, but the hub is microscopic. Just beyond the last building, Corner Cafe, is the entrance to the really tiny Tomorrowland. Photo ops abound in this park as though the designers thought the Chinese were more interested in taking pictures than riding rides. The sign at the entrance to Tomorrowland is a spectacular stainless steel sculpture of planets with water splashing down channels on the right side. It was a popular picture spot with visitors.
Even the fast food places in Tomorrowland are highly themed and present their own photo ops with a huge rocket spewing steam out of the bottom, dining areas where the lighting changes colors before your eyes, a giant Buzz Lightyear out in front of his attraction, and the large Orbitron with it's rotating planets and flying saucers instead of rockets.
Although the land is tiny, the themeing is amazing. We would be hard pressed to describe the amazing UFO Zone water play area as an actual attraction, but it was popular with the kids even in the rain.
We hadn't planned to actually visit attractions today, but the lines were short and it was raining. So, we took off to defend the universe on Buzz Lightyear's Astro Blasters. The ride is similar to the U.S. versions and is a lot of fun. The removable laser guns are a plus over the Walt Disney World version. The ride itself was about the same length and design as the California attraction.
Next door is the Autopia, but it closed constantly due to the on and off rain. We will catch it another day. Just beyond that is the aforementioned UFO Zone water play area with it's amusing assortment of aliens spraying kids with water.
Next around the plaza (the Orbitron is in the center of Tomorrowland with restaurants and attractions around the perimeter) is Space Traders, a shop, then FastPass return for Space Mountain, then the entrance to Space Mountain itself. There was no need for FastPass today. The standby wait time was only ten minutes, so we jumped in line. Other than the four incredibly loud Chinese rugby players who tried to take our seat by jumping out of line, the wait was fine. Incidentally, the ride operators are well aware of line jumping or otherwise misbehaving. They couldn't have acted faster to put the rugby guy back where he belonged.
One thing about Space Mountain really amused us. At the entrance a greeter is constantly telling each individual guest that, "This is a roller coaster," and handing out a printed warning to that effect. It seemed like overkill in the extreme since we didn't see anyone back away.
After Space Mountain is a walkway to Fantasyland and the Stitch Encounter attraction, but we continued on around the circle past the Cosmic Cafe that serves Chinese noodle and wok dishes. By this time we were thirsty and hungry, so we stopped into the Starliner Diner for burgers and drinks. The prices are surprisingly reasonable. Our two burger combos with drinks and fries were only about US$10.00. It would be twice that at a U.S. park. Service at the restaurant was very polite and friendly. The food was ready within two minutes. It was OK for what it was, but nothing remarkable.
Next we wandered toward Sleeping Beauty Castle. There was a band playing in the middle of the street as we passed. They were trying to get some sort of interaction going with the guests, to little avail.
The Hong Kong castle is a duplicate of the original in California, so it is small. However, we remarked several times today how the smaller size of this park and the original tends to feel more inviting than the overwhelming large parks like the Magic Kingdom or Tokyo Disneyland. This park definitely needs more attractions, but it isn't the size that is the problem. There are plenty of amazing things to look at, but there should be more to do. If all you want to do is run among attractions as fast as you can, this is not the park for you.
We stopped by another so-called "attraction", the Snow White Grotto that is mostly an afterthought at the original park and is in the same location. It is beautiful and charming, but an attraction it is not.
Through the side door to the castle courtyard, you'll find, uh, more shops. Where the Disney dark rides are in every other Fantasyland on earth, here there are only shops selling the same plush and keychains sold in every other shop and cart in the park. What was Disney thinking by leaving these rides out? Judging by the huge line for Winnie the Pooh, it certainly can't be that the Chinese don't like dark rides. We had to get a FastPass for Pooh and come back an hour later.
In the meantime, we walked over to the new "it's a small world" attraction that is reached via a tunnel under the train tracks. The Golden Mickey's show is to the right of that, with the Mad Hatter's Tea Cups to the left. The tea cups are similar in design to Florida's. The hanging lanterns put on a light show timed to the music when the cups start to spin. There are also many elaborate topiaries and other cute characters in the landscaping.
The outside of small world is done in pastels with built-in LED lights that change colors. The facade is about the same as the original, but the boats are entirely inside like the Florida and Tokyo versions. The queue looked like it was done on the cheap, but the attraction itself had more elaborate animatronics than the U.S. versions and more animation throughout. The ride is shorter than the others and the finale room is so small it looks like an afterthought. That said, the locals were completely delighted by the whole attraction and that alone made the ride worthwhile. It really is fun for us to see people react in such a joyful way to aspects of a Disney park that we completely take for granted now. By the look on the guests' face, they sure seemed to be thoroughly enjoying themselves at even the most simple things.
We still had some time to kill for our Pooh return time, so we took in Mickey's Philharmagic where the wait for the next show was about ten minutes. This is a 3D movie with in-theater effects such as wind blowing, water sprays, lights, and such, that match the action. The show was very amusing and the audience reaction was priceless.
By the time we emerged from Philharmagic it was pouring rain, so we hightailed it across Fantasyland (about fifty feet maybe...OK,100) back to Pooh. We were the only ones using FastPass, but they quickly stopped the line and merged us into it. Apparently the locals aren't even aware of the system or how to use it because we only saw a handful of people using it all day. True, it wasn't terribly busy, but the standby line for Pooh was 60 minutes.
Pooh is a cute ride and much better then the dismal California version. It certainly doesn't match the technical genius of the Tokyo version, but the hopping and floating motion integrated into the "honey pots" works well. The ride seems a bit longer than the Florida version, but we're not sure about that. We enjoyed it, but we wouldn't wait an hour. Lucky for us no one knows about FastPass around here!
At this point, about 2:30-3:00PM the rain had turned to a torrential downpour and we were tired. So, we wandered through Adventureland, the largest of the themed lands. "Largest" is a stretch, it is still very small, but the details are absolutely amazing. Even the restaurants are beautifully integrated into the manmade jungle. There is not a large river to accommodate a riverboat. The Jungle River Adventure river is the only waterway and the climactic ending scene where "something goes terribly wrong" is visible from a viewpoint along the pathway.
This same river surrounds Tarzan's Treehouse that is reached by rafts like the ones at other Disney parks. We did not ride any attractions in the area today, but we will get around to them in the next few days. The Lion King show is closed for rehab, but reopens on Sunday, so we will see it them. As already mentioned this area is very beautiful, but the attraction lineup is pitiful. There is a large tunnel under the railroad tracks, so it is apparent an expansion is in the works.
We bought a couple bottles of orange juice for a very reasonable price, then started walking toward the exit. By now the rain was pouring down and we were soaked even though we had umbrellas. The saving grace in all of this is that it isn't at all cold out. Getting wet is inconvenient, but wet and cold is just miserable.
We decided we would walk back to the hotel since we know where it is now. The same promenade that approached the park from the transport hub continues all the way to the elaborate but unused ferry terminal near the hotel. It was a long walk and we only saw one other person the entire time. There was a lot of money spent on fountains and landscaping along this completely unused promenade. It was built to accommodate crowds, but it isn't marked well from the hotels at all. We couldn't even find it which is why we took the bus. Now we know, so next time we will walk. Well, maybe we will. It is quite a distance, but maybe when we're not already tired it will be OK.
Back at the hotel, we checked in with no problem. We got the non-smoking room we reserved in a prime location on the sixth floor directly facing the ocean. The other Disneyland hotels and the extraordinarily expensive Grand Floridian pale in comparison to the value and luxury one gets at this Disneyland Hotel. The hotel is simply magnificent. Stone floors inlaid with hidden Mickeys and the previously mentioned chandeliers are just the start.
We were pointed toward the elevators and told our luggage would be sent up. In Florida that means your luggage might arrive sometime within the next 24 hours. Here it arrived moments after we did and the bellman couldn't possibly have been any more polite and pleasant.
On the way to the room we were greeted by a woman sweeping the stone floors and a maid who just happened to walk by asked if we needed any help finding our room. Dream on if you think that will ever happen at a U.S. Disney property. We couldn't even get the concierge to look up from his desk at the Grand Floridian in the entire ten days we stayed there.
The room isn't huge, but it is big enough, with windows on two sides that face the courtyard maze garden and the ocean. The Fantasia rooms are in the turrets at the corners of the building, so they are oddly shaped and do not have balconies. However, they are considered a higher grade of room than a normal hotel room. More expensive than these are the concierge floors (Kingdom Club) and suites. This room, next to the highest level, was US$335 per night. A room like this at the Grand Floridian would be at least double that with not nearly the level of luxury you will find here.
Actually, the decor is similar to the Grand Floridian with Victorian furnishings and such, but of a much higher quality. The bedspread has a print of Disney fairies. Did they know we were coming, or what? There is a carved picture of the castle in the headboard.
However, the most amazing, especially for a Disney hotel, is the bathroom. The floors are inlaid marble, the mirror has a frame featuring Snow White and the Seven Dwarfs, and there is a totally adorable drawing of Sneezy painted on the vanity above the tissue dispenser. The bathroom also feature a huge Jacuzzi tub surrounded floor to ceiling with marble. There is a rain shower, or better referred to as a monsoon shower, with two different shower heads and enough water pressure to make a Californian swoon.
The bedroom features a king-sized bed, a chair that pulls out into a twin bed, a desk/table with two chairs, a dresser with a huge flatscreen TV above it, a mini-bar filled with reasonably priced items, tea making equipment, a safe large enough to hold a laptop, and a large closet with robes, iron and ironing board.
Oh, and guess what? Hell froze over! Yes, that's right a DISNEY hotel provides complimentary high-speed internet and two bottles of water. Do you need smelling salts yet? Get this, we ordered room service and it arrived in just ten minutes and was delivered by the most pleasant waiter you'd ever have the pleasure of meeting. And, the food was actually good. This must be some sort of alternate Disney universe and we haven't even been to Tokyo Disneyland yet!
Well, that's the gist of what took place today.
Saturday, March 28 - Hong Kong, China - Hong Kong Disneyland Hotel
We were up very early today, by 7:30AM. No reason, we just were. The bed is hard as a rock, but that's neither here nor there and doesn't bother us.
The weather is better today. It was raining in the morning, but turned to overcast and dry by late morning. It is warm and humid, which isn't our first choice, but as long as the sun doesn't come out it is bearable.
We debated about whether to get a room service breakfast or to go down to the Grand Salon. Eventually we decided to go downstairs. We were a bit concerned that the restaurants would be full, but we were seated immediately. They only serve a "light buffet" for breakfast unless you go to the character breakfast in the Enchanted Garden, but it was enough to get us started. Oddly, they do not indicate anywhere what the cost is. The hostess asks for your room number and that's it. No check was ever presented. The people at the next table asked how much it was and the answer was HK$80, which is about US$10. That's cheap for a luxury hotel breakfast in our opinion.
The buffet consisted of breads with a toaster, a variety of muffins, croissants, small pastries, a large choice of Asian hot dishes such as pork dumplings, congee and other Asian dishes. There was also fruit and juice. We tried the pork dumplings and they were excellent, but the muffins and pastries were amazing. The muffins were the best we have ever tasted, no exaggeration.
We continue to be amazed at the friendly service from every single employee we run across. The hostess at the restaurant saw us coming from across the lobby and started gesturing to us to come in. No matter who we pass they always smile and say hello. As we were walking down the hallway back to the room a maid who is not ours came out of a room and greeted us. If Disney would run the parks in the United States like this they would really be onto something and maybe, just maybe be able to justify their premium prices. So far, every price we have paid here we have considered very reasonable for what we are getting. This Disneyland Hotel is the only deluxe Disney hotel we have ever stayed in that we consider worth every penny and actually a good value. Everything about it is superb.
After breakfast we wandered around the grounds taking pictures of just about everything. The hotel has both a stunning indoor pool and a large outdoor pool with a rock slide. With the weather better today, the outside pool was open again. On both sides of the hotel there are large plots of lawn that are available for expansion of the hotel. That certainly isn't on the horizon at the moment, but it appears they have planned for it.
There are so many Disney touches in the decorative elements of the hotel it is astounding. There are characters woven into the pattern of the carpet in the room and down the hallways. Even the brackets on the wooden shelf in the room have hidden Mickey's in them. The same is found in the stone floors, metal work, you name it.
We wandered around ballroom wing of the hotel taking photos of the amazing details. There must be millions of dollars in crystal chandeliers alone in the this place! The ballrooms are amazing. There were several weddings planned for today and we found a set-up ballroom open and managed to get a picture of part of it. This would be a beautiful place for a wedding.
When we arrived back at the room, the maid was still cleaning. By the way, the maids are not imported cheap labor that you might find elsewhere. They speak English and appear to be well-educated. We wandered around the corridors to kill time until the room was finished and managed to take some pictures of the vacant plot of lawn on the other side of the hotel. The ballroom wing appears to have been designed with expansion in mind. It is interesting to note that the Victorian style roof on the front of the hotel is just a facade like a movie set. The back is unfinished and is not the actual roof of the hotel.
After gathering up our stuff, we headed for the park along the deserted Park Promenade. This pathway is beautifully landscaped and has speakers throughout playing Disney music. One end goes to the unused Ferry Terminal that was obviously intended to handle a majority of the arrivals to Disneyland. There are gazebos to cover souvenir and food carts, fountain, topiaries, etc., all the way from the water's edge to the transportation center. There is also one of the big marquees on this end of the walk. It is quite obvious that this walkway is ahead of its time and that there will eventually be a major expansion of the resort.
The walk from the hotel to the park takes about fifteen minutes at a leisurely pace. At the big bronze fountain we could see the influx of visitors who arrived by train, bus or car. The lines to get into the park were longer than they were yesterday, but there were no lines at the ticket booths. We checked the prices and they are very reasonable for a Disney park and seem about right for what this park has to offer. In our opinion it is a bargain for what you get.
Along the wide walkway to the park entrance there are carts selling souvenirs and refreshments. We were walking behind the carts because the center was crowded. Even though we were behind them, the girls manning the carts turned around, smiled at us, and said, "Welcome to Hong Kong Disneyland!" They could easily have avoided us, but they made a point of greeting everyone they could. It really is amazing how charming everyone is here.
We stopped at the Plaza Inn and asked if we could go in and take pictures. It is a table service Chinese restaurant. It was deserted when we arrived and there were hostesses on the street trying to drum up business. The interior is beautiful in an opium den sort of way. It's funny because the Corner Cafe restaurant across the street serving spaghetti and other western food, among other things, always had a line out the door. Seems like Disney miscalculated the desires of the locals because every restaurant serving Chinese food was empty and those serving hamburgers and other theme park foods were busy.
We wandered down Main Street deliberately avoiding the "High School Musical" show about to start in front of the castle. We didn't visit any of the attractions (both of them) in Adventureland yesterday, so we went directly to the Jungle River Cruise. There are three lines to choose from: English, Cantonese, and Mandarin. The wait was about ten minutes for each. The boats are similar to the ones in the states, but most of the skippers are women. Ours spoke decent English and was amusing. The jungle river is the only river in this park, so it doubles as transportation for the rafts to Tarzan's Treehouse.
The jungle boats have to wait for the rafts to cross before continuing on. Once past the mother elephant with a baby, the cruise is roughly the same as other parks, but with more realistic animatronics and a longer route. The basic scenes are the same. The ending is completely different where "something goes terribly wrong". In this case. our path is blocked by a huge geyser that erupts from the river forcing the boat to take the path through a fiery scene where flames erupt from the canyon walls and then the surface of the water itself catches fire. We are saved by the water Gods who send a torrent of water gushing forth to extinguish the flames. The End. We thought this climactic ending was a huge improvement over the traditional Jungle Cruise attractions.
We continued walking through the park to Fantasyland to catch "The Golden Mickey's" live show at 12:45PM. We were in line and just happened to turn around to find Paula calling to us from back in the line. How she found us is anybody's guess, but we were very happy that she found someone to come with her and actually did come to the park.
The doors to the show opened shortly after we arrived and we were seated in the huge theater right away. The theater was nearly full by the time the show started. The show is sort of like an Academy Awards show, but that aspect is sort of vaguely followed. The show came from the Disney Cruise Lines, so it must have been cut down for this show because it was relatively short. For a theme park show, it was very good.
We waited for Paula and her friend to come out. She thanked us for sending the email encouraging her to come to the park no matter what. She was thrilled to be there and we were thrilled she had made it. They went on their way and we wandered off to ride "it's a small world" again. It was a lot better without the old Chinese woman who talked loudly through the entire ride the first time.
When we emerged, the clock was doing its thing, so we watched that, then got an ice cream cone and a "mixed berry basket" from a nearby stand. Both items were large and very good. Again, the price was very reasonable for what we received. We were totally revived after our snack, so we continued on to Tomorrowland to check the time for English shows at the Stitch Encounter. English was just starting (for the next two hours), but the wait time was 30 minutes so we rode Buzz Lightyear again with only a five minute wait.
We returned to Stitch Encounter and waited about fifteen minutes for the next show to begin. This show was adapted from similar shows in Florida. We didn't expect much from it, but we wanted to see the technology at work. What it is is an animated character, in this case Stitch, who interacts live with the audience. The effect was very convincing and the children in the audience were delighted. The show was much better than we expected from the description and the effect worked very well.
It was almost 3:30PM by now and the parade route was adjacent to Stitch, so we just stepped out and found a spot on the other side of the pathway to watch it. Disney on Parade appears to be a conglomeration of old parades. For example, it is lead by the inflatable Mickey from other parks. That is the only float that looked "used", the other appeared to be new or at least well maintained. The parade had a catchy theme and was enjoyable. Here is a YouTube video of the parade:
Part 1
Part 2
Most touching was watching an older Chinese woman across the route from us. She was absolutely delighted with the parade as though she had never seen anything like it before. She was so charming we had to take a picture to show how cute she was. It was truly a Disney moment. It is so nice to be in a park that isn't filled with jaded annual passholders. The guests here seem to be completely thrilled to be there. Everywhere you look is another happy person. We're one of the jaded and even we were charmed by it.
The rest of our day was spent re-riding various attractions: Space Mountain, Buzz Lightyear, etc. We took our first ride on the Orbitron when the line dwindled and the wait was only five minutes. Instead of rockets, this Orbitron has flying saucers with a front and back seat. They look large enough to hold four guests, but only two were seated in each. The cast member handed out numbered cards so you went directly to that car and were not allowed to switch. We think perhaps she was balancing the ride by doing that because after everyone was seated she noticed someone had switched cars and she made them go back where they were assigned. Each saucer was just for your party, you did not have to share with anyone else. The rockets can be controlled to move up and down while it spins and there are buttons to push to make a variety of spacey sounds. For what it was, it is fun.
The line for Autopia was 45 minutes whenever we passed it, so we haven't ridden it yet. We plan to hit everything at least once, but 45 minutes for Autopia is too long.
We walked back over to Adventureland for a late lunch at the table service River View Cafe there. It is a Chinese restaurant, although we're not sure why since it has absolutely nothing to do with the theme. It was HK$75 per person and came with soup, sautéed vegetables, a choice of two entrees served family style (we chose shredded pork with celery and wok-fried chicken with vegetables), and a large bowl of rice each. Only chopsticks were provided. The food was edible, but VERY bland. When the waiter took our order he said, "The chicken is very spicy. Are you sure you want to order that?" Spicy? You've got to be joking. It tasted like nothing and the vegetables were celery and diced green peppers. The pork wasn't much better. It was tiny shreds of pork with large pieces of celery and nothing else. Bland, bland, bland! The plate of vegetables was the only thing that had a flavor at all. Luckily the rice was good and plentiful. The quantity of food was smaller than expected, but it was well worth the price even though it was boring. However, we would not go back there.
Next up were the rafts to Tarzan's Treehouse. OK, now what the heck were they thinking with this idea? The rafts are the same as at other Disney parks, but the river is only a little bit wider than the jungle river. So, the rafts leave the dock, turn around and you are on the other side. The rafts were always full, but the wait was only five minutes. On the island, you get off the raft, walk behind a waterfall and find yourself at the entrance to Tarzan's Treehouse. From there it is pretty much identical to the one at Disneyland. So, you climb up, look at the fiberglass figures of Tarzan characters, climb back down and you're back at the raft to go back to Adventureland. That's it for the island. If anyone lingered there wouldn't be room for everyone. And, there are no restrooms on the island, so if nature calls you have to wait for a raft or go in the bushes. That was fifteen minutes we'll never get back.
Well, it wasn't all bad. We did get some great pictures from that vantage point. Beyond the train tracks you can see a huge parcel of land that has been cleared for expansion. There is already a tunnel under the tracks for access to this area. Let's hope it is done sooner rather than later because this park seriously needs more attractions and pronto.
We decided we'd kill an hour until the fireworks when the park closes at 7:30PM, so we walked through every shop in the entire park. This is the only disappointment to report about this place. Every single shop and cart sells the identical merchandise. Keychains, pens, and basically crap with nothing but generic Disney characters on them. No Hong Kong Disneyland specific merchandise at all except a few T-shirts. What's the point of beautifully themed shops in each land if the merchandise is exactly the same as that in your hotel shop? We're not exaggerating, every shop, every cart, sells the exact same stuff.
Eventually we found two stores on Main Street selling something different, Crystal Arts and the adjacent fine jewelry shop. We did find ONE item with Hong Kong Disneyland on it, a crystal cube laser etched with the castle and the park's logo. Otherwise, everything else was generic Disney. The jewelry store had a couple of HKDL pendants but the prices were in the thousands of HK$. When we asked for something the logo on it, the clerk said, "We don't have anything like that, but how about this?" She held up a generic Mickey head pendant. We declined. Then she followed us to another case selling gold jewelry at even higher prices. We declined. Another clerk then tried to sell us on buying TWO commemorative medallions that had nothing to do with what we were asking for. She was way too pushy in our opinion. We're guessing that this shop is not run by Disney, but we're not sure about that. We know Crystal Arts is run by Arribas Bros. as they are in all Disney parks. The clerks there were very pleasant.
We waited on the street for the fireworks for about 30 minutes. We hadn't heard anything good about the show, so we weren't expecting much. It was fantastic! They can't use large fireworks here, so the show is part light-show on the castle and park low-level fireworks launches from around the castle and on the castle. It was very good under any circumstances and fabulous for what they have to work with here. At one point we looked in front of us to see a sea of camera LCD displays as far as the eye could see. It is a great way to close the park because no matter what happened during the day, guests will remember the happy feeling of this show and take that home with them. Good job Disney.
After the show we turned around and walked out of the park with everyone else. All along the route there were cast members out waving and saying "goodbye", a nice touch. The staff of City Hall were out on the steps wearing big Mickey hands and waving goodbye. Just inside the main gate employees were lined up saying things like, "Thanks for coming," "Come back soon," etc. It was really very touching. Again, good job!
We stopped at the big whale fountain and watched the show with the lights. The streetlamps dim automatically when the fountain started its routine, which was nice.
Only about twenty guests turned toward the hotels along the Park Promenade, the rest turned left to the transportation center. The promenade toward the hotels would be creepy if not for the Disney music playing along the route. It is beautifully lighted, but with only two people in site the entire time it is a bit weird. If the ferry option ever materializes this walk will become what it was intended to be, but right now it is seen by a handful of people each day.
Back at the hotel we went back to the room, showered and ordered room service again. We ordered meals and two banana splits, but someone called back to tell us they only had one banana (in the entire hotel???), so we substituted a fruit plate. The food was delivered within ten minutes by the same waiter who came last night. A separate person arrived with a bucket of ice (free of charge). We can't figure out how they can prepare and deliver the food so quickly because the food doesn't taste like it is sitting around already made, but it must be. Both the fried rice with pork and shrimp and the sweet and sour pork were outstanding. The sliced carrots in the pork dish were shaped like Mickey heads. For room service, the prices are very reasonable for the quality of the food you get.
After our late dinner, there was nothing left to do except post an update to the site and crash.
Sunday, March 29 - Hong Kong, China - Hong Kong Disneyland Hotel
The weather is cooler today, but there was no rain after 8:00AM, so it was pleasant all day. The sky was cloudy all day today, which is an advantage here. The few short times the sun came out yesterday it immediately became way too hot.
We were awake by 8:00AM, but it took us until 10:00AM to finally drag ourselves down to the lobby for the breakfast buffet. We went to the same place as yesterday, so it was just the light buffet with muffins and such. There are hot Asian dishes that we sampled more of today. All of the food at the hotel is incredibly good and reasonably priced. The hostess told us the buffet was ending in fifteen minutes and was that OK with us. We said we'd hurry, she said OK that's fine. We loaded up on muffins and were perfectly happy. All of the food was kept stocked until the last second. Next thing we knew, the whole thing was cleaned up and put away without a disturbing sound. Crystal could learn a few lessons about being quiet when they're cleaning up a buffet.
We picked up a new Hotel Information sheet for today and tomorrow at the front desk. We didn't want to go back to the room right away to allow housekeeping to do their thing, so we walked to the Park Promenade to finish the short distance to the Ferry Pier. The pier is huge and was obviously designed as a major gateway to the park. Amazing topiaries grace the planters all the way to the pier. We estimate that less than fifty people a day, if that, ever see this area. The terminals are finished and ready to go, but vacant and unused. We assume it is some government issue since Disney has obviously prepared for a ferry. At the moment one side of it is open to the public and some people were fishing from the sides.
Next we made a bit of a miscalculation and decided to walk to Disney's Hollywood Hotel along the waterfront promenade. This walkway is rarely used for a reason. It is VERY far to walk to the other hotel! Hong Kong Disneyland Resort is built on a filled in semicircle and the promenade is along the outer edge. The hotels front an inner road and back to the water (the views are amazing on a clear day).
There is a huge plot of land that is between the two existing hotels that is intended for an additional hotel at a later date. Plus, each hotel has quite a bit of expansion space on it's property. The point is, this makes for a LONG walk between hotels! But, we made it eventually, entering the hotel from the back way.
The grounds of the Hollywood Hotel is designed with walkways that look like roadways. There are California style cars parked along the "highway" for photo ops. A huge sign spells out "Hollywood Hotel" resembling the Hollywood sign. There are many other familiar icons: The Hollywood Bowl-shaped pool bar, a replica of the Walt Disney Studios entrance arch, the marquee of the El Capitan Theater, among others. We wouldn't want to stay here ourselves, but it looks nice for the theme and a lot of money certainly was thrown at it. There are huge stainless steel Art Deco style lights, granite accents in the planters and walkway lights that resemble street lights.
The hotel building itself is a bit of an eyesore from a distance, but up close the details are revealed and they are amazing. There are Mickey heads in the plaster work, light fixture trim, along the roof line, and more. The theme is well done, but this hotel is much more crowded and noisy due to the polished marble floors and stainless steel accents. This hotel has 600 rooms, but appears from the outside to be smaller than the Disneyland Hotel.
The lobby is spectacular in all of its Art Deco grandeur. A beautiful mural behind the reception desk depicts various Hollywood icons of the past. We wandered into the striking Studio Bar for some pictures and a friendly cast member offered to take our picture in front of the bar.
Beyond the bar is the large Chef Mickey's restaurant with its enormous Mickey head light fixtures and animation theme. Around the corner is a marble elevator lobby leading to guest rooms, and down the hall is the Hollywood & Dine food court.
Bill took a chance and asked at reception if they would show us some rooms. A cast member took us on a private tour of the hotel pointing out the features. When she found out we had worked at Disneyland in the past, she opened up and was even more friendly. All of the rooms at the Hollywood Hotel are exactly the same except for the view. They are considerably smaller than those at the Disneyland Hotel, but they are priced accordingly. The hotel has only one suite. The most expensive rooms have a park view, which most of the rooms at the Disneyland Hotel do not.
The rooms resemble a cruise ship stateroom in an Art Deco style. The rooms are quite attractive, but we're not sure how comfortable they would be for a family of four because the is almost no floor space. They are well planned though. Our guide pointed out the amenities and then took us to a garden view room which is the least expensive room category (the middle range is ocean view). When we remarked that the view wasn't all that bad, she said, "Yes, but this is the show room," with a smirk on her face. We'd guess what you actually get for the cheaper price is a rooftop view or the parking lot view.
Even the elevator lobbies are beautifully done, but as mentioned, we wouldn't want to stay at this hotel. The rooms are fine, but the hotel has a crowded frantic feel to it. The cast members are certainly friendly though. When we mentioned that Bill's birthday is tomorrow, the guide asked if he had a birthday button. He said he didn't have one, so she rushed off to get him one. She came back with two of them, plus two of the VIP buttons to wear in the park for extra attention. There is some sort of promotion going on this month involving these pins, but we found out later that it mostly involves cast members giving you stickers or something similar. If he has the nerve to wear the birthday pin tomorrow we'll see what happens with that. She also told us that if we tell our hotel about his birthday we'll get a box of cookies and "other amenities". We might wait and see if she calls our hotel and tells them or if they figure it out themselves.
The walk back to the Disneyland Hotel along Magic Road was MUCH shorter than along the outer edge of the property. The roadways are beautifully landscaped and tall hedges disguise undeveloped parts of the property.
Earlier today we met a supervisor who was talking to a guest who also came from Crystal Symphony. He was showing her a panoramic photo of the Grand Floridian when we walked up, so the three of us ended up answering her questions about U.S. parks and generally having a pleasant exchange with her. She told us to ask her for anything we need. So, we asked her if they could show us rooms in the Disneyland Hotel also. Voila! Instant private tour with another friendly young woman.
The rooms at the Disneyland Hotel aren't quite as spacious as those at the Grand Floridian, but the amenities are much better and the prices are a fraction of U.S. Disney deluxe hotels. We saw a standard balcony room and a room on the Kingdom Club floor. Other than a TV in the bathroom and a DVD player, the room are the same as all of the others in the hotel. The room we have, a Fantasia room, is a step up from those, but does not have a balcony. However, there is open floor space. The regular rooms have two queen beds and there is almost no available floor space for children to spread out their stuff.
The VIP pins came with two coupons to hand to cast members who are especially nice to us. They can win a free stay in a suite at the Disneyland Hotel. We gave one to the girl who showed us around the Hollywood Hotel and we gave the other to the girl here. She was beside herself when we did that.
After all that walking and touring, we needed to clean up and rest, so we returned to the room for about an hour. We wandered out toward the Park Promenade at around 2:00PM. On the way, we ran into the guy from the ship, so we chatted with him for awhile before venturing back to Disneyland for the rest of the afternoon.
As we've said, it really is a shame that more people don't see the beautifully landscaped Park Promenade. Disney music plays all along the route and there are different fountains, topiaries and such to enjoy.
Back in Disneyland, which was a bit less populated than it was yesterday, we were stopped and asked to take a guest survey. The cast member was very nice and asked questions aimed at finding out how we got here, where else we were going, which Disney parks we have been to, had we visited Ocean Park (a competitor), etc. She was amazed and thrilled when we said we only came to see Disneyland, were not setting foot off the property for four days, etc. She gave each of us a character pin for our trouble.
We set off to see if the Festival of the Lion King show had re-opened. It hadn't, so we took a few more pictures and returned to the hub. There are only a couple of attractions we haven't experienced yet. One being Autopia. The sign always says the wait time is 45 minutes, but since you can't see any of the queue from the entrance it is hard to tell for sure. We asked the cast member at the sign if the wait really was 45 minutes and he insisted it was. When asked if it is ever less than that he said to come back right before the fireworks and it might be down to ten minutes.
We took another ride on Space Mountain, which has been a walk-on every day we have been here. People routinely chicken out and leave before riding it, so perhaps thrill rides aren't appropriate here. That must be why they have someone posted at the entrance telling guests, "This is a roller coaster," and handing out a printed warning.
We've lost track of exactly what order we did things today, but we took in another performance of Mickey's Philharmagic. The woman at the turnstile held up a sticker of Donald and asked us if we knew who it was. Of course we did. So, she gave each of us the sticker plus another one we have forgotten. She said each land has two character stickers and we should ask for them to get all eight. We don't intend to do that, but it is a nice touch and we've seen countless children who are delighted by the gift.
We watched Disney on Parade again from a better vantage point. It is obvious to any Disney geek that this parade is a conglomeration of used floats from various parks strung together in a generic Disney parade. The theme song is peppy and catchy though and we've never heard it before. Too bad they don't sell CD's of park soundtracks at this park, but such is life. We arrived just ten minutes before the parade started and had no problem finding a place to watch it. We'd estimate that the crowd was maybe two people deep along the route, but there are enough people here that the park doesn't feel empty.
It was time for a late lunch after the parade, so we went to the Corner Cafe to check out the menu. We weren't thrilled with it, so we went to the Royal Banquet Hall in Fantasyland. It is a huge and elaborately themed food court with separate windows for a variety of different foods: Grilled, Kettle, Dim Sum (closed), Pizza, and Sushi. We were the only guests in the place and all of the cast members behind the counter were staring at us, so it was a bit odd. We ended up with the Shanghai chicken and rice from the Kettle counter, a Mickey shaped pizza, and a chicken and pork plate from the Grill. After the boring lunch we had in the park yesterday we weren't expecting much, but the food was very good, excellent in fact, a generous portion, served on real dishes, not paper, and the whole thing cost less than $25.00. That's a bargain in theme park dollars for sure.
We had picked up a FastPass for Winnie the Pooh an hour earlier, so we returned to ride after lunch. This is a really well done dark ride. The floody place scene is especially interesting with good effects. The wait is always over 20 minutes, hence the FastPass we got since no one else seems to be aware of it. We walked right on with the pass in hand.
Back to Autopia to check the wait time which was still posted at 45 minutes. We found that really hard to believe, but the cast member again insisted that was the actual time. Since we had 90 minutes to kill before the fireworks show, we figured we might as well stand in line for Autopia since we be standing around waiting for fireworks anyway.
This attraction is located outside of the railroad tracks so you can't see the queue at all from Tomorrowland. You pass under the tracks and enter a large structure that houses an enormous, but empty, queue. The actual wait time was less than 20 minutes. The best we can figure out is that they tell everyone the wait is 45 minutes because it discourages most people from lining up for an attraction that has a very low hourly capacity. If everyone who walked up got in line there is no way they could get all of them onto the ride by closing time. They don't seem to have the loading and unloading of the cars organized very well, so it is a very slow process.
The cars of this version of Autopia are electric, so they don't make the familiar motor sounds like you'll find in other Disney parks. Instead, they make a sort of Jetsons sound when they accelerate that kept cracking us up. You drive through an elaborate topiary garden, a forest of baobob trees, and tunnels of changing color LED lights. It was really a cute ride, but they need to address the load/unload issue.
By this time we thought we should find a place to watch the fireworks. We happened on a perfect view of the castle from just outside the entrance to Tomorrowland.
There is nothing new to report about the fireworks. They were excellent and didn't feel skimpy at all. Everyone we could see was enthralled by the entire show. You definitely have to be standing in front of the castle to get the full effect though. The show features animated projections onto the castle (not stills moving around, but actual animation). The point is, if you can't see the castle you are missing quite a bit.
The park closes with the fireworks, so we inserted ourselves in the flow and headed toward the exit. The clerks in the pushy jewelry store were standing on the street trying to get people into the store. It was very inappropriate behavior (they are not Disney owned) and very tacky.
We were waiting for the show at the fountain to start and got some good night shots of the fountain in action. The promenade is really beautiful at night with the lighting and music going on. After the fountain did its thing, we strolled down the promenade back to the hotel. The security guard at the car entrance came out of the booth just to say hello to us. He could have easily have avoided us because the pedestrian walkway is a distance away, but he went out of his way to be nice.
Back at the room we found it filled with several cute little towel animals the tour guide had sent to us. There was one on the mini bar, one on each nightstand, on the desk, and two on the dresser guarding a tin of vanilla butter cookies. Uh oh, looks like hell thawed and froze over again! Another freebie from Disney!! The little critters all over the room were charming in the extreme.
We ordered a Disney Hamburger (came with cheese and bacon, plus fries), and two banana splits. As last night with the splits, they called back and said they were so busy they only had one banana to spare. Huh? Whatever, we asked if they couldn't just use the one banana, but put half in each split. That was agreed to and the food arrived within nanoseconds delivered with the usual over the top charming service. Once again the earth stood still as Disney gave us a free fruit platter with our order to make up for only half a banana in each sundae! The fruit plates cost about US$10.00, by the way, so that was quite a freebie indeed and we still got two huge ice cream sundaes. Of course, that is what any luxury property should do, but they most often do not. By the way, the hamburger was fantastic, maybe the best burger we've ever had.
That's about it for today. We're about as exhausted as it gets from walking. Neither of us can feel our feet anymore, which is probably a good thing. One more day of walking, then maybe we'll get one day of flying and doing nothing.
Monday, March 30 - Hong Kong, China - Hong Kong Disneyland Hotel
Today's weather is overcast, but what else is new. It is cooler though and very pleasant. No rain at all today, even in the morning.
We were up by 8:00AM, but were just dawdling around and getting laundry ready to send out. On the first morning after we arrived, we had put some dirty clothes in one of the laundry bags in the closet and left it on the floor. We planned to send it out today when we had more to be cleaned. The housekeeper that day saw the bag and was worried that we might have wanted it to go out that day, so housekeeping called and asked if we had meant to send it out. We said not yet, but that we would have some to go on our last day. We thought, end of story until we call them. Wrong! They called us this morning at 9:45AM and asked if we still had laundry to go out. How amazing is that? Someone came for the bag within minutes of the call and asked if it would be OK if he entered the room when we were gone to return it.
At 10:00AM we went down to the Grand Salon for the usual breakfast, but there was no buffet today. Instead it was regular table service from a menu. The hotel must not be full enough to warrant the buffet, although it seems just about as busy as it has been. Well, maybe not busy in the sense that other Disney hotels usually are, but there was always some activity going on in the lobby with people coming and going. Speaking of the lobby, there was almost always a princess character in the foyer or lobby for photos. We saw Cinderella, Sleeping Beauty, Snow White and Mulan every morning.
The menu breakfast was just as fantastic as the buffet. The pastries that came with the "All Day Breakfast" were amazing. Unlike most fancy pastries, they not only looked good, but they were good. We were the only customers in the restaurant the entire time we were there, by the way.
After a brief stop at the room, which had already been made up while we were at breakfast, we took the shuttle bus to the Transportation Center. The goal was to visit Inspiration Lake, a recreation facility that is part of the Disneyland Resort, but is open to the public. That may be true, but how an outsider would get there is anyone's guess. We did see a public bus stop, but it is over a mile to walk from the Transportation Center to the lake which we learned the hard way...by doing it!
So yes, we did walk about 2 miles each way just to get some pictures. We were the only resort guests in the entire park. There were elementary school groups there, who were extremely cute by the way, but they were involved in group activities. There were about five Disney life guards at a dock full of hundreds of paddle boats that were for rent (50% off for Disney hotel guests). We didn't look at the prices. There were no guests besides us there and none on the lake. The cast members renting the boats were very pleasant, as everyone has been.
There was a 7-Eleven store in the Recreation Center building, but nothing else was for sale. There are fitness stations along the path around the large lake, along with many gazebos to picnicking or whatever. It looks like a huge waste of money to us, but it may be it was required of Disney to include a public park in the design. Either that or it is room for future expansion or maybe has something to do with the power plant just behind the trees.
All we did was take pictures and walk around the dock area, then it was another long walk back to Disneyland itself. The landscaping is spectacular all along the roadways. There is a big traffic circle at the entrance to the resort. The center of the circle is a huge landscaped fountain. Even the pedestrian underpass leading to the lake had granite walls. Several of the gardeners working on the landscape maintenance smiled and said hello to us.
Back at the park, we wandered past the huge empty bus parking lot, past the amazingly organized taxi stand, also huge, and up to the Park Promenade. Everything on the grounds of the resort, all of which is built on land created from the sea, is beautifully designed and there are Mickey heads on almost everything. Even the metal brackets at roof lines have the design included in them, along with fences, the iron work of the train station, and anything else you can imagine. The themeing alone must have cost a fortune. The sad thing is that much of what has been built is not being used yet because huge crowds have not materialized. In our opinion they should have spent more on attractions and left some of the cute, but expensive, details in the parking lot for later.
The park was less busy today than it has been the past three days, but it isn't deserted by any means. Today is Bill's birthday, so we stopped by City Hall to ask what they had for the birthday boy. They offered a choice of a variety of character buttons that said, "Today Is My Birthday!" From that point onward, literally every cast member we came within twenty feet of waved, smiled and called out, "Happy Birthday!" It was very charming and continued from our arrival around noon until we left the park when it closed after the 7:30PM fireworks.
This is the point where we gave in to the Disney magic and started doing thing we ordinarily would never do in a million years. First up, we went into Mickey's House, which is basically a photo op with Mickey himself. First you walk though his kitchen, living room, and bedroom before being ushered in to meet the mouse in person. The cast members (CM's) in the attraction were very friendly and encouraged everyone to take photos in Mickey's giant shoes, in the giant bed, etc. The cheese print wallpaper was a nice detail. The first woman we encountered in the kitchen immediately offered to take our picture with out camera.
When we had our audience with Mickey he almost fell all over himself to be nice to us. He was good with everyone, but when he saw us he ran over to shake our hand, hugged us, sat on us (literally...that part was a little weird), and appeared that he didn't want us to leave. Make your own judgment about who was in that costume, but whoever it was was a lot of fun.
You are offered the chance to buy a professional photo that was taken while you are interacting with Mickey, but a CM also readily takes pictures for you with your own camera. So, although they probably would like you to buy a photo, there is no pressure to do so and they make it very easy to get a picture with your personal camera.
Once the floodgates of dippy activities opened, we went off to do the rest of them over the course of the day. First though, we took another trip on the Jungle River Cruise. This guide was a little better than the one we had the first time, but it didn't make any difference anyway since we already know the premise of the attraction. The only part that is new is the ending with the geysers and fire. The piranha frenzy and the natives blowing poison darts at the boat are very well done also. The guides do not vary from the script much at all, and their English is poor for the job they have. You choose from three languages when entering the queue and one of them is English, so we think the guides for those boats should be more proficient at it.
The order of what we did today is muddled, but we rode Space Mountain four times today. The ride was a walk-on or less than a five minute wait the entire time we have been here. Thrill rides don't seem to be all that popular here from our observations. Disney should have included more of its traditional classics like Pirates of the Caribbean and the Haunted Mansion, but perhaps those are coming with an expansion in the future.
We decided to go crazy with the character photos, so we went through Fantasy Gardens which is a location for this purpose. It is very well organized. Each character has a themed gazebo with a separate queue that has a sign announcing the wait time just like all other attractions. We couldn't figure out who the cutesy white cat in a prissy white and pink gazebos with giant hearts was. At first we thought it was a rabbit. Turned out it was Marie from "The Aristocats". Apparently those characters are popular here because she had a line (we skipped her). Next up was a Pooh themed gazebo housing Tigger and Winnie the Pooh. Bill wanted a photo with Tigger, but the line was closed until 4:00PM for a break. Mickey had a line, but we already had a photo with him from earlier.
It was a bit odd that Mickey was available simultaneously in three locations in the park: Town Square, Mickey's House, and here in Fantasy Gardens. As far as we know, this isn't allowed at U.S. parks and it shouldn't be done here since the park is so small you can easily be from one place to another in five minutes.
Anyway, next up was a gazebo housing Pluto in wearing a Chinese silk hat. Was there a movie or TV show where he wore that? His gazebo was also Chinese style. He had no takers at all and he was as thrilled as Mickey to see us and not just because he didn't have a line. He was quite touchy-feely as a matter of fact. Goofy was next in his gazebo, also with no takers. The handler and the photographer were appalled that we were taller than Goofy. He had to stand on his toes to look taller than we are. He was also VERY friendly and interactive.
Since Tigger wasn't available at the moment, we went off to ride Space Mountain again, but it had broken down and the front gate was closed. Instead we rode on the Orbitron again with just a five minute wait. We went back to Main Street to scour the shops for something to buy and managed to find some HKDL picture frames in the shape of the entrance marquee. We asked if they had guide books or CD's of the attractions, but all that got was a blank stare. In other words, stop looking and accept the terrible merchandising for what it is.
Since we were on Main Street anyway, we took another trip around the park on the train to get a picture of the Little Green Men on the roof of the Tomorrowland restrooms. They make really cute sounds like they did in the "Toy Story" movie and the bounce up and down on the roof. It's a small thing, but very amusing.
After that we figured we'd wander into the Art of Animation "attraction" in the opera house. This is basically about twice the space of just the foyer area of the Disneyland Story/Great Moments with Mr. Lincoln attraction in the same building at the original Disneyland. The room absolutely wreaked. We almost left because we couldn't stand the smell. That and the fact that there was nothing except a very basic display of animation art. Then we remembered that there was supposed to be a Zoetrope machine to demonstrate how animation works. It was a scene from "Toy Story" housed in a huge glass case. It was just sitting there until a brief movie finished, then it started to spin which resulted in nothing but a blur. Then the lights dimmed and started a strobe effect and the animation was instantly revealed. The effect was really amazing and this explanation can't possibly capture what it actually was. Interesting as it was, this should not be classified as an "attraction" although it is probably closer to it than the Leaky Tikis or the UFO Zone.
Back in Fantasyland we went over to Fantasy Gardens again to ask when Tigger would be back. We were told 4:00PM, so we went to the Festival of Foods for a late lunch. The setup was the same as the Royal Banquet Hall with separate windows for BBQ, Wok, and something else we have forgotten. All of the food was Chinese in origin and it didn't appear to be very popular. We had the BBQ sliced pork with rice and the pork stir-fry. The stir-fry dish wasn't very good, but the pork was reasonable. The portions were large and the price was very reasonable for a theme park. It wasn't quite as upscale as the Banquet Hall in that the dishes were disposable plastic and not real dishes and the orders did not come with extras like soup or salad. Overall we would judge the food in the park itself better than average, but with some extremes at both ends of the scale. In other words, you can't be certain what you get is going to be edible, but if it is, it will probably be pretty good.
Disney on Parade went by while we were eating, so we saw the top half of it again. The theme tune is very peppy and catchy, but it clashed with the medieval theme music from the restaurant that was very loud and unavoidable. The theme at the Festival of Foods includes what looks like confetti embedded in the floor and Merlin is routinely available for photos.
It was 4:00PM, so we went back for our photo with Tigger and Pooh. They had the longest line of all the characters, but it was still only about ten minutes tops. However, they took a lot more time with all of the guests, not just us (all of the others spent roughly twice as much time with us as they did with everyone else). Tigger would play around with people when they turned their back on him to interact with Pooh, etc. The kids taking pictures with them were so happy it was really touching. Their faces would just light up when Pooh would take their hand. We've never seen anything so cute. This is what Disney is all about and nobody does it better.
At this point, we had to decide whether to go back to the hotel and crash or keep going for another ninety minutes and watch the fireworks again at closing time, 7:30PM. We got some ice cream from the "small world" stand and sort of revived, so we figured why not stay and close the place again. We re-rode "it's a small world" right after the parade and there were no other guests on the ride. We had a boat to ourselves which was great because they we didn't feel guilty about taking flash pictures of the the entire ride. This is allowed all the time, but we don't think it is right to use flash when there are other guests trying to enjoy the ride. No such issue this time. In fact, when we walked up to the loading dock, a boat full of CM's arrived. Guess they were REALLY bored!
A major drag about "it's a small world" is that the queue is designed to accommodate a huge crowd that doesn't exist. There is no way to shorten it when the park isn't busy, so just walking from the entrance down the winding queue to the dock is exhausting.
When we arrived back at the dock after the ride, the CM at the unload station wished Bill a Happy Birthday and gave him some stickers. We also got a sticker at Mickey's house, but we never did get any from the other lands.
Space Mountain had reopened, so we rode it again, took another flight on the Orbitron, rode The Adventures of Winnie the Pooh twice with FastPass, then rode the Jungle River Cruise again because we wanted to see it after dark. The guide was unintelligible this time around. We both couldn't hear her and couldn't understand her when we could.
We went back to Main Street and stood in the middle of the street to get the best view of the fireworks. Even though this show isn't as elaborate and the mega-extravaganzas at other Disney parks, it is certainly better than any non-Disney display. We enjoyed it quite a bit and would see it again if we had the chance.
After the fireworks, the park closes, so it is just a matter of turning around and walking out of the park. As usual, only four people went down the Park Promenade toward the hotels. It was evident today was much less crowded than the past three days, but nothing shocking about it. It wasn't deserted and seemed like a reasonable crowd for a weekday in the off season.
By the way, we were told that the hotels do quite well and generally have about 80-90% occupancy.
We had managed to find some picture frames with Hong Kong Disneyland designs, but they were in rather large boxes that we didn't want to carry around Japan with us. We asked at the Bell Services desk about shipping them home by UPS (who is a sponsor here). The bellman at the desk didn't speak English well enough to help us, but he did managed to explain that he would tell someone to call us, so we left the bag with him. Someone called us minutes after we got back to the room with the price. It is higher than if you packed and shipped it yourself, but not outrageous. We agreed to use the service, then went down to add the items we had purchased before today. Basically they charge by the box, so whatever you can cram into the UPS Express box goes for the same price. The man who helped us spoke English and we completed the process quickly. We did this at Walt Disney World also and it was a huge relief not to have to haul our purchases home with us.
We forgot to mention that we went around collecting the coin press souvenirs today. They are called coin presses, but in reality they press a piece of copper that is the size of a penny with a souvenir design. It costs HK$10, which is about US$1.50, so it is a cheap souvenir. We got four plus a Happy Birthday one for Bill.
Back at the room our laundry had arrived in wicker baskets and sealed in plastic bags. There was a towel animal in the basket with the shirts. Dry cleaning and pants were hanging in the closet. The way the laundry came sealed in bags we would probably sell them as new. How's that for service?
Another room service meal was the final act of the day after showering and doing some preliminary organizing for the flight tomorrow. The hamburgers were again the best we have ever had. We have no idea what they did to make them so good, but everything about them was fantastic.
That wraps up our stay at Hong Kong Disneyland. We highly recommend this resort in spite of its small size. The service is impeccable, everyone speaks acceptable English, and the prices are reasonable in any respect and in Disney dollars the price is a bargain. We have never seen CM's costumes (uniforms) that all looked as though they were brand new. It was amazing to us having worked for Disney ourselves. Everyone was perfectly clean and their clothes looked new even in the heat and humidity of Hong Kong. The park itself is very beautiful and the details will delight any Disney geek.
We've never really bought into the "magic" of Disney because we hadn't seen it practiced in such a universal way. Yes, some CM's at U.S. parks are very friendly, most are nice enough, but here 100% of them were extraordinary. Every single one of them we encountered went out of their way to greet us, smile and generally be pleasant even when they could have easily avoided eye contact. The entire experience at the resort was truly magical and coming from us that is high praise indeed.
You will find hundreds more pictures in the Hong Kong Disneyland Resort Photo Gallery.
Tuesday, March 31 - Depart Hong Kong - Fly to Kansai International Airport, Osaka, Japan - Hotel Nikko Kansai Airport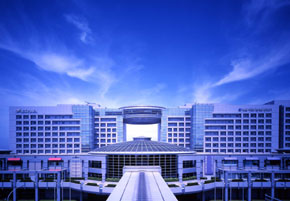 Kansai International Airport (KIX) is Japan's second most important international airport. Located on a man made island about 50 km south of Osaka, Kansai Airport was opened in 1994, taking over all international and some domestic air traffic formerly handled by Osaka's Itami Airport.

Located within the airport's Aeroplaza a short walk from both passenger terminal and train station, the Hotel Nikko Kansai Airport combines superb convenience with world-class facilities and the famed hospitality of Nikko Hotels International. With its seafront setting and harmonious design, this is a hotel with the ambience of a resort, yet with direct access to Osaka and the entire Kansai region. The Hotel Nikko Kansai Airport represents an entirely new concept in airport hotels and a fitting welcome to Japan's newest international gateway.
So far, we haven't had to think much for ourselves and that trend continued today. First stop was breakfast in the lobby of the hotel again, which was, as usual, fantastic. The service continues to be "magical". As much as we hate to fall into the Disney trap, this place is so charming it deserves to be called magical. While eating breakfast Cinderella arrived where we could see her interacting with the children. Disney trains the characters so well you could easily believe this woman was the real Cinderella. She was absolutely fabulous with the kids. Watching the little girls dressed in the gowns approach her could just melt your heart. Cinderella always compliments the girls on their beautiful dress and their faces light up. It is very touching and shows you right there how much Disney can touch people around the world. All of this is completely free of charge. Anyone could come into the hotel and take pictures with the characters. Their handlers will even take a picture for you with your own camera.
After being spellbound by Cinderella's interaction with the kids (and adults!), we stopped by the bell desk to ask if a taxi really would be the best way to get to the airport with our luggage. He assured us it was.
We had some packing to finish up, but we had plenty of time to spare with the noon check out arranged yesterday. We called for a bellman and one arrived almost before we put the phone down. Checking out took more time than it does at an ordinary hotel because the bill was not prepared in advance. When it was presented, the woman at reception went down each item one by one explaining exactly what the charges were for. One said "miscellaneous charge" and she didn't like that description, so she hunted in the computer for more information completely on her own, we didn't ask her to do that. The charge was for shipping the box of souvenirs home via Bell Services, by the way.
The doorman hailed a cab from the nearby taxi stand and gave us a card to hand to the driver directing him to take us to the airport. That wasn't necessary since he did speak English, but it was a nice gesture. The drive to the airport took only about 20 minutes along a new highway. Disney chose this location wisely because it is easily reached by public transportation from almost anywhere.
The Hong Kong Airport is very new, built on a manmade island just like Hong Kong Disneyland. It is already being expanded, but that didn't cause us any problems. We checked in quickly with no line for Business Class. There was no hassle with x-ray inspections of the luggage or anything else to hassle the traveler.
We could have gone to the Japan Airlines Sakura Lounge with a business class ticket, but by the time we got to our gate we didn't bother. There is no way we could explain properly how convoluted the path was to the gate. It involved going up and then down several escalators and riding on a peoplemover kind of train that went God only knows where. However, we did get there. We changed most of our Hong Kong dollars into Japanese yen at the first exchange office we ran into and kept some in case we wanted to get some food or whatever. Later on we changed the rest, so now we have a pile of yen handy.
The airport was very pleasant and the waiting time went quickly. Boarding was fast and the aircraft was nice a clean. The service from Japan Airlines was absolutely amazing. The senior flight attendant went to each seat and greeted every passenger. The flight attendants in general couldn't have been any more gracious. An announcement was made to please be considerate of other passengers when reclining your seat!
We took off right on time and the flight time was announced as three hours, although we expected it to be almost four hours. In actual fact, we arrived forty five minutes early, at 7:00PM.
The food was amazing for an airline meal. We had a choice of a western meal or Japanese meal. The Japanese meal seemed more interesting than fancy French food on a Japanese airline. We made the right choice, the food was really good and this was the first time we were actually full after an airline dinner.
With all the serving and such, we never used the personal TV or anything else. We were landing before we knew it.
The Kansai airport is also new and on a manmade island. The train station is between the terminal and the Nikko Hotel Kansai Airport where we are staying. We had no delays at immigration or customs and our luggage was already traveling around the carousel when we arrived at the baggage claim. The customs officer was amused that we arrived here via Hong Kong.
All we had to do in theory to get to the hotel was to walk out the door of the airport on the second floor. That is fine except reception for the hotel is on the first floor. So, you have to haul your luggage across the bridge and into a mall sort of thing called the Aeroplaza, and find the entrance to the hotel. It is marked, but it looks like you are dragging your luggage into a restaurant. Then you have to haul it down an escalator to the lobby.
There were no problems checking in. The clerk had the rental phone package waiting for us without being asked for it. She offered to give us 600 frequent flier miles, and handed us our breakfast vouchers for the buffet in the morning. So far so good. We're not quite sure how to describe this place except to say that it looks like the decor was done by a bunch of Mafia Dons back in the 80's. It looks very Dynasty-esque, but it was built just a couple of years ago. We wouldn't call it ugly exactly, but we're not quite sure what look they were going for. Some of it is very contemporary, but then there will be a Grecian column or something. We're not in Kansas anymore, Toto.
We were pointed in the direction of our room, so we trudged off with our luggage to the elevators. We have no idea what the little Japanese voice was telling us, but we made it to our floor and found our room. Talk about tiny! We're pretty sure our bathroom at home is bigger than the entire room. Small rooms are typical of Japanese hotels, even new ones like this, but come on! This room is on the "Superior Floor", but all we know is that gets us free internet and a refurbished room. It is clean and everything works. Basically, it is fine for one night and for an airport hotel (the Nikko chain is owned by Japan Airlines). The only real issue is that cigarette smoke wafts in from the air conditioning now and then, but on the other hand it is quiet. We'd say in general the hotel is about on the level of a Holiday Inn, but with more restaurants.
There are some upscale features such as the famous Japanese toilet seat that shoots back and heats the seat when you plant yourself. There is a control panel by the bed to control the room lights and a Do Not Disturb light that is part of the room number plaque in the hallway. There is also a nightlight under the table between the beds. Nightwear is provided in the form of a sort of long nightshirt that buttons down the front, and there are toothbrushes, toothpaste, a comb, a razor, and a "ladies kit" in the bathroom. These items are commonly found in all hotels in Japan. Our room is located on the "Superior Floor" which means the rooms have been recently refurbished, but that appears to be new wall coverings, paint and carpet. The furniture is a bit worn, not terrible, just has a lived-in look. The TV is also a big tube TV and not a flat screen. The bathroom is just like a cruise ship with a very low ceiling and a modular design, but this is also common in Japan. None of this bothers us ,we're just reporting how it is.
We went up a couple of floors to the top of the hotel to the Sky Grill. There were only two other parties in the restaurant, but the waiters were pretending it was a really fancy restaurant. Sorry but the LED Christmas lights hanging on the plastic tree by the dusty grand piano put that notion to rest. The prices were too high for what we got, but the food was good. The service was very poor. Nobody would catch our eye to give us a check, so we went up to the counter to get one. Apparently that is how it works because another party did the same thing.
On the way back to the room we stopped at a vending machine to buy a couple of drinks and some water for very low prices. There was also a vending machine in the elevator lobby for pay-per-view channels on the TV. We didn't partake in that. The only English channel offered is BBC news, but the Japanese game shows are fun to watch even if you have no clue what is going on.
Next up is a private car transfer to Nara tomorrow afternoon, so stay tuned. It is just starting to get interesting.
After that it was back to the room by 9:00PM to clean up and try to sleep in the rock hard beds. They sort of resemble dorm room beds, or maybe just a board with springs under it to make it bouncy.
To continue to the Japan tour, click the "Touring Japan" button.