Wednesday, April 1 - Depart Osaka, Japan - Private car to Nara, Japan - Shikitei Ryokan
Nara Prefecture is situated in the west central section of Honshu. The formation of an ancient nation started around mid-3rd century, with the Yamato district as its center, and was completed by the late 6th century. The capital was placed in Asuka, in the southern part of the Nara Basin, located in the northwestern part of present-day Nara Prefecture, and it prospered as the political and economic center of Japan until the early 8th century. After the capital was relocated to Heijo-kyo (now Nara City) in 710, many temples and shrines were built there under the direction of the imperial family and aristocrats, and temple towns soon developed. Such temples and shrines include Todai-ji Temple, which has the Daibutsu, the world's largest Buddha statue, made of copper and gold, it is enshrined in the world's largest wooden structure, Daibutsu-den (Great Buddha Hall). Other famous temples include Yakushi-ji Temple, which has wonderful old wooden architecture and a statue of Buddha, and Toshodai-ji Temple which was founded by the Chinese priest Ganjin, who came to Japan after difficult journeys and spread the principles of Buddhism.

Horyu-ji Temple, which is said to have been built in the early 7th century, is known as the oldest existing Buddhist temple in Japan. The temple boasts of the world's oldest wooden architecture, and there are many paintings and sculptures in its possession. The temple is also inscribed as a World Cultural Heritage Site.

Tourists visit Nara Prefecture throughout the year to see scenic spots such as Mt. Yoshino-yama, known as the best cherry blossom viewing point in Japan, and Nara Park, with its friendly deer which have been treasured as messengers from the gods.

Nara's time-honored attractiveness as an old capital is probably best explored by walking. The best timing for your stroll around Nara Park area is early in the morning, when you see deer roaming in the park in the morning haze. Shikitei is prominently located in the center of Nara Park, within walking distance from Nara's major sites, Kasuga Shrine, Kofukuji Temple and Todaiji Temple. Shikitei is the most luxurious ryokan in Nara with only 10 rooms. The appearance with traditional flair matches Nara's ambience. Rooms are also traditional Japanese style integrating modern facilities inside so that you can have a comfortable stay. Fine cuisine utilizing seasonal ingredients elegantly is served.
We're so happy to be somewhere that isn't hot and humid! Woo hoo!!! It is overcast and in the high 50's, which suits us just fine. According to the forecast it will be slightly cooler and probably rainy in Nara by they time we get there this afternoon.
In spite of the rock hard beds, we slept soundly and didn't wake up until 8:00AM as planned. Here is a photo of the View from our room overlooking the airport terminal. We had vouchers for the breakfast buffet in the casual restaurant downstairs, so that was our first stop. The place was practically empty, maybe ten parties total. We handed in our vouchers at the podium and were directed to the buffet.
At first glance, it didn't look very appealing. On second glance, it was even worse because the countertops were dirty and the whole thing looked like throngs had been at it, which we highly doubt. The food wasn't weird unless you looked through the Japanese section, but even that was recognizable. We filled up our plates with samples of almost everything. Looking at the full plates, everything was a general shade of beige.
Although the food didn't look very good, it tasted fine, good in fact. The pastries were excellent as were the sausages with potatoes. Everything was fine. The restaurant itself looks like something you might find at a tourist attraction...worn and stark...but it was reasonably clean. It should have been spotless, but we're nitpicking.
After we filled up at the buffet, we took some photos of the hotel. The Aeroplaza that leads to the hotel is very modern and attractive for what it is trying to be. The hotel lobby is VERY 80's, although as we said before it was built fairly recently, maybe five years ago. Here are a couple more pictures of the public areas: Chandelier, North Wing Elevators. If you don't look too closely, it appears fairly upscale and modern, but then you start to notice the dusty fake plants and tacky vending machines all over the place and it quickly loses points. We'd say this is a solid 3-star hotel, but no more than that. The staff is very nice and polite. Most of the ones guests have to deal with speak reasonable English, so we haven't had any language problems yet. It is perfectly fine for an overnight stop before or after a flight, but we wouldn't recommend it for any other purpose.
On the way back to the room there were maids in the hallway with buckets and such sort of in the way. We had every intention of just walking over them, but two maids rushed out bowing and fawning over us because those horrible buckets were maybe kind of in our path. Really, we wouldn't even have mentioned it had they not made such a scene for "inconveniencing" us.
We're expecting a private car with a driver to pick us up in the lobby at noon. Then we're off for about a one-hour drive to Shikitei ryokan in Nara where we will be for the next three days. Just as we were about to walk out the door, a bellman called to tell us that our car had arrived. Well, what he said was, "Taxi....you...now," but we got the point.
Down in the lobby there was an English-speaking woman directing traffic to the right place at the reception desk. Considering that Dave was the only person there, it wasn't a difficult task. The payment procedure was more complicated than necessary and we had no idea what the guy was talking about, but it concluded successfully...we assume. Anyway, he let us leave.
The same woman who pointed us to the right place at the desk, whisked us outside to the waiting car where she, the driver, and a bellman attempted to squeeze all of our luggage into the trunk. Eventually, two small pieces had to go in the front seat with the driver, but such is life.
Our drive to Nara took about an hour and a half through non-descript industrial outskirts of Osaka. Suddenly we entered a very long tunnel and emerged on the other side in the suburbs. After a short drive through the city streets near the train station in Nara, we arrived at Shikitei. The ryokan is located across a small pond from the Nara Hotel where we had originally intended to stay. That was a hotel, this is a full fledged, sleep-on-the-floor-and-eat-fried-fish-heads Japanese inn.
A bellman, or whatever they are called at places like this, rushed out to help with the luggage. In his extremely limited English, he told us to come back at the 3:00PM check-in time. That is what we had expected, so no big deal. It looked like it might rain so he gave us one of the hotel umbrellas to take with us.
It was very chilly outside and we weren't dressed for it, so it was too cold to walk around for 90 minutes. Since the Nara Hotel was just a block away on the other side of the pond, we went there to take some pictures and find something for lunch. The walk across the bridge was pleasant and picturesque with cherry trees blooming along the way. Some trees are in full bloom, but many are only about a third covered with blossoms. We didn't come to look at the cherry blossoms, so we really don't care one way or the other. They are pretty, we'll grant you that. We came across a tiny shrine by the side of the road decorated with fresh flowers.
The driveway to the Nara Hotel is fairly non-descript especially if you don't read Japanese, but we knew where it was. The hotel is 100 years old and it sort of looks it unfortunately. The outside is attractive, but many of the modern renovations are eyesores. The wooden lobby and reception desk hark from a different era. It's beautiful in its own way, but we are very glad we didn't end up here. God works in mysterious ways apparently. The furniture looks original with inlaid wood side panels.
We wandered down a long wooden corridor where we seriously think the carpeting was the only thing keeping us from falling through the floor. The "Dining Room" was at the end of the hall and that was where we were headed...until we read the menu. French food for lunch, no thanks. At least they had a restroom.
There was a beautiful view of the pond and Shikitei beyond from the upstairs landing.
Backtracking and going the other direction from the lobby we found the Tea Lounge that looks exactly like it must have when the hotel opened in 1909. It was empty. There was also a glassed in porch where they were serving tea. We looked at the menu and decided that would be enough to tide us over until dinner tonight at the ryokan.
We were seated promptly by the window overlooking some cherry trees and the pond. This room was originally an open verandah by they looks of it and it was enclosed with modern metal windows and a drop ceiling that didn't go with the decor at all. The drapes were directly from 1975.
The service was very gracious and the waitress spoke very good English. We both had a mixed sandwich plate that was essentially three entire sandwiches cut into wedges, so it was plenty of food. The ham sandwich was fantastic. The others were standard tea sandwiches with tomatoes and cucumbers, etc. They were very fresh and good enough, but nothing special. We had a choice of three different teas, but if one wanted Earl Grey there was an extra charge of a few dollars. That's really ridiculous considering that this tea arrangement for the two of us, plus one pastry each cost over US$75.00!
When the check came the waitress told us to go to the front desk to pay it, which was both odd and pointless, but we complied. The cashier didn't speak any English at all, but it wasn't too difficult to figure out what he wanted. Luckily we had plenty of cash with us.
From the hotel we walked back toward Shikitei pausing to read the historical description and map of the pond on a big granite monument. We also took more pictures of cherry blossoms since everyone seems so enthralled by them. The view across the small pond toward the Five-Storied Pagoda was picturesque. We continued on toward Nara Park passing the "First Gate" where we will probably start our explorations tomorrow.
Today we turned left and went to the famous Five-Storied Pagoda that is part of the Kofukuji Temple compound and is the closest of the Nara Park temple to the city. The park is famous for its sacred deer wandering all over the place. The minute someone would buy the deer crackers from the vendor at the entrance, deer would immediately rush over for their treats. They didn't bother the vendor since they probably knew she wouldn't give them anything, but they were smart enough to know when a customer bought something.
Some deer were in an enclosure, but most of them wander freely all over the park and into town. The walk to the temple from our inn was very short, maybe five minutes tops, so our location is great for walking around the rest of the park tomorrow.
The temple compound includes several original buildings plus a current reconstruction project of a large central buildings. There are also ruins in the grassy area nearby that are just stones sticking out of the grass now and then in a symmetrical pattern. The buildings still existing here are the aforementioned Five-Storied Pagoda, the Three-Storied Pagoda, Tokondo Hall, and the Treasure House. We didn't go inside any of the buildings, but we might if time permits over the next few days. There are also several small shrines where people were praying, lighting incense, throwing offerings into a huge bin and ringing a gong. We expected huge crowds, but it wasn't crowded at all. There were people walking around, but no more than you'd find in any public park.
Unfortunately, this part of the park is surrounded by the jumble of modern Nara, so outside of this raised temple area the city isn't attractive at all. It is a small, easily navigated city, which is a plus. In many ways it is more intimate and approachable than it more famous neighbor, Kyoto, where we will be next week if things go right.
It started to sprinkle slightly and the temperature dropped a few degrees, so we headed back to Shikitei for check-in at around 3:30PM.
To view a video of Skikitei, CLICK HERE. You will need Windows Media Player to play the file. Although the building looks old, it is a modern structure. This picture is the side of the building where our room is located facing Ara-ike pond.
OK, now we definitely aren't in Kansas anymore! Thank goodness Dave had done a lot of research on how all of this works or we'd be screwed about now! There were several woman bowing down to the ground to us when we walked in. Another slight plus is that Dave had also been trying to learn at least some rudimentary Japanese because without it we would have had no clue what was going on.
First up, lose the shoes and put on sandals. No dice on the sandals, too small for us, so we went in stocking feet which was fine with us. Several more woman bowed to the ground as we were ushered into a small reception room for God only knows what. We knew (or hoped) it wasn't our room because we had reserved one of the better rooms here.
Sorry we don't know the correct term for everything, so bear with us when we describe this experience. The woman who will be in charge of us had us sit on the floor of the reception room while she fetched a sweet for us. It was something baked on the outside with a sweet bean paste filling that was much more tasty than it sounds. Next she brought out the traditional tea made with powdered green tea stirred with a whisk into a froth. We expected it to be ghastly judging by the reaction of some Americans we saw try it on a reality show, but it was fine. There was nothing weird about it at all. During all of this there was much bowing and scraping which is sort of disconcerting to two American men watching a youngish woman do all that. She didn't seem to mind though.
After the welcome ceremony, we were called out into the hallway again where there were at least four young woman bowing to the ground while we walked past them. Our attendant asked us to follow her (we think) up the stairs to the second floor. The rooms all have names, ours is Kakushô.
She slid the door open and we walked into a foyer that sported a floor of loose polished stones with big rustic stone steps. The loose stones are fairly deep, we didn't probe down into it, but accidentally stepping on them we did sink a few inches. Lesson learned, don't step on the rocks! You do sort of have to step on them to get to the mini-bar and the tea making facilities in the corner though.
There was also an alcove with a faux fountain with some flowers floating in the stone basin. We didn't know it at first, but the little booth to the left of the fountain is the toilet room complete with special toilet slippers. Come on, you really need special slippers for a room that is maybe 3x4 feet in size...and that's being generous. However, it does come with a more advanced squirting toilet than the one at the Kansai hotel. This one heats up the seat when you sit on it and has a blower to dry your butt when you're done. There is another room across the foyer that contains the sink and other bathing facilities including a big cedar tub for soaking.
The main room is quite large with the sacred alcove (sorry we have forgotten the name, but we swear we DID know it until we actually got here). There is a small dressing room with a closet off to one side, which also contains a flat screen TV and the telephone. We're not sure where you are supposed to sit to see the TV, but the floor appears to be the best location. There is a long, low table in the center of the room with two legless chairs and armrests for eating. There is an Oriental carpet under the table and under that is a heating pad, should you catch a chill while on the floor. The floor is, of course, covered with the traditional woven tatami mats, so it is somewhat cushioned even without the carpet. No shoes or slippers are ever allowed on the tatami mats.
Attached to this room is a sort of enclosed verandah with shoji screens that open to a lovely view of the pond and the Nara Hotel beyond. This alcove has the only western-style chairs and a coffee table, plus a large closet where the bedding is stored.
All of the flooring except for the foyer and bathrooms is tatami mats, so no shoes or sandals allowed. There are leather slippers provided, but they are too small for us. Again, we don't mind at all not wearing them because we walk around barefoot at home 24/7 anyway.
There is another small tatami room also that has a TV and table set-up, plus a full length mirror. We assume this is intended for children or a larger number of guests than the two of us.
Although this is a modern ryokan meaning it is a new concrete building with up to date plumbing and such, the interiors are all wood and shoji screens. Doors to the rooms and the room dividers are all sliding doors, so you can move them around to suit your purpose. There is air conditioning also. The room smelled strongly of cigarettes when we arrived, so we were glad the window opened to let us air it out. After doing that and figuring out how to turn on the air conditioning fan, we were OK. We never did figure out how to turn on the actual cooling part of the air conditioning, so we made do with the fan alone.
Our attendant returned with green tea and two Japanese sweets. One was a sort of gelatinous cube made of sweet beans we think. The other was similar to the rice flour sweet we had on the airplane with the bean paste center, but it was beautifully made to resemble a melon. These things taste good, but the texture is something that requires getting used to.
Next she returned with our yukata that are used for sleeping or lounging around the inn. You can go outside and walk around in them also if you're really into that, which we are not. She offered us a choice of either the version with a top and pants or just the wrap around type, but somehow we ended up with both. Our Japanese is rudimentary to say the least, so who knows what actually transpired. Maybe she was just explaining why there were four garments. She amused herself by bringing us sizes marked "LL". They are big enough, but of course the sleeves are short as are the pants, but we're not trying to make a fashion statement anyway.
Then she asked for our passports to be copied (this has to be done by law in Japan). When she returned she asked what time we wanted our dinner. We ended up with 6:30PM. She also asked if we wanted a Japanese or Western breakfast. After some hesitation we chose the Japanese breakfast, but told her to ask us again tomorrow if we still want it. Dave's extremely limited command of Japanese is the only thing that saved us today.
While the attendant is extraordinarily gracious and nice, she only speaks a few words of English. When she told us her name, Mika, Dave said, "Pleased to meet you," in Japanese which thrilled and shocked her. Mistake number one, don't speak a foreign language you don't know much about because then the other person will assume you can understand everything she says! He did manage to say that he didn't know much Japanese, but she always addressed Dave in Japanese from then on. Actually, that is sort of his fault because later on during dinner he asked her to say the names of the foods in Japanese so he could learn them. She still speaks to Bill in limited English, so that is helpful. If Dave knows the subject he can usually get the gist of whatever she is trying to say or ask.
We had about 90 minutes to kill before dinner which was no problem with all the poking, laughing, putting on the yukata and playing with the electric toilet.
When dinner time rolled around, Mika returned to put a white cloth on the table and shortly thereafter started bringing in the food course by course. We lost count of the courses, but we think there were eight deliveries including dessert. Sorry we can't tell you what most of it was because we either don't know or we blotted out the memory, but it was pretty to look at. As best we can recall, the first course was something jiggly in a tiny covered bowl and something gelatinous served in a hollowed out tomato half. The gelatin substance had pieces of shrimp, mini corn, a soy bean and things like that in it. There was also a glass of sweet plum wine that was very tasty.
Next up was sashimi on half a grapefruit and a clear soup with a big shrimp dumpling and vegetables in it. One of the sashimi was too chewy for Dave, but everything else was fine.
Something recognizable came next, beef cooked on a hot rock. That big black thing in the photo is the hot rock. There were two peppers on top which neither of us tried. The dipping sauce was vinegar and soy sauce with wasabi and hot mustard to add to it. This course was very good.
The next course was something Mika said was supposed to make you strong. We'd guess she meant virile because it had clams and oysters in some sort of fish custard. It wasn't as bad as it sounds, by the way.
Can you figure out what this item is? That is a piece of bamboo in broth. Don't get excited, that's how it looked after we ate the slices of cooked bamboo and vegetable off the top of it. Fooled you, huh? This is where things went terribly wrong when Dave asked Mika in Japanese what something was on top of the bamboo shoot (it was dried grated fish, by the way). She was beside herself that he spoke to her in what was evidently perfectly accented Japanese because she commented on that aspect of it. Hate to tell you this honey, but that pretty much sums up his knowledge of Japanese!
There is a course at this point we forgot to photograph, but it was a square of tofu with a small piece of cooked fish on top. We don't remember anything else about it, so it must have been OK.
This innocent looking egg drop soup has something else in it if you blow up the photo enough. There are teeny tiny little fish-something with eyes in it, along with rice. It was good once you got over the eye part. We sort of wished she hadn't told us about the "tiny fish" because we probably wouldn't have noticed otherwise. It didn't taste fishy, just eggy. Those dark purple things next to the soup are pickled vegetables and they were very good.
Ah, finally something you will recognize! Dessert!! As you can see, it is a strawberry, an apple/cream pastry and a cube of apple gelatin. When Maki brought it she started telling Bill in Japanese what it was. The word for Dessert in Japanese is "Dezaato", so it isn't too hard to figure out, but she said it very quickly so he didn't catch that part. So, Dave said, "How hard can it be? It's just Dezaato." Mika thought that was hilarious and from then on spoke only Japanese to Dave. By the way, in spite of the bowing and scraping she is very fun and she does try to communicate, as do we. We're not sure, but we might have said we don't like Japan. She asked us something that Dave knew was a question, but didn't quite get the subject. So, figuring he had a 50/50 chance of getting it right just said, "No?" She didn't slap him or anything, so it couldn't have been too terrible.
This exchange started a conversation (If you can call it that) about, we think, where we came from. When we said Hong Kong Disneyland during part of all of this, she picked right up on it and ran with the subject, but again, we have no idea what that subject actually was. In any case, she had fun, we had fun, and everyone was laughing at the end, so it couldn't be all bad.
As soon as the dishes were taken away she pushed the tables to the side and started dragging the futons out of the closet. Just setting all that stuff out every day would kill either of us in no time, but Mika didn't have any problem with it. Shortly after finishing the bed set-up she came back with a tray containing a pitcher of chilled water, two glasses and two wet washcloths, plus a flashlight and a covered lacquer container. She launched into an explanation of all this stuff, but we didn't catch on until she started making earthquake gestures toward the flashlight and how to hold the wet cloth over our face in case of a fire. We didn't get any of what was in the covered dish, but when we looked it was a snack of four rolls of rice wrapped in nori (dried seaweed) and Japanese pickles. Wish us luck on the breakfast tomorrow morning.
We forgot to mention that we were informed of the hours of the public baths on the first floor, but we didn't pay attention because we're not interested in being quite that authentic yet. We do know it was a few hours in the morning and longer hours in the evening. This inn also has a "restaurant/lounge" that is open very limited hours serving beer, wine and snacks in the afternoon, ice cream and drinks for about an hour in the evening, and then functions as a place to relax the rest of the time. We didn't see it when we came in so we can't comment beyond the fact that it exists. We didn't venture out of the room today once we had checked in.
It poured rain complete with crashing thunder while we were eating. It is very cold tonight also, in the low 40's we'd guess, maybe lower. Mika's gestures while talking about the lightning were quite amusing to all of us. Hopefully she will be around for all three days because although she is doing traditional things in a traditional way, she isn't at all stuffy about it. We expect our interaction with her will only get better as days go by. Like sands through the hour glass, so go.....never mind, you know what we mean.
Thursday, April 2 - Nara, Japan - Shikitei Ryokan
Today's weather was nearly perfect for our planned walk around Nara Park and its many shrines and temples. Mostly clear skies and a bit on the chilly side, but that's fine when walking around all day. A light jacket was enough to keep us comfortable.
Mika arrived at 8:00AM to put away the bedding and prepare the table for breakfast. Luckily we had set an alarm anticipating the she would arrive before the 8:30AM scheduled serving time. Not that we needed an alarm though. Neither of us slept very much because we didn't have the knack of sleeping on the floor down yet. The main problem for us was that the pillows are too low and there is no way to fold them over to make them bigger. Also, the duvets are so thick and fluffy that they almost instantly made us too hot to sleep. The room temperature was fine, but it was tricky figuring out how much of our body to leave exposed. We'll have a better handle on it tonight though. We weren't sore or anything close to it. The futons were stacked two for each of us, so that part of it was comfortable.
Recall that we opted for the Japanese breakfast in spite of being warned over and over against it by friends. Besides being enormous, most of it was very good. Each of us did find one item that almost gagged us. For Dave it was the sashimi that was too chewy. For Bill it was the flavorless rice in tea that almost did it. Everything else was great or at the very least just boring. We might opt for the western breakfast tomorrow just to see what it is, but if we had to take the Japanese breakfast we wouldn't mind.
After breakfast while Mika was clearing the table, she asked if we were going somewhere in a taxi today. Dave responded in Japanese that we were going to Nara Park for the day. Once again she carried on about how perfect his accent is. Now if he would learn more than four sentences we'd be all set.
When we stepped out of our room, there was a young man standing in the hallway waiting for us, we asuume. He asked if we had our key with us and assured we did, led us down the stairs to where our shoes were already laid out. They might have been there all along, but we're not sure about that. In any case, he picked up long shoehorns to help us put our shoes on, but that wasn't necessary. Dave's shoes have velcro ties and Bill's are big enough to put on without any help. The same guy walked us all the way out to the gate and wished us a pleasant day. He spoke more English than Mika does, but not by much. He was extremely friendly, too.
At around 10:00AM we set off on foot for a grand circle tour of Nara Park's famous temples. Just steps from Shikitei's front door is the First Gate that we didn't know at the time leads directly to Kasuga Taiga shrine. We were looking for a garden that the guide book said was on the way to Todai-ji temple. We never did find it in spite of wandering all over the place in every imaginable nook and cranny looking for it. No big loss, but it would have been nice to see it. Maybe we'll ask for better directions tomorrow.
We did stumble across a "museum" supported by a Japanese corporation as a sort of goodwill gesture to tourists. There was a chair you could sit in to experience a famous earthquake, but we passed. No offense, but this building was basically just a glorified public restroom, but we did pick up a good English map of the park. The man at the hotel had offered one, but we thought what we had would be good enough. We were glad later that we got the new one because it was more detailed and easier to read. The security guard and the man at the information counter were very polite to us and seemed happy to see a foreigner. The upper terrace of the building had a great view of the rooftops and Todai-ji beyond the trees.
There is a small shrine right on the main thoroughfare leading to Todai-ji that was quite scenic. It had a huge cherry tree in bloom in front that looked like something from a postcard. There was also a small pond and many old stone lanterns covered with moss.
This area is a favorite stop for Japanese tourists as well as foreigners, but since Nara is a bit off the beaten track we are definitely a minority here. We only saw maybe twenty foreigners the entire day and none of those were Americans. Most were Australian, which would make sense considering the proximity compared to the United States.
Although the pathway leading up to Todai-ji was crowded, it wasn't ridiculous. There was plenty of space to wander around. The first part of the temple is the massive Nandai-mon, a huge wooden gate housing enormous and fierce Nio Guardians made of carved wood. They look so real you almost expect them to come to life before your eyes.
Beyond the gate is the approach to Daibutsu-den Hall (Hall of the Great Buddha) which is the largest wooden building in the world. It used to be 1/3 larger until it was destroyed by fire and rebuilt in 1709. There is a lovely pond with a waterfall to the right and tacky souvenir stands to the left. If you want a cheap trinket, this is the place to get it.
There are more huge wooden figures in niches on each side of the gate to the grounds of the hall. There is an admission charge for this temple, so we had to go to the left side and pay to get in (about $5.00 each). Once inside you walk along vermillion colored corridors of columns to reach the main gate again. The vista is amazing from the gate.
The colonnaded walkway encloses the grounds of the hall and there are manicured shrubs and cherry tress all around. Up huge granite steps you enter the hall itself where one of the world's largest bronze Buddha is housed. The statue is huge at over 16 meters tall. It was originally cast in the 700's, but was recast in the Edo period (Google it if you really care). It has lost its head a couple of times in earthquakes and fires, but is always restored.
In the same building are several other enormous sculptures of guardians and deities, all of which are very impressive. The solid wooden pillars are about five feet in diameter, maybe more. How they moved those huge logs into position so long ago is anyone's guess, although if we could read Japanese we might know from the signs.
Behind the Buddha there is one pillar with a tunnel through the base that is the same size as the Buddha's nostril. It is said that anyone who can get through the hole will achieve nirvana. There was a long line waiting to try, mostly children. Everyone seemed to be enjoying the activity.
Back outside we snapped a few more pictures of the approach to the temple and a sculpture that supposedly has healing powers. Then , we headed for the exit. There is a high threshold at the gate and an old man in a wheelchair was trying to get out. His equally old wife and a security guard were helping him, but he didn't have the strength to stand on his own. He fell directly in front of Dave who cushioned his fall by sort of catching him. It took both Dave and the guard to get the poor guy upright again. His wife seemed glad to have the help. He should have stopped by this statue that supposedly cures whatever ails you if you rub it.
We were following a walking route from the Lonely Planet guide today and it was accurate for the most part. We never found that garden, but we found everything else with no problem. It did direct us to the next stop up a road that was marked "No pedestrians", but other than that we managed to find everything we intended to see and then some.
Up a winding path through the forest are a couple of icons from the temple. One is a stone statue and the other is a gilded bronze spire from a past Expo that contains all sorts of artifacts that we have already forgotten. It sort of looked like a giant wind chime.
We continued up the hill through the woods and up a lot of stone steps to reach the belfry of the temple. There is a small area of shops and restaurants adjacent to it. Beyond that and up the steep hillside are a few more halls housing a variety of shrines. A deer stood right next to Dave while he was waiting for Bill outside the restroom. He stood there for several minutes, completely happy to be there. However, the draw for the tourists to climb up to the highest point is the view over Nara, said to be the best. The view was indeed spectacular. Call us shallow, but we were more interested in the fact that one can see the now-defunct rip-off copy of Disneyland, Nara Dreamland, complete with a poorly copied Matterhorn. From the looks of it we'd say it probably deserved to go out of business, but it did last many years.
OK, that's enough details on the shrines for now. Suffice it to say that we walked and walked and walked. We saw shrines, temples, shrines, temples and a big bare grassy hill that they burn once a year on a specific date for some reason we can't recall. Obviously it has something to do with religious beliefs, but really, who cares? The weirdest thing was that although you could plainly see the entire hill from below, people were paying an admission fee to actually walk on it. We passed on that. We've seen grassy hills and we've seen them on fire being from California.
Keep on walking along a souvenir shop filled lane and you eventually end up at Kasuga Taisha, another major tourist attraction and shrine. This was where we crossed paths with the foreign tourists arriving in busses for their fifteen minute tour. They were gone fast enough and we had the place almost to ourselves. All of the approaches to the shrine are lined with many hundreds of mossy stone lanterns. They go on and on in every direction. The deer seem to like to lounge on the bases waiting for handouts. Some of the lanterns are huge, others are just about as tall as we are, but even those must weigh a ton. We'd hate to the the ones who have to light all these things during the lantern festival, but it sure must be a sight to behold. All of this is in a forest, so the effect of the lighted lanterns in the night forest must be spectacular.
We have no clue what we were looking at after the main part of the shrine, but basically we followed a path up the hill that was lined with more lanterns, vermillion shrines and red banners on bamboo poles.
Although we did manage to buy some orange punch from one of the many vending machines in the area, we were fading fast by about 2:30PM. So, we went back to the plaza area to reach the main pathway back to our accommodation. This pathway leads back to the First Gate, which is where the lanterns begin. Along the way we passed hundreds more lanterns and a botanical garden. We had enough energy left to go there, so we paid the admission of about $5.00 each and went inside. Yawn. Gardens in early spring suck. Even the koi were bored, although who could blame them since their water was filthy. Oh well, they can't all be gems.
Continuing toward the city along the same pathway we finally passed the Nara National Museum. Note that we generally do not do museums, so we have nothing to report about it except that the building is beautiful from the outside.
Passing more deer, there must be thousands of them all over the place, we finally reached the First Gate where we started. Turning left from the gate we arrived back at Shikitei within a couple of minutes. It is maybe fifty feet from there, so the location for this major sightseeing loop is perfect.
There is an electric eye at the gate of Shikitei to alert the staff that someone has arrived, but don't tell anyone. Let everyone think they are psychic. In any case, a young woman rushed out as we approached almost ruining our photo op of the front of the building. She ushered us inside where another young woman was bowing and scraping on the raised tatami platform. You leave your shoes here before stepping up onto the tatami and on to your room.
We stopped at the front desk to ask the woman there if they could send our bags ahead to Kyoto. At first she didn't understand, but shortly figured out what we wanted and handed us forms to fill out. That's all well and good, but the form is in Japanese. We will ask someone tomorrow to help us when we have the hotel address with us.
Seconds after we returned to the room, an attendant brought us tea and a sweet. This time the sweet was a firm gelatin cube with what we finally decided was either a sweet coffee or bitter chocolate sauce over it. It was actually really good, so that description is probably not at all accurate. She asked what time we wanted dinner and we opted for 6:30PM, the same as yesterday.
The ryokan is full or close to it today, so it is a bit noisier than it was yesterday. Considering that we think we might have been the only guests here last night it should be quiet. The inn is on a very busy street, but the room has double windows, so when they are both closed you can't hear anything from outside. Since the building is mostly wood inside, sounds do travel, but the fan on the A/C masks most of it. Tonight we can hear talking and noises from next door, but it isn't disruptive.
We were both so tired after almost no sleep and walking around all day that it was almost impossible to keep from nodding off. That wouldn't be an problem in a regular hotel, but there is nowhere to lay down for a nap in a ryokan because the bedding is put away each morning. Of course, we could drag it out of the closet, but we don't want to buck the system.
Around 6:00PM Mika arrived to set up the table. She was shocked when she asked in Japanese if we saw the animals in the park today and Dave knew the word for animals. She is very nice and a lot of fun, but it would be a lot easier if someone here spoke at least enough English to answer a question. We don't expect anyone to speak perfect English, but at least some would be nice. Not necessarily for room attendants like Mika, but the front desk person should.
The table was ready to go and the food started being served promptly at 6:30PM as requested. There were slightly longer lulls between courses tonight because she was serving another room also, but it didn't matter to us. Overall tonight's meal was far superior to what was served yesterday. We have a feeling that because the inn wasn't very full that they cut down on the food. There were more courses tonight also. So, here we go again on the mystery food! Can you identify any of them without looking at the explanation?
First the cold appetizer course was served along with a different sweet wine. The cube in the small dish with the green stuff on top is tofu in a light sauce with wilted (on purpose) vegetable sprouts. The other bowl contains cold items such as a big clam and vegetables. This course was much more palatable than last night's offering.
The second course consisted of sashimi like last night, but it seemed to be of a better quality and not as chewy. It was fine. The clear soup with it had a big crab dumpling in it this time. It was good also.
Our third course was a bowl of absolutely wonderful fish soup. Everything about it was fantastic. We'd order it in a restaurant, it was that good.
Next up was the beef course similar to last night except this time it was cooked in a teriyaki sauce. The meat had a lot of gristle in it that was impossible to chew, but it had a nice flavor. It was also difficult to eat because it wasn't cut up and the fat made it hard to bite pieces off of it. This course wasn't the best, but it was mostly edible.
Following the beef was a meal in itself. It was a big piece of baked pumpkin sitting in a white cheese sauce. On top of that was a piece of grilled lobster. The lobster wasn't anything special, but the pumpkin with the sauce was interesting in a good way. We were almost full after this dish.
Now some of you might gag...this dish was sliced abalone topped with a puree of cucumber and green onions. While the abalone was chewy it tasted good. The cucumber stuff on top was a nice compliment to the abalone, or maybe we should say it covered up the flavor well.
The last course of cooked food was an egg drop soup similar to the tiny fish soup last night, except the fish were replaced with chopped bamboo shoots. It was OK, but didn't have much flavor other than eggs. The other small dish was Japanese pickles. We find it a bit odd that rice isn't being served with dinner, but perhaps the rice in the soup is supposed to be a substitute for plain rice. Personally, we'd rather have the plain rice.
Dessert was the same apple gelatin from this morning, a green tea cake topped with fruit, and a skinless mandarin orange that had been cooked in sugar syrup (like canned orange segments only whole). Everything was very good and interesting.
As mentioned before, this meal overall seemed much higher quality than last night, but that might just be luck of the draw depending on the menu. Last night was fine, but this was far superior.
Mika told us she would be back in twenty minutes, 8:20PM, to set up the beds. She brought the midnight snack rice balls, cold water in a thermos, the flashlight and wet towels for a hasty escape "just in case". She also told us that she would not be here tomorrow and was it OK if we had a "new girl". New meaning different, not a trainee. Like we have a choice? Anyway, it was nice of her to tell us.
We thought we would try asking her if she could decipher the luggage shipping form for us in spite of the language barrier. She did explain what goes on each line, but we were sure we wouldn't remember for more than two seconds. Dave asked her to fill it out for us after he found the address of the hotel written in Japanese on the Michi Travel itinerary. She filled in the entire form in Japanese and was beside herself when we gave her our Japanese name and address cards to copy from. She asked if she could keep them and of course we said she could.
Here are a couple of miscellaneous items for your amusement. Check out the telephone instructions for this place. We know we are tall, but Dave looks like a giant in this photo. To his left is the sliding door to the hallway and to the right is the door to the toilet booth.
Friday, April 3 - Nara, Japan - Shikitei Ryokan
Today's weather is overcast and in the low 60's, but it doesn't look like it will rain. However, one never knows for sure!
We're getting used to the futon thing, so we got more sleep than we did yesterday. The futon itself isn't uncomfortable, but the quilt retains the heat way too well. You would probably be perfectly comfortable sleeping outside in the snow if you had it over you, no exaggeration. We adjusted the height of the pillow using one of the floor cushions, so no problem with that anymore.
Our breakfast schedule was the same for today, be out of bed by 8:00AM. We have a different room attendant today, so things are slightly different, but she is very nice. She is a bit more shy than Mika, but still quite friendly and helpful. We're fairly certain she understands more English than Mika did, but it is obvious she prefers it when Dave speaks to her in his limited Japanese.
We selected the Western breakfast for today just to see what they had to offer. The spread wasn't as extensive as the Japanese breakfast, but it was still plenty of food. There was a green salad topped with smoked salmon, two tasty rolls with marmalade and butter, a plain omelet with two sausages on cooked greens (all of this was cold, by the way, but we had done enough research to know that was what we would get), a small bowl of vanilla yogurt with strawberry sauce, sliced tomatoes with cheese, and the most incredible cream of potato soup we have ever tasted. It was absolutely delicious. We didn't know it was potato until Dave asked the maid in Japanese, but it tasted familiar. In any case, it was wonderful.
The plan we had from Michi Travel for today had us travelling by train to Yoshino to view the thousands of cherry blossoms there. We have decided to pass on that and wander around Nara some more. We think we have a better grasp on the location of the garden we were looking for unsuccessfully yesterday, plus there are some ponds with supposedly beautiful vistas nearby. Then we might walk to the old part of town to see what's up with that (not much is our guess).
The deer were back outside our window this morning poking in the grass along the edge of Ara-ike pond. If the busy street wasn't twenty feet away it would be quite idyllic. As it is, it is very nice, we're not complaining at all.
Our plan for today was to do more wandering around to pick up a few sights we missed, skipped or couldn't find yesterday. It couldn't be easier to sightsee from this location because it is practically smack in the middle of the major sites in Nara. The little road outside our window leads through a residential area with tiny houses that might actually be rentals, we're not sure. Since they are in the deer park, they probably are the latter. The deer were particularly cute along the way.
Just a few minutes walking brought us to one of the most famous scenic spots in Nara, Sage-ike pond. With the cherry trees in bloom Japanese were starting to come out for a stroll to admire them and the beauty of spring. The trees have a long way to go before they are in full bloom, which may account for the lighter crowds than we had anticipated. It looks good to us now, but apparently it becomes quite a spectacle in a week or so. We saw them in full bloom last time we were in Japan, so it wasn't a priority for us to see them now.
The stroll around the pond among the locals was very serene. There was a large group of older people sketching the beautiful lake with its Ukimido Hall in the center. There were row boats available for rent, but only one was out on the lake. Young women were strolling about in their spring kimonos and couples were cuddling on the benches. It really was quite a vision. All of the ponds around here have huge colorful koi in them, no matter how dirty the water may appear. This pond also had many turtles about the size of dinner plates swimming leisurely near the surface.
From the park near the lake we could see across to the grassy hill below Wakayama Shrine where we wandered around yesterday. Backtracking a bit, we walked into a residential area, down some narrow alleys, and stumbled across Yuga Shrine. The view from the terrace in front of the shrine over the city was very nice.
From this vantage point, we walked down hill through a charming residential neighborhood of small houses. Some were quite old, but it was a mix of new with old. The newer homes looked very nice from the outside.
We're not quite sure how we got there, but we ended up in the old part of Nara, Naramachi, which was sort of the goal for this afternoon. Getting there we followed no particular path. We knew the general direction it was in, so we either followed groups of locals or guessed where we should go. The city of Nara makes it extremely easy for tourists by posting huge "You Are Here" maps near every tourist site and at most major intersections. You only have to walk about a block to find another one.
A Japanese couple stopped to examine the same map we were looking at and we determined they were headed to a temple that is in Naramachi, Gangoji Temple. This is a major historical treasure, so we walked around the outside for a few photos, but we didn't pay to go into the grounds. We could see most of it from the front gate anyway, plus we are over temples and shrines already unless they are really something spectacular.
After leaving the temple, we found ourselves in the narrow streets lined with old shops and houses. You really can't tell what is a house and what is a shop unless you examine the front of the building carefully, but the stroll was atmospheric enough. We did as the Japanese were doing and just walked around to soak up the atmosphere. The area is full of nice restaurants, but it wasn't feeding time for us yet.
On the way back toward the area of our ryokan, we stumbled into a shopping street that had been covered with a glass roof. Sort of a 100-year-old version of a shopping mall. We bought several of the yukata-type garments we wear at the inn from a friendly Japanese woman who spoke American English.
We decided to look through the food at a local supermarket we happened across. The produce looked fantastic! A huge array of beautiful fruits and vegetables. Even the whole fish wrapped and ready to sell were colorful and attractive. One could buy variety trays of ready-to-serve sashimi, bento boxes, and more. We found packages of the tiny fish that were in our soup the first night, among other exotic creatures. There were many cakes and pastries, sandwiches, etc. We bought some cookies and snacks for the road. We tried some when we got back to the ryokan later and we think they were shrimp crackers with a sweet shiny topping. Sounds gross, but they kind of grow on you.
Eventually we found ourselves on the main road from the train station to the tourists sites, so of course it was lined with tacky trinket shops. We finally found a tacky trinket that we could make into a Christmas ornament that said "Memory of Nara" on it, so we bought it.
At the end of the souvenir shops is supposedly the most famous view in Nara and the tourists there proved it. That is not to say it was crowded, just that there were more foreigners around than we usually see here. Generally we are the only ones in sight. The point of this view is to see the reflection of the Five-Storied Pagoda in Surusawa-ike pond. OK, whatever, but it would be a lot nicer if they hadn't allowed modern buildings to intrude on it.
It was nice, but not THAT nice, if you know what we mean. There were some cute turtles in the pond and a convenient public restroom, so we're not complaining. We don't recall there being any cherry trees in bloom, but it might be more exciting when they are. There is one spot where you can stand and get the famous view without the modern building in your view.
From here we needed to go back to the ryokan to drop off our packages before heading out again. The town is easily navigated on foot and all of the major sights are located in the vicinity. It took about ten minutes to walk back to Shikitei where we found that Mika had returned to serve us for the rest of the day. No slight to the "new girl", but we know Mika better and so it isn't quite as formal. She offered to take our picture together, then we took one with Mika and Bill, and another with Mika and Dave.
The point of going out again was to find the garden we couldn't seem to find yesterday. It is about a fifteen minute walk through the park and across a major road, but that's no big deal. Where we went wrong yesterday was in thinking the entrance faced this major road. Wrong, it is on a side street you access from a narrow alley off the main street.
We had no problems finding it today, but first we stopped at Yoshikien Garden because it had a sign out front that was offering free admission to foreigners. We expected a dump like the botanical garden yesterday, but it was absolutely beautiful. It was part of the nearby temple, but it sort of seems like nobody is sure and that the story just sounds good. Anyway, since it isn't on the major tourist maps there were no foreigners there, just us and one old Japanese couple. The garden contains an old tea house and other structures from ages long past. There was a sign explaining in great detail how to look at an angle through the antique plate glass window to see the ripple effect. A bit of overkill maybe?
The man from the old Japanese couple came over and started talking to us about God-knows-what in Japanese. We know he asked if we are American and when we said we are he started telling us something about the garden. He was very nice, but we have no clue what he was talking about. He seemed to like us because when we ran across he and his wife a bit later she bowed deeply and was happy to meet us.
We saw two old ladies looking at us from above in the moss garden. When we went up the stone steps, they were at the top. One of them said hello to us in English, so Dave said, "Konnichiwa" back and she almost had a stroke. Her reaction was priceless. She told us to be sure to go to the garden next door, which we assured her was our next destination. It sort of seemed like both of these groups of Japanese were very happy that two young (to them) American boys would be so interested in their gardens. Believe us, the pleasure is all ours. The garden was gorgeous.
Our actual destination was right across the drainage channel from the first garden. In fact, the gate was less than fifty feet away, if that. It has the same sort of back story that the first garden had except this one, Isuein Garden, is more famous as a tourist attraction. There is a newish small museum that is included in the price of admission, but we don't do museums remember? This garden was similar to the neighboring one, but much larger and more elaborate. Old houses are part of the ambiance also, plus tea houses and such. There is a front and back garden, the latter only revealed when you turn a corner. It incorporates the roof of Todaiji Temple in the view and the hills beyond as well.
When you are gazing at the garden across the pond, it appears to be huge. But, when there is a person standing on a pathway you realize it is actually quite small and the large appearance is a designed illusion. There are beautiful pond, streams, small waterfalls, stone bridges, stone pathways, the aforementioned buildings, and a large pond in the back garden shaped like the symbol for water. How anyone would know that without flying overhead is anyone's guess. All we know is that the entire garden is stunning now and must be breathtaking when the flowers are in bloom. We were very happy to finally find it and glad we didn't skip it like we usually do when something isn't right there in our face.
It was about 3:30PM by the time we finished touring the gardens, which were not crowded at all, by the way. We found a pedestrian underpass to get to the other side of the main road on the way back. Too bad we didn't know about it yesterday, but such is life.
Since we had to walk through the deer anyway, we figured it was about time to buy the deer crackers and feed them like everyone else does. However, we wanted to find some deer that weren't already being bothered, so we kept walking toward our ryokan until we found a large number of them grazing in the grass. One of them timidly came over and Dave gave him part of a cracker (the crackers are about 3" in diameter and look like a thin, dry pancake). If you don't have these crackers the deer won't give you the time of day, but once they know you have them they come running. Well, strolling is a better term, but you get the idea.
The deer aren't pushy, they just stand there looking at you with those big brown eyes. They are cute anyway, but when they want the crackers they are extraordinarily charming. We wanted to feed the younger, small ones, so we could give the big ones a small piece to occupy them while handing out the big pieces to the babies. They were so damn cute you can't believe it. Then we noticed that if you aren't handing the food to them they start to beg by bowing to you. How enchanting is that? And if that doesn't work they start making a low whining sound that is just pitiful. When you run out of food, all you have to do is hold up your empty hands for them to see and off they go. Too cute!!
Back at Shikitei, the electric eye alerted the staff that we had arrived at the gate. Nobody came outside, but when we stepped inside they were clambering around to greet us properly as usual. Shoes removed, we started toward our room, passing the small front desk where the keys are kept. Instead of giving us our key, the woman came out and ushered us into the tea ceremony room again and we went through the ritual just like we did when we first arrived.
Mika came to get us at the end of the ceremony. Let's just say you can't get lost around here. We wanted to look at a floorplan of the inn that was on the wall, but we decided it was better not to buck the system. However, Mika noticed our interest, although we didn't realize it. She showed up shortly with tea and a sweet, then asked when we wanted dinner. We told her the same time, 6:30PM, and off she went. She did ask if we still want to send the two large bags to Kyoto tomorrow. We weren't sure if it had to be done today or could wait until morning, but she said no problem doing it as we are leaving. Then she searched around for a floorplan similar to the one on the wall and finally came up with the emergency plan by our door. How's that for being proactive?
Nothing happened between our return and dinner time, so we'll pick up with that. The cold appetizers were an assortment of items, all of which were very good. We're not sure what they were, but they were attractive and tasty.
The sashimi course to follow was lobster, with a crab dumpling in clear broth. We forgot to take a photo of the next course, but it was stingray sushi and a small container of a brown soup with tiny balls of something in it...we didn't ask and neither should you.
Before this course, Mika said, "Shutter chance...koto music now." What she meant was, photo op, someone is coming to play live koto music for you. With that a young woman proceeded to set up a gigantic wooden instrument and then played a piece for us. It was definitely a photo op because she asked if we wanted a picture when she was finished. It was a nice touch, that's for sure.
This was followed by a stew containing vegetables and two slices of duck. It tasted good, but the thick layer of fat on the edge of the duck slices was difficult to remove.
A cooked fish course followed that was two pieces of white fish in a beautifully arranged basket made of husks of some sort decorated with a branch of cherry blossoms. The fish was delicious.
The beef tonight was thinly sliced and layered with eggplant, topped with puff pastry. The pastry part was fantastic. The meat had a teriyaki sauce on it and was grilled. It was very good also, but parts of it were gristly. It wasn't as fatty as last night's and it had a nice flavor. The eggplant was eggplant, nothing more.
We neglected to photograph the rice soup course, but it looked the same as the previous two dinners except this time there were tiny mushrooms in the mix instead of bamboo shoots. This soup has never had much flavor and tonight was no exception.
Dessert was large slices of baked apples topped with ice cream. Mika couldn't figure out what the English name for the flavor was, so she drew a picture we thought was an acorn. After much laughing and attempted guessing from both sides, she went to get someone who might know. The young man from the door this afternoon came up with "Chestnut" written on a piece of paper and we all started laughing. When we told Mika is was the same as the Christmas song, "Chestnuts roasting on a open fire...", she immediately got it.
After dinner, Mika came to clear the tables and set up the beds. We chatted a bit about how we got here, how long we are staying, etc. She didn't quite grasp the cruise part of it, so Dave looked for a picture of the ship on the computer. She was overjoyed to see the picture and flabbergasted that we are staying in Japan for so long. When we told her we are going to Takayama and Hakone, she said something like, "Oh how fun!". She also gave us some wonderful news, check-out time isn't until 11:00AM. Woo hoo!
She informed us she won't be here in the morning, so we gave her a fold-out map of San Diego and another small souvenir to thank her for being so nice to us. She was overwhelmed and started to cry, so apparently we weren't such terrible guests. After saying that she hopes we will come back to Nara someday, she was off. Every day we get more and more attention from the staff, so it is quite apparent that a little respect and effort to learn the Japanese culture goes a long way.
Click to view the Nara Photo Gallery.
Saturday, April 4 - Depart Nara, Japan - Train to Kobe, Japan - Hotel Okura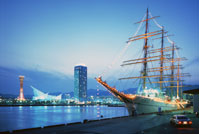 Kobe is the capital of Hyogo Prefecture and one of Japan's ten largest cities. Located between the sea and the Rokko mountain range, Kobe is also considered one of Japan's most attractive cities. Kobe has been an important port city for many centuries. Kobe Port was one of the first Japanese ports to be opened to foreign trade in the late Edo Period, and the city remains one of Japan's more cosmopolitan cities.

In January 1995, Kobe was hit by the Great Hanshin-Awaji Earthquake, which killed over 5000 people and destroyed tens of thousands of buildings. A decade later, the city is completely rebuilt, and few signs of the terrible event are left.

Hotel Okura Kobe is a luxury 35-story hotel, overlooking the water on Kobe harbor front, next to Meriken Park and the Port Tower, the symbol of Kobe. Merging the finest in Japanese tradition with a full array of luxurious amenities, the Hotel Okura Kobe offers the ultimate in elegance and hospitality. The ideal Kobe hotel for leisure travelers, families, or business executives, the Hotel Okura Kobe is close to numerous Kobe attractions, the Motomachi shopping area, and is in the heart of Kobe's business district.
Today's weather is overcast with rain predicted for later this afternoon and evening. The temperature is about the same as it has been since we arrived.
As usual, we woke up about an hour before our scheduled breakfast time of 8:30AM. Theoretically, one could stay in bed until the attendant comes to wake you up, but we prefer to be put together a bit before we have to interact with anyone.
The attendant we have this morning is older than Mika and the substitute we had yesterday morning. We lucked out getting Mika because it was possible to break through her formal facade and have some fun with her. We doubt we would have had the same success with the woman who took care of us this morning. That's not to say she wasn't perfectly pleasant, just that she took things more seriously.
We ordered the Japanese breakfast this morning because we liked it so much better overall than the western version. It is also a lot more food when you pile the rice on at the end. We're not sure what everything was on the tray, but we think the green shiny squares were seaweed gelatin, but it might have been some kind of fish because it was quite firm. The small bowl in the center is shredded daikon topped with tiny dried fish. The bowl with chunks in broth we think was eggplant or maybe squash, but whatever it was it was fantastic and the best thing on the tray by far. Everything else was fine.
After breakfast we sorted out enough clothing to last us a few days until, hopefully, we are reunited with our large pieces of luggage. The maid came back to take the bags we are sending ahead about thirty minutes before check-out time.
We opened the sliding door to the hallway at 10:45AM and were immediately helped with our luggage by today's maid. Our hand luggage was bigger than she, but she insisted on carrying it. At the reception desk two men were putting our large luggage into plastic bags to be sent with the luggage delivery service. The cost to send two large bags was about $30.00 total.
The woman at the desk was extraordinarily gracious when giving us the receipt for the stay. It was prepaid so we didn't owe anything. The total bill for three days was about $2,500.00 which is less than we recall the room rate being when we first looked at this inn on the internet. We thought it was about $800 per night ($400 per person), but obviously it was less than that. As Japanese ryokans go, this one was definitely one of the most exclusive in the city and that price is about right for what we got.
When we thanked the manager/owner for our stay, she said, "The pleasure was all mine," and bowed deeply. She called a taxi for us and two attendants followed us outside and waited until the taxi arrived, put the bags in the trunk and put us in the back seat. They were still bowing as we drove off.
That sums up our stay in Nara. Now we jump into the world of traveling by train on our own.
The ride to the train station took about ten minutes and cost roughly $12.00. The taxi driver was very pleasant and spoke English. Japanese taxis are sparkling clean inside and out with white cotton covers on the seats and seat backs. It began to rain while we were en route to the train station.
We knew we were in the right place because it was under construction. When we were traveling in Europe years ago, almost every site we visited was covered in some degree of scaffolding, so we kept saying that we must be in the right place because the scaffolding is up. It took us a few minutes standing outside the station to organize our luggage, two carry-on sized bags each. You have to manage your own luggage on the trains and there is no where to store it except at your feet. The train we are taking today is a regular commuter train, so we expected it to be crowded because the station certainly was.
While Bill struggled to get his bags secured together, Dave went to buy the tickets. You have the option of using vending machines or going to a live person. The vending machines were limited in number and quite busy, so he went to the ticket office to purchase them. There were only two other people there, so it was no wait at all to be served. Although the agents generally do not speak English, just stating the destination, "Kobe," and holding up two fingers was enough to get the correct tickets. The fare was less than we had been told it would be, only about $28.00 for two tickets. Although we have to change trains in Osaka, the same tickets works for the entire trip.
The station signs had English subtitles, so it wasn't too much of a problem to find the right platform, or so we thought. A train arrived that matched what we were looking for, but it was going in the wrong direction. At the time we still thought we made the right choice, so be boarded. Luckily there was a bit of a delay departing and that allowed us to realize we were headed the wrong direction. We got off quickly and went looking for the right train.
Trains to Osaka arrive every ten minutes, so it isn't a big deal to miss a train. We went back down to the station to consult the electronic signs again and compare them to the departure information we printed from the internet before we left home. We highly recommend doing that because it gives you more options in case you miss a train. Plus, you can keep track of the stops to be sure you end up at the right place.
Once at the right platform, we boarded the correct train and found a seat where we could fit all of our luggage. At the Nara station, the train was not full at all, but at every stop more people got on than off. By the time we arrived at Osaka station it was standing room only. This segment took about 50 minutes.
Osaka station is a major transport hub, so it was VERY crowded and this was at 12:45PM, not rush hour. But, then again, it is a Saturday and most commuters seemed to be going shopping. This time we were more careful to look at the signs and we found the right train the first time. In a crowded station there is no room for errors, so we are glad we didn't start here. You also have to be sure you are boarding at the correct position because some long trains like this one (12 cars) are split at a station and one string of cars goes to a different place. We just happened to hear an announcement in English about that fact or we would never have known.
We had to stand with our luggage on the train, but we found a spot by the door where the seats fold up so we weren't in the way. A young Japanese woman began talking to us, which is very unusual here. She said she missed speaking English and was it OK to talk to us. Of course we said we would be glad to talk to her. She had spent a year in Canada on a student work program and her goal is to move there permanently. She said she was a sales representative and was on a business trip from Osaka and would be on the train for an hour. We told her we would entertain her until we got to Kobe if she wanted to talk and she was thrilled. Dave gave her one of his Japanese name cards, which thrilled her even more. She wanted one of Bill's also, but they were buried in the luggage, so no luck. Talking to this friendly woman made the thirty minute trip fly by and we were in Kobe in no time. We had to stand for the entire trip, but it didn't bother us at all.
The Kobe station wasn't quite as packed as Osaka because it is actually not the main station in Kobe. That would be Sannomiya station two stops earlier. We could have disembarked there and taken a free hotel shuttle, but Kobe station is closer to the hotel and the taxi cost less than $10.00. It was pouring rain when we arrived in Kobe and it continued the rest of the day and into the night.
The drive to the hotel took just a few minutes and we had no communication problems with the driver. The Hotel Okura the most prestigious hotels in the city, but it looks like something straight out of the 80's inside and out. We can't fault the service, however. Two doorman and a female bellhop swarmed the taxi the moment we drove up. We were escorted to the front desk and served promptly. Everyone we encountered spoke English, so it was very easy for us.
Our room wasn't ready yet, so we were asked to have a seat in the enormous lobby until we were called. The lobby looks very 1980's and the furniture is a bit worn, but otherwise it is fine. It has a beautiful view of the hotel's Japanese garden and the Maritime Museum's soaring roofline. We felt extremely out of place with literally every other guest dressed in black suits and formal kimono. Every public place you go to in Japan is as quiet as a cathedral and the lobby was no exception.
Someone came to take us to our room within just a few minutes. We are on the 28th floor with a view of the city and mountains beyond. Since it is raining we can't see much, but it must be spectacular in clear weather. The forecast for tomorrow does not include rain, so maybe we will get lucky.
Our room looks recently renovated and is very comfortable. It is large by Japanese hotel standards. We have a deluxe twin, which means there are two beds that are larger than our twin beds, but smaller than a queen size. There is a built-in desk, a flat screen TV on the wall, and a mini-bar/tea making area. The bathroom sports another one of those electronic Washlet toilets that are so fascinating to most visitors. Personally we find them sort of gross, but to each his own.
Both of us were tired for no particular reason, so the rain was a good excuse to relax in the room and save the sightseeing for tomorrow. There isn't anything in Kobe that is a "must see", so if we only have time to go to Himeji, that's fine. We would like to see a couple of minor attractions in Kobe, but we'll see how much time we have left after returning from our day trip to Himeji.
Rather than bother going out tonight for dinner, we went to the hotel's casual restaurant, Cafe Camellia. Everyone we saw earlier was so formally dressed that we changed into better outfits than jeans and T-shirts, but we needn't have bothered. The restaurant was full of families with screaming children, much to the horror of some of the older Japanese customers. Only one family was really loud, and their children were very unruly, all of the others were behaving properly.
The way service is handled in all of the restaurants we have been to so far completely eludes us. There are so many people serving you there is no way to know who to ask for anything. There is a sort of tally left on the table in a holder and whenever you add something the person serving you marks it on the check. When you are finished you take it to the cashier for the total (no prices are on the tally). It's very confusing to say the least.
Service so far at this hotel is amazing. There are so many staff around that you can't get lost or do anything wrong. However, we are definitely paying through the nose for it. We don't recall how much the room cost, but we think it is over $300, probably more like $400, but that isn't too outrageous for a Japanese hotel (the dump at the airport cost over $200). We both ordered the Chef's Special Dinner that consisted of a crab salad (very good), an entree of filet of beef with a peppercorn sauce that was delicious, fruit with ice cream for dessert, and tea. The food was outstanding, but the portions were minuscule. We ordered an additional dessert each, a crepe filled with crème, topped with ice cream and surrounded by berries and fruit. It was a reasonable portion and a high, but fair for a hotel, price. Get this, the total came to almost $150!! We won't be going there again except for the breakfast buffet that is included in our room rate. Again, the food was fantastic and the service very attentive, but that price is extortionate. We'd hate to see the prices at their formal French restaurant.
Back at the room after dinner we gazed at the nighttime city view for a few minutes before closing the drapes with a push of a button on the nightstand. There are also buttons for music, turning off the room lights, and controlling the air conditioning. The hotel at the airport had the same type of controls by the bed with the exception of the electric drapes. The music also plays in the bathroom, by the way. The bathroom is small by today's luxury standard, but it is functional and has very high end amenities.
Nothing exciting happened after the thrill of the remote control drapes. It was still raining when we went to bed.
Sunday, April 5 - Kobe, Japan - Hotel Okura - Day Trip By Train to Himeji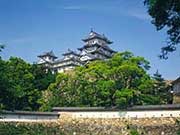 The Himeji Castle is located in Himeji City in the western Hyogo. It was constructed in the mid-14th century, and after a three-layer castle tower was built by the order of the man of power Toyotomi Hideyoshi in the 16th century, Ikeda Terumasa, a feudal lord of the castle rebuilt it further in the 17th century. Its figure was likened as a white heron spreading its wings, and thus called the Hakuro-jo, or White Heron Castle. It was designated as a national treasure in 1931, and as the World Cultural Heritage in 1993.
No rain today, just some slight overcast skies and pleasantly low temperatures.
We had to get out of bed early enough for our included breakfast buffet that ends at 10:00AM, so we were. The restaurant was jam packed and we were asked to wait a few minutes for a table. There were large groups being ushered in which to us is the main reason we would not stay here again. It is literally overrun with groups of all sorts. The service is impeccable, but all those groups and noise are a drag.
We were seated within a few minutes and went directly to the chaotic buffet that was set up with no apparent plan. There were Japanese dishes among the pastries, French toast next to the rice, etc. There were four areas to get different things, so there was no organization to the hoards trying to fill their plates. Everyone was polite, but the arrangement made no sense at all. Of course, we did manage to get enough to eat, but a hotel of this caliber should have a better grasp of how to do a buffet. They do this every day after all. It probably isn't this crowded every day, but still.
Our plan for today was to take the hotel shuttle to JR Sannomiya station, which is the main train station in Kobe. We had to wait a few minutes for the bus, but that wasn't a problem. The bus dropped everyone off several blocks from the station, so many people had to drag their luggage through the crowded streets. When we check out and have to take luggage with us, we'll take a taxi.
We followed the crowd and ended up in the train station. Tickets had to be purchased, so we looked around for the office where we could deal with a live person instead of a vending machine. We couldn't find it, so we tried the machine. There is a button for English and all was well until we came to the destination and ours wasn't listed. We chose one we knew was at least as far as Himeji and tickets popped out.
A lesson was learned yesterday to pay attention to the electronic signs, so this time we found the correct platform right away. It doesn't take long to figure out what the numbers mean, plus there are usually announcements in English if you can hear them. All we needed to know today was where to stand and we had no trouble figuring that out. The train we wanted was a Special Limited Express, so there were only five brief stops along the way. The trip to Himeji took about 50 minutes and was uneventful except that the train was standing room only by the time we arrived, but we had seats. Apparently it isn't protocol here to give up seats to ladies or children because no one ever did it, including teenage boys. We did see one young man offer a kimono-clad woman his seat, but she declined.
We knew we had arrived at the right place because the station was under construction. It was also extremely crowded and everyone was going toward Himeji Castle. There is about a 15-20 minute walk up a wide avenue that leads directly from in front of the station to the gates of the castle, so finding it couldn't be simpler. There are sculptures along the way and the sidewalks are spacious. We have read and been told that this was a drab city with nothing to offer except the castle, but it looked fine to us. We wouldn't want to spend a week here, but a few days would have been fine. In other words, we should have stuck with our original plan.
Arriving at the intersection in front of the castle we knew we were in the right place. No, it wasn't under construction, but there were thousands of people everywhere. Tour busses disgorged groups and entire families were there to enjoy the sakura season (cherry blossoms) on the lawns of the castle grounds. Every square inch of the sidewalks, bridge to the castle gate, and the lawns within were covered with people. Inside the grounds groups of people were picnicking on the grass. This is a traditional thing to do during sakura, so we expected it, but not quite to this extent. It wasn't unpleasant, in fact it was nice to be part of it, but we never knew it was quite this popular. We'd swear everyone in Japan was coming through those gates.
If you care about the details of Himeji Castle, do a search on the internet for it. It's really old and one of the only authentic castles left in the Japan. Most are reconstructions, but this is the real deal. The grounds are beautiful with the cherry trees in bloom.
We followed the crowds and arrived at the ticket booth for the castle itself. The grounds are open free of charge. Tickets are sold from machines, but they were easy to figure out. Inside the gates you follow a designated tour route through many gates, up winding stone alleyways, through more gates, past beautiful stone walls, etc. You are rewarded with the view from the terrace below the main castle keep. There were also many cherry trees in bloom in this area. Originally there were more structures in this area, but they were lost over the years to fire or whatever.
In the middle of the courtyard there was a huge queue set up, but we couldn't tell where it went or how long the wait would be. There also wasn't a way out unless you finished the entire route that leads to the very top of the inside of the castle itself. Eventually they started admitting people again, so we joined the line and made it through the castle without stopping again. Shoes must be removed and carried with you in the provided plastic bags. That's a bit of a nuisance because the old wooden stairs are very steep and narrow, so having one hand tied up isn't the greatest idea.
The castle is five or six stories high, we forget exactly, but the point is it is huge and made of enormous wooden beams. The huge decorative nail covers (we were reminded many times that there are over 400 of them) are metal covered in black lacquer. The building is in remarkably good condition for its age and if we didn't know better we'd swear it was a newer reconstruction.
Climbing up into the castle with thousands of other people was no fun, but was something that had to be done. After all, if the locals are doing it, shouldn't we? Would we do it again? Not a chance!
Finishing the tour provides many opportunities for spectacular views of the cherry trees and the castle buildings. It is so beautiful it is like living in a postcard. It goes on and on with spectacular vista after spectacular vista.
After soaking up the atmosphere, we headed back out into the hoards of people in the park and on the lawns. We got some great photos from the top of the walls overlooking the moat surrounding the castle grounds. There were huge black fish in the moat that were scary enough to dissuade anyone from swimming across.
Adjacent to the castle is Kokoen Garden that was once home to Samurai houses. A garden was built here in 1995, but it looks much more established than that. It consists of several different walled gardens, each spectacular in its own way. Locals were out looking at the emerging flowers and women in kimono strolled the gardens having the pictures taken by pushy tourists, foreign and domestic alike. You'll have to check our photo gallery for the images of the garden because its beauty can't be described in words. There were a lot of people in the garden, but nothing like the packed house next door at the castle. It was very pleasant walking around admiring everything.
All that was left to do was perhaps find some food and make our way back to the train station. There is a modern shopping complex across the street from the castle, but they were way too crowded to bother with. The sales people were also annoying constantly yelling at people to please buy this or that.
There was a food fair or whatever you call a bunch of booths selling food. There were probably 100 booths selling every kind of food you can imagine, including kebabs sold by a man so stereotypical he could have come from Central Casting. We bought some fresh grapefruit juice to revive ourselves and then just strolled around looking at everything. The prices were high for what this was, but not outrageous. We bought some fried pancake balls (that's what they tasted like, but the dough was baked in a mold to form the balls). We were both tired and hungry since we hadn't eaten since this morning and it was approaching 5:00PM, but we didn't want to sit down and eat in a restaurant.
Back at the train station, Dave found the ticket office with real people in it after seeing the huge line for the machines. There were only four people ahead of him at the ticket counters, but there must have been 500 people waiting for the machines. Buying the tickets was as easy as stating the destination and saying "two" in Japanese. We could have just held up two fingers, but we're trying to be polite.
We caught the next train with just minutes to spare. It was full by the time we got on, so we had to stand for the entire 50 minute trip, but we don't mind doing that. The ride seemed shorter than going the other direction, but we know it wasn't.
When we arrived back at JR Sannomiya station we looked for the ticket office for buying our tickets tomorrow and found it right away. We have no idea why we couldn't see it earlier today. Then we were off to find the shuttle bus pickup location. We knew there was a big green building across from where we were dropped off and a McDonald's right at the stop, but we still ended up on the wrong street. We did find the spot, but only after a lot of walking. At least Kobe's downtown is relatively pleasant for a big city.
Then we had to wait for 20 minutes for the next bus. When it arrived the driver wouldn't let us board because this is only a drop off location and you have to board at the bus station across the street. Would it really be all that difficult to tell us that ahead of time? Wouldn't anyone assume you are picked up from where they drop you off? Anyway, while the driver was ranting at us, a very nice young Japanese woman who got off the bus asked in English if we wanted her to show us where to go since she was going that direction anyway. We followed her back to the station where the bus had already left even though he knew we were on the way. GRRRRR. We gave up and took a taxi, which is what we will do after we check out tomorrow.
Back at the hotel we figured we had better go look at the Earthquake Memorial so we wouldn't have to do it in the morning. It was about 7:00PM and dark by this time, but the memorial park is directly behind the hotel on the waterfront. The lobby of the hotel is on the third floor, so we had to walk down to street level, then all the way around the hotel to the back to get to the park.
There is a granite display area with pictures and a video of the extent of damage from the quake. Miles of piers and waterfront areas were destroyed. We knew our hotel was existing at the time, but we thought the Maritime Museum with its soaring sail-like roof was newer. However, it was in the photos of the destruction. We were surprised to see a picture of Crystal Harmony prominently featured in a large photo depicting the importance of Kobe's port.
Adjacent to the memorial is an area of damage preserved as it was after the earthquake hit. There are lampposts leaning over, buckled pavement, collapsed sea walls, and a railing in ruins. The overall scene left here was magnified by miles and miles of similar damage.
The park area is a big concrete space with some streams and fountains, but the views are magnificent at night. The soaring roof of the museum is lit up, along with the iconic Port of Kobe tower. There are sculptures scattered about as well, with old and new boats on display outside. There is no way the earthquake display or any of these boats could be displayed in an open environment like this anywhere else. They'd be vandalized into rubble in no time. No such problem here though.
Across the water is a shopping and amusement area called Mosaic that was brightly lit and beautiful reflected in the water. There was a multicolored building nearby made of frosted glass or something that looks like it all lit up and surrounded by fountains.
It was almost 8:00PM and quite chilly and breezy now, so we tried to find a shortcut into the hotel. No such luck. We had to walk all the way around to the front of the hotel again and then up to the entrance on the third floor. At least we had a chance to take a picture of the very 80's front entrance waterfall and sign. The doorman looked askance at us because we didn't use the center doors, but if you don't want people coming in from the side maybe you shouldn't have automatic doors there? Just a thought.
We took a few more pictures of the lobby and checked out the hotel's shops. The hotel is beautiful in its own way and is well maintained, but the place has a aura of cigarette smoke and martinis. You half expect Dean Martin to wander out of one of the hallways. Only the lobby looks dated, the restaurant, elevators and rooms look new and up to date. The lobby is huge and almost all wood, so there's not much that could be done to update it without tearing it all out and starting over. There are staff members everywhere and they are extremely polite and helpful, so we really feel petty even mentioning the decor. The rates aren't as high as say a Four Seasons or Ritz Carlton, but the service is up to snuff.
After a brief stop at the room to freshen up, we went to the same coffee shop in the hotel where we had the ludicrously expensive meal yesterday. We knew there were things on the menu that were less expensive, so we were determined to order those and not a "special". We had spaghetti carbonara and what they referred to as "beef pilaf". Both were outstanding, as was the cream of corn soup. The price was high as one would expect for a hotel restaurant, but not ridiculous. The noise level was also down to what we would expect in a hotel like this and there were no groups either. The hotel seems to be fairly busy because even at 8:30PM there were about 20 tables full of people eating.
Back in the room after dinner we promptly crashed. Here is a better nighttime view from our room.
Click to view the Himeji Photo Gallery.
Click to view the Kobe Photo Gallery.
Monday, April 6 - Depart Kobe, Japan - Train to Kyoto, Japan - Granvia Hotel Kyoto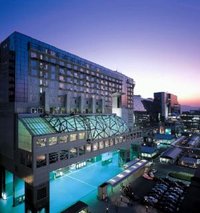 Kyoto was the capital of Japan for more then 10 centuries until 1886 and it still retains most of its old world charm. Countless historically priceless structures survive in the city today, including 2 Imperial villas, 200 Shinto shrines, 1500 Buddhist temples and over 60 beautiful gardens, which highlight the beauty of Autumn and Spring.

Hotel Granvia Kyoto is an integral part of the architecturally striking masterpiece, the JR Kyoto Station Building, which also includes a department store, museum, musical theater, and a vast underground shopping mall. From here, hotel guests have direct and easy access to major destinations across Japan including Osaka (30 min.), Tokyo (2.5 hr), Hiroshima, Nagoya, and Fukuoka. With its elegant accommodations, including 534 beautifully decorated rooms, there is simply no better place to stay in Kyoto than the Hotel Granvia Kyoto. Moreover, with 13 restaurants & bars and fitness facilities, the hotel is perfect for both leisure and business visitors to Kyoto. Hotel Granvia Kyoto is home to over 1000 pieces of stunning art based on the theme of "The Contrast of Modern and Traditional Art". The artwork of Kyoto-based artists, some of the most famous in Japan, is prominently featured among the paintings, sculptures, and industrial art on display and accentuated by photographs adorning the guest rooms.
Today the weather is just about as perfect as it gets, sunny with pleasantly cool temperatures.
Our day started with our included breakfast buffet in the hotel's coffee shop. There were no groups today, so the buffet wasn't chaotic, although most tables were occupied. The food is outstanding overall and the service couldn't be more gracious.
We wanted to catch the 12:38PM train to Kyoto, so we went to the front desk to check out at around 11:30AM. The process took just a few minutes. The receptionist was remarkably pleasant, as is everyone at the hotel. There is no way to get lost because someone escorts you to wherever you are going, including outside to the taxi. The bellman even told the driver where were wanted to go, although we could have done that ourselves.
At the station we went to the ticket office rather than deal with the machines again. There was a line because this is also where foreigners can exchange their vouchers for rail passes. Dave was behind some college students who were trying to ask the ticket agent how to use the trains. They didn't modify their speech, so she didn't understand them even though she did speak some English. Finally, Dave asked where they were going and explained to them how to get there. We ran into them again on the train platform.
We were on the platform so quickly that we were able to catch an earlier train at 12:23PM. The "Special Rapid" trains come every ten to fifteen minutes, so it isn't a big deal if you miss the one you want. These are local commuter trains, so there are no reserved seats. We can't move fast enough with luggage to get seats, so we had to stand for the entire ride. It was shorter than our day trip yesterday, so standing wasn't a problem.
Our destination was the Granvia Hotel Kyoto, which is part of the modern Kyoto Station complex. We can't imagine what the people who complained about the entrance to the hotel being obscure were thinking. There are signs all over the station pointing to "Hotels". How hard can it be? We certainly had no problems finding it.
The hotel is very chic and contemporary, by far the nicest hotel we have stayed at so far. The service isn't quite up to the standard of the Hotel Okura, but this hotel doesn't purport to be a 5-star property either. We'd say the facility itself is nicer than the Okura, but the service level is more what one would expect at a Hyatt Regency or Marriott. We were still intercepted as we approached the front deck and personally delivered to one of the clerks. The lobby is quite dramatic with a black ceiling and contemporary decor.
We were checked in promptly and then she checked to see if our luggage had arrived yet. Turned out it was sitting right there where we could have seen it if we had known where to look. That sure was easy. We were told to return after 3:00PM when check-in begins.
We set off to explore the train station which is an attraction in itself. There are spacious open plazas and escalators going everywhere. A gigantic staircase ascends to a rooftop bamboo garden with views over the city. There are spectacular views of the Kyoto Tower across the street and temples beyond. We easily killed about an hour wandering around looking at the building. There are many, many restaurants and fast food outlets, plus a full-sized Isetan Department Store in the building.
Around 2:00PM we started to get hungry, so we went to the enormous food court to find something to eat. We ended up choosing a place with various set meals. We were greeted immediately and seated by the window with a view of the undulating roof of the station. At first we were given a Japanese menu, but as soon as the host realized his mistake he brought an English version. We ordered a set meal featuring tempura and a big bowl of soba noodles in broth, plus rice, Japanese pickles and a small bowl of shredded vegetables. The meal was very good and reasonably priced, about $10.00 apiece.
There were signs all over the station advertising the opening of the musical "Beauty and the Beast". We have seen that show in California, New York and London, so we thought it would be fun to see it here. Unfortunately, it doesn't open until the 23rd, so we are out of luck.
Back at the hotel at 3:00PM, we were given our keys without delay and told our luggage was already in the room. Our room is on the 15th floor and has a spectacular view of Kyoto Tower and the main part of the city with temples and shrines off to the right at the base of the hills.
This is by far the nicest room we have had so far. It isn't quite as large as the one at the Hotel Okura, but the amenities are far superior to that hotel. We're not sure who thought black carpeting in the corridors and rooms was a good idea, but it looks nice. There are electronic controls by the bed for almost everything, free internet, tea making supplies, and a large flat screen TV. The bathroom is large with a huge bathing area and quite an array of amenities on the sink. This place is more our speed. We are so glad we didn't go with the Westin Miyako because we're sure it would have had the same "old money" feel as the Okura did. We just didn't feel completely comfortable in a place like that in spite of the gracious service we always received.
Our original plan for tonight was to go out and look at the cherry trees that are lighted at night. After considering it further, we decided to skip it and stay in. Two full days of cherry blossoms has satisfied our desire to see them, no matter how beautiful they may be with lights on them at night.
We went to the hotel's casual restaurant, Le Temps, for dinner. You have the option of a buffet or ordering from the menu for all meals. We chose to order off the menu and we were very happy with our food. It is on par with the extremely high quality of the Okura, but not quite as expensive. The portions were also larger. The steak set meal was outstanding as was the beef pilaf. Service was very attentive. The restaurant is large, but very comfortable and attractive with high ceilings and interesting contemporary decor. We looked at the buffet on the way out and we might try it another night. There was a huge variety of food. Our room includes the breakfast buffet, a Japanese breakfast in the Japanese restaurant, or the "original breakfast" in the Italian restaurant. We have no idea what an original breakfast is, so don't ask.
Since we have to be up early to meet our guide at 9:30AM tomorrow, we went back to the room right after eating and were done for the evening.
Tuesday, April 7 - Kyoto, Japan - Granvia Hotel Kyoto
The weather today is perfect by anyone's standard, sunny and almost warm. We had to be up early and ready to meet our guide at 9:30AM. The hotel room has an alarm clock that slowly brightens the lights by the bed instead of using a jarring buzz or whatever. We were already semi-awake when it started to lighten the room about ten minutes before we had to get up. We doubt it would wake us up from a sound sleep, but could be that it would.
We have coupons for the included breakfast. There are a lot of choices available with the coupons, but we wanted to try the buffet in the casual restaurant. There was a slight wait, maybe five minutes, but the restaurant is huge, so it wasn't much of a problem. The buffet was very extensive and the food was quite good. We would go back again and probably will every morning. They had both western and Japanese dishes available.
We weren't sure where we were supposed to meet the guide except that she would be in the lobby, so we stood around looking for someone who might be a guide. Shortly we spied a woman holding up a sign. She saw us at the same moment we saw her, so she rushed over before we could make a move. Her name is Kimiko and she said she is Dave's age later when he mentioned something about the 1950's.
The first stop was Nishiki Market, a covered street stretching several blocks in the center of Kyoto. Small shops sell every kind of grocery item you can imagine: Vegetables, fish, squid, Japanese pickles, more fish, flowers, sweets, meat, you-name-it. Everything looked fabulous. Kimiko made us try several dried things that are eaten with plain rice because they are quite salty. She pointed out different unusual foods and ingredients, explaining anything we were interested in.
At the end of the market is a shrine to insure prosperity in business. Besides the usual purification well, there was a mechanical fortune telling machine and two huge koi in a too-small tank. We all thought it was cruel to keep such enormous fish in such a small tank, but it could be that they were just on display and don't always stay in that tank.
We were expected at a house for a private tea ceremony and bento lunch at 11:00AM, so we followed Kimiko out to the street to hail a taxi to take us there. After a brief ride through the narrow streets of old Kyoto, we arrived at the location of the tea ceremony. This facility is a restored old house set back from the street and surrounded by small gardens. The hostess greeted us and showed us around the house before ushering us out into the garden toward the tea room. We had to put on wooden sandals and walk on wet uneven stones to get there. She said the stones are uneven on purpose to focus your attention on your surroundings. Her English was perfect and she had a good sense of humor, so the experience wasn't stuffy at all.
In the tea ceremony room she pointed out the scroll that had been chosen by the tea master for today. It represented a nightingale because one was heard in the garden this morning. We heard it when we arrived also. After she told us what to do, she left and the tea master came in. He was serious at first, but turned out to be very friendly. We won't go into details of the tea ceremony here, but it was very interesting and the implements used were over 200 years old, including the bowls we drank from. The master complimented us on our ability to sit properly on our knees. He told us repeatedly that we didn't have to sit that way the entire time, but it seemed like the right thing to do. He seemed pleased that we behaved properly and were interested in what he was doing.
Later when we were chatting with the hostess, she said that when she took over this house the gardens were a total jungle and it has taken her four years to get them looking nice again. Kyoto gardens use moss instead of grass as a groundcover and it has to be swept daily to keep it looking good and to spread the spores so it fills in well. This moss grew back by itself after she cleaned up the overgrown trees and foliage. It was very serene.
When we said that most people who come there to experience the tea ceremony are probably interested in it so they behave properly she rolled her eyes, so perhaps our behavior is more unusual among tourists than we thought. Everyone seems to be thrilled with us, so we must be doing something right.
Lunch was served in a bento box at a regular dining room table. We were served sake from a beautiful serving set along with it, plus tea, of course. The lunch was similar to the foods we had at the ryokan in Nara and it was very good. It is a lot more food that you'd expect from a small lacquer box. We were stuffed at the end. Other than chatting a couple of times with the hostess when she brought us something, we were left alone to eat. No other guests were at the house while we were there.
On the way out, the master thanked us for coming and we noted that a zig-zag pattern had been made with water on the stone walkway. We had been told earlier that our on time arrival was very much appreciated (and very unusual) because part of the welcome process is to wet the walkways and garden stones for us. So, if you are late they have to do it over and over again until you get there.
Our next scheduled stop was the tour of an old merchant's home by the owner, but we had an hour to kill before our appointment. The tea house was close to the Imperial Palace, so Kimiko suggested we stroll in the that direction to take a look at it. On the way she took us to a modern building housing some restaurants to show us a garden that you'd never guess is hidden behind this non-descript building. There was a large koi pond, stone bridges and lanterns and more in a small space wedged between the building and the one next door.
A short stroll away was one of the gates to the Imperial Palace. There is a large park surrounding the walls of the palace itself that used to be the location of wealthy Samurai, but they were abandoned after the capitol was moved to Tokyo. The vacant houses were removed and the area turned into a public park.
After another short taxi ride, we arrived again in the old part of Kyoto where Kimiko showed us the outside of the largest remaining old merchant's house. It is not open to the public, but the outside is visible. We then walked a distance through the narrow streets of the old town to find the house we were to visit. All of this is hidden by the modern buildings that face the larger streets. Just walk a block and you are among a hodge podge of old and new buildings. There are no zoning laws, so anyone can build any kind of home or business they want to without regard for the harmony of the neighborhood, as Kimiko said.
We arrived at the villa for our scheduled tour and were greeted by the most wonderful old woman imaginable. She was dressed up in her Sunday best just for us as she ushered us into the front part of the house. This large room fronts the street and was originally a shop selling white silk fabric. The front of the house can be completely opened to the street. She showed us a model of the house, then asked us to follow her on a tour. The whole thing was very informal and was more like visiting someone's home than a tour. In fact, that's just what it was since she lives in the house.
The house is over 100 years old, so it isn't in pristine condition which makes the whole thing even more interesting. There are amazing carved transoms that let the air flow through in the hot summer. A smaller garden in the front of the house opens to rooms on three sides, including the entry. Another garden toward the back of the house is viewed from the main living area. The shoji windows are ingenious in the way they can be slide up and down so that if you are sitting on the floor you can see the garden or closed for privacy. Sliding screens above the doors can be opened to allow air to flow through without opening the doors below. When we expressed an interest in the doors and whether or not bugs were a problem in summer, she opened a sliding panel in the wall and pulled out "screen" doors beautifully made of matched reeds with spaces between them. She showed how you can remove the paper doors and replace them with the reed slats to allow air to flow in summer.
We were taken upstairs via a steep narrow wooden staircase so we could go out on the tiny balcony for a view of the rear of the house which was originally used for storage of merchandise. She lives in this part of the house. She said even Japanese people want to sit in real chairs, so that is why there were chairs for us to sit in at a small table. She made fun of us because we barely fit in the chairs, saying that we had to be careful not to take the chairs with us stuck to our backsides when we stood up.
She offered us tea after she decided we were really OK guys. The best part of the whole thing was meeting this charming old woman. She spoke some English and understood more, so it was very fun. She seemed to enjoy us and we felt likewise about her. There was no rush to get us out at all. The solid sliding paper doors in the interior had a golden pattern on them that was made with gold dust. It looked sort of like clouds on one wall and when Dave said that the woman was thrilled he noticed. That prompted her to go off to search for a candle to show us how it looks in the candle light because that is how the rooms would have been lit long ago.
She came back with a thick candle that uses rolled paper as a wick. It was hilarious when she turned off the light over the table and said, "Shows over, get out." She was very delightful. After chatting about a variety of things, she offered to show us the old kitchen. it is located semi-outside and is only used in the summer because it is too cold to use in the winter. They have added a small modern kitchen to use in cold weather, but we were told they prefer the old one because it is so large.
The ceiling was very high because if there was a fire it would go upward and they would have time to warm the neighbors on each side of the fire so they could evacuate. The house had twenty servants in its heyday and they all had to be fed, so that is why the kitchen is so big. There is a huge stone oven-like setup in one corner for making rice and steaming vegetables. Large wooden cabinets line half of the wall with a stove next to it. There is a water well right there in the kitchen, too.
Our hostess went off to get some postcards with pictures of the house to show us how it looks during an annual festival when the old houses are all opened up to passersby. Afterwards, she said we could keep the cards even though she had ruined two of them by spilling milk on the corners...this was really an authentic experience! We were honored that she thought so much of us to give us the cards.
When it was time to leave we asked to take a photo with her plus one with she and Kimiko. We really enjoyed meeting her and we're sure this will be the highlight of our trip. When we went back onto the street she came out to show us a flip-down wooden bench that was used to display merchandise in the past. She stood waving and thanking us as we walked off down the street.
There was some extra time before our cooking class at 4:00PM, so Kimiko took us to a temple that is hidden among the surrounding modern buildings, one of them housing a Starbucks. The belfry to the temple is across the street and completely overshadowed by highrises. This temple has the "navel of Kyoto" on the grounds, said to be the center of the city. Originally it was part of the temple building, but when the city streets were laid out in a grid it had to be moved, but the navel remained where it was.
The blending of the old and the new is part of the charm of Kyoto, but you have to look for it. Surrounding the temple are beautiful waterfalls, a pond with swans and koi, a huge umbrella shaped cherry tree, huge lanterns, and a shrine full of stone statues where people pray for their children. If the outcome of the prayers is good, the person makes a red bib or knitted cap for the statues as thanks.
Another short taxi ride and we were at the small cooking school. Kimiko gave us some information written out in Japanese so we can show it to people tomorrow to help us find various temples in the hills outside the city. She didn't have to do that and it was very considerate of her. She bid us goodbye and left us in the hands of the teacher.
The "school" is very small and she told us she only takes 2-4 people at a time. She doesn't like to do groups because it isn't as much fun for her. Her English was perfect, so we had a nice conversation during the class. We didn't actually do anything ourselves, just stood at a small table and watched her make it. She gave us recipes for each dish. The main thing was to make a soy sauce concoction sort of like a light teriyaki sauce that was an ingredient in everything else she made. She gave us a huge bottle of it to take home with us. You have to keep part of the mixture to add whenever you make a new batch, so she added some of hers to get ours going.
After making five dishes, all vegetables except for the dried tiny sardines added to a green pepper dish, we sat down to eat what she just made. She also served us a potato salad-type of thing made with tofu instead of potatoes. It was fantastic. Mostly we enjoyed the conversation while we ate. She offered to call a taxi for us to take us back to the hotel, so we took her up on it. All she had to do was dial the taxi company and say about three words. We asked how they knew where to go and were told that they do it all by computer from the telephone number.
A taxi with a woman driver arrived, which shocked even the cooking instructor. She told her where to take us and we were back at the hotel by 6:00PM. We knew we would be hungry later, but we didn't want to eat another meal, so we went down to the casual restaurant and bought some pastries from the bakery counter for later.
A hotel staffer saw us walking toward the elevator lobby and rushed over to push the button so the elevator would be there when we arrived. How's that for service? We love this hotel!
Other than getting laundry ready to send out in the morning, nothing else exciting happened today.
Click to see an amusing sign we found over a urinal in a men's restroom this afternoon.
Wednesday, April 8 - Kyoto, Japan - Granvia Hotel Kyoto
Another perfect day in Kyoto! Warm and sunny. Everyone we talked to said this is unusual and even the locals are surprised at how beautiful the weather is.
We went to the breakfast buffet again, which was wonderful. The restaurant wasn't as busy as yesterday, but the hotel does seem to be doing good business. Before we went for breakfast, a call was made for laundry pick up and the guy arrived within minutes to take it away.
We weren't very efficient at getting out of the room this morning, so we didn't make it downstairs to the train station until around noon. Our plan is to travel by train to the Saga-Arashiyama area just outside of town. The experience there is to see the how the old Kyoto was before becoming a modern city and to listen to the wind rustle the bamboo groves according to our instructions.
There was no problem buying train tickets with a return from the person at the ticket office. The agents are very pleasant and helpful in spite of limited English. Dave always addresses them in Japanese so they have no problem selling us the correct tickets. The man today even wrote down which track the next train was leaving from.
The train was waiting for us. Kyoto is the end of the line for this commuter train, so it just sits there until departure time. At precisely 12:06PM the doors closed and the train started moving. Because this is mostly a local commuter line none of the electronic signs are translated to English. Dave has learned to discern the station names from the announcements, so we have no trouble figuring out when to get off. The train was full when we arrived, so we had to stand, but the ride was only fourteen minutes with just two stops.
When we arrived at the Saga-Arashiyama station we didn't know which exit to take. The station is small, so it wasn't as big a deal as it would be in Kyoto, but we did have to backtrack after checking the map more carefully. We were told to take a taxi to Adashino-Nanbutsuji Temple and start our walk back to the station from there. That was easier said than done because no taxis were waiting at the stand.
We decided to walk since the map showed it was less than a mile. This is a small town, so it wasn't difficult to find out where to go. Basically we just turned toward the nearby hills and then followed the locals. We found a big temple at the end of a narrow street that turned out to be the Gioji Temple, which should have been our second destination. No matter, we'll check it out now and find the other place afterward. At least now we have a frame of reference to start from on the map.
There were very few people around the beautiful grounds of this former nunnery and all of those people were Japanese. It is always better in our opinion to visit these out of the way places because they aren't as touristy as the bigger attractions. The grounds were attractive and featured some spectacular old cherry trees. The ornate rooftops were certainly worth the visit.
We left through a side gate and soon found a stream of locals heading for the hills, so we followed them. The narrow streets led through upscale residential areas. There were some very attractive restaurants and shops along the way, but we saved them for later on the way back.
There were two ladies near a huge cherry tree trying to get pictures of themselves, so Dave offered to take one for them. They were thrilled that he wanted one for himself as well. Later, on the way up another street lined with nice shops, an old woman stopped us to give us some candy just because we were nice to one of the shopkeepers. Everyone has been extremely welcoming to us and even though they don't usually speak English, they always have something pleasant to say to us.
We accidentally found our original destination, the Adashino-Nanbutsuji Temple. Its claim to fame is the 8,000 tiny stone statues that are tributes to the dead. There is also a large bamboo grove on the grounds, beautiful multi-tiered cherry trees, stone statues, ornate buildings, a cemetery, and belfry. The path through the bamboo leads to a huge cemetery bordered by cherry trees in bloom. At the end of the path is a stone fountain with images in stone around the center pillar. Women were saying a prayer as the walked around the fountain pouring water over each of the figures in turn. You can see in the photo that the figures are quite slimy, but the only water touching them is what is poured over them, so obviously this ritual goes on continuously.
After walking back down through the bamboo, we continued along the road past the shops and through more residential areas. We came across a neglected shrine featuring two stone cat statues along with several huge stone monuments. All you have to do is look down the side alleyways and you'll likely come across something wonderful.
We made our way eventually to a wooded area with large cypress trees on the side of the road, then passed a green pond, and turned through another huge bamboo grove. Among the many upscale shops on the way, there was one selling all sizes of those big scary ceramic bears we have seen everywhere. At the end of the grove we found the north entrance gate to Tenryuji Temple. The temple is famous for its gardens, the oldest surviving in its original design.
This is the most beautiful garden we have visited so far. There were so many cherry trees it was almost artificial. The blossoms floated down with the slightest breeze and carpeted the ground with petal snow. The effect was magical.
There were water features, moss covered hillsides, beautiful pink-flowered shrubs that might have been azaleas, but we aren't sure. There are so many plants about to bloom it must be breathtaking in its time. It was so beautiful already it is amazing. The ornate temple buildings blend right in with the gardens and ponds. The forested areas look like they have been there forever, which they have since they are hundreds of years old. You forget that all of this was planned and planted it looks so natural.
Our next destination was a bridge over the Hozugawa River near the temple. We found the crowds when we left the temple through the main entrance, but it wasn't anything like we experienced in Himeji. There were just more people on this main tourist street than we had seen all day. There was a steady stream of people enjoying the stunning views around the river. There were cherry trees along the banks, on the hillsides and in the parks. People were rowing boats around in the river enjoying the sunny day.
On the stone banks of the river, people had spread out their blankets for a picnic or just sat on the walls to gaze at the view. One of the nicest things about being here in sakura season is to watch how in tune with nature the Japanese people are. Young and old, they are out enjoying the blossoms and reveling in nature. It is quite touching.
After crossing the bridge for more photos of the boaters and the cherry blossoms, we stopped for ice cream cones to revive us for the trip back to the station.
The walk back to the train station took about thirty minutes, but it was through attractive streets. We just followed the old ladies and got there without incident. There were already hundreds of people waiting for the train. When it arrived, the train was already mostly filled, so we again had to stand for the ride back to Kyoto. It was 5:00PM and rush hour, so by the time the train stopped and picked up more passengers, we were packed in like sardines. Luckily the trip only took nineteen minutes. Being rush hour the trains stop at every station so that's why it took a bit longer.
Back at the hotel, we cleaned up then went down to ask the concierge to fill out our luggage forwarding form. She was very accommodating and went to get a different form to get us a discount for sending two bags to the same destination. We chatted about Tokyo Disneyland, which she and her friends love. She wants to visit Hong Kong Disneyland so she was very interested in what we had to say about it. Also, she said we might get lucky and the crowds will be low at Tokyo Disneyland. School started this week and it is the week before Golden Week when everyone is on vacation, so that means it is slow the week before. We'll see1
We went to the casual restaurant again tonight, but this time we opted for the buffet. It was fantastic with an enormous variety of foods. There must have been ten different dishes with shrimp in them and all were delicious. There were huge fried shrimp also, plus meats, stews, curry, grilled beef, pasta with a choice of sauces, pastries, crepes made to order, cakes, fruit, fancy desserts, many choices of ice cream, etc. It couldn't have been better and you could go back as often as you'd like. The waiter gave us a coupon that saved us ¥500 off the regular price of ¥4300, so it was a good deal for a fancy hotel. The service is beyond attentive with dirty dishes removed seconds after you are finished so you can start all over again.
After dinner we returned to the room to pack up for tomorrow's journey to Takayama. We have to be on a specific train because it will be a reserved seat on the shinkansen this time, then a change to scenic railway also with reserved seats for the final 2 1/2 hour leg to Takayama from Nagoya. Our large luggage is set to be forwarded to the Marriott in Nagoya.
Click to view the Kyoto Photo Gallery.
Thursday, April 9 - Depart Kyoto, Japan - Shinkansen & Scenic Train to Takayama, Japan - Honjin Hiranoya Kachoan Ryokan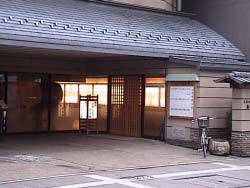 A hundred years after Japan was modernized, travelers discovered a small village hidden high in the Japanese Alps. Cut off from the modern world, Takayama had lain unaffected by the modernization of Japan. Today Takayama can be accessed by an express train from Nagoya. Your journey will take you through the most magnificent mountain scenery. The center of town is still lined with traditional homes, shops, inns and sake breweries from a time gone by.

A custom built modern building houses the Festival Floats for which Takayama is famous. These are huge mobile shrines - spectacular creations with flamboyant carvings, metal and lacquer work with complex marionettes and puppets that perform amazing feats. Nearby is the Lion Mask Exhibition Hall displaying over 800 Lion Masks and antique musical instruments.

Just outside Takayama is the Hida Folk Village, a large open air museum displaying dozens of traditional houses which once housed farmers and craftsmen in the region. These houses have been relocated here and preserved in their original condition. From the Hida Folk Village are magnificent views of the Japanese Alps. Made even more breathtaking during the colder months when the autumn leaves make an almost unreal display of colored foliage covering square kilometers of the mountainside.

Honjin Hiranoya Kachoan is a great place for a relaxing and luxurious vacation in Hida Takayama. Here, you will enjoy the highest service while staying in a room prepared with traditional aesthetic sensitivity to the four seasons. For your evening dining pleasure, enjoy traditional Japanese cuisine prepared with the freshest seasonal ingredients. Have your choice of either Japanese or Western style dishes for breakfast.
The weather remains warm and sunny, which sounds good but in practice for touring around it is a bit of a drag. Make it just a few degrees cooler and we'll be happy again.
Before going downstairs to the breakfast buffet, we called the hotel hotline as instructed by the concierge for our luggage pickup. We fully expected to have to explain the whole thing over again. When we told the operator we had bags to be picked up, she asked, "Your next stop is the Marriott, correct?" How often does a hotel in the United States get something like that right? The bellwoman showed up within a couple of minutes with our form from last night in hand, verified the information, and off she went with the bags. We are continually amazed by the crisp appearance of all hotel employees' uniforms. The bellhops still were the pillbox hats at all of the hotels here and they always look amazing.
The breakfast buffet was as wonderful as always. We could live at this hotel it is so fantastic. The food is good, the decor is nice, the air conditioning works, and the room is actually comfortable. And, the multi-jet shower is to die for.
Our shinkansen train leaves this morning at 11:38AM, so we had to stick to more of schedule this morning than we have been. We already had tickets pre-paid with reserved seats by Michi Travel that were included in our package. Checking out of the hotel was fast and easy. The receptionist even asked to be sure our luggage had been sent already.
It couldn't be easier to get to the trains since the hotel is part of the station. However, our tickets would not open the automatic gates, so we had to show them to an agent. We were let through with no problem, but the same thing happened at the shinkansen platform. From then on we just went to the manned gate instead and had no further issues.
We found the right platform after some brief confusion. The shinkansen lines are not as well marked in English as the regular trains. We were surprised because everything we read before we came stated the opposite. There were no English announcements on the platform at all, but the large electronic signs did alternate between English and Japanese so it was easy enough to find the right place to wait. Each car number is marked on the floor and with an electronic sign above, so finding where you belong once you find the platform is very easy.
The train arrived exactly on time, which was expected of course. Our car, a Green Car (First Class), was only about half full, but with reserved seats it doesn't really matter. The seating is like business class on an airplane with lots of leg room. That's good because some of our luggage wouldn't fit in the overhead rack.
Our trip to Nagoya was non-stop and took only thirty minutes, which was a good thing because the train was not air conditioned. Everywhere we go in Japan, the interiors are way too warm to suit us and this was no exception. Otherwise it was comfortable. An attendant handed out wet towels and a woman selling bento boxes came down the aisle during the trip.
Once at Nagoya station, we had to change trains to the Hide Wideview Express for the two and a half hour ride to Takayama. We stood in the wrong place for the train, but all that meant was we had to walk to the opposite end of the platform when it was time to board. There was plenty of time and it wasn't an issue.
The seating on this train is spacious also, it is only 2-1 and the train has huge windows to view the scenery. We rode backwards to the first station where the train switched tracks for the journey through the mountains to Takayama. There were some beautiful gorges with a river at the bottom along the way, but from the breathless descriptions we had read before coming here we expected more. At least the air moved on this train, but it was still too hot when the sun was on our side of the train.
Time passed quickly and soon we were at Takayama station. This is a relatively small old town, but the area around the station is all modern buildings, nothing special. We found a taxi right away and quickly arrived at Kachoan, which is near the older part of town and the morning markets.
To view a video of Kachoan, CLICK HERE. From the outside this property looks just like the pictures, but that's where the glitz ends. Two women rushed out to take our luggage which was bigger than they were and we're talking hand luggage! They insisted on carrying it for us. Inside the lobby is a raised platform where you leave your shoes before stepping onto the tatami. This isn't a traditional ryokan experience like we had in Nara though. The staff in the lobby were in regular hotel uniforms and there is a front desk and an elevator.
The lobby carpet was very worn, as was the front desk. Everyone was very nice to us and spoke reasonable English, but this isn't at all what we had in mind. We might as well be in a regular hotel. Thank goodness we had the traditional experience already or we'd really be disappointed.
We were shown to our room by a uniformed interpreter and the room attendant who speaks no English. We do think she speaks some, but is too shy to say so. The room isn't as large as the previous ryokan, but the bathing facilities and toilet area are much nicer. There are two bathtubs and wash areas, one inside and one open to the air through bamboo slats. The outdoor one looks very inviting.
Although we are on the third floor we have a semi-private garden outside of the sliding glass door. There is a separate sitting area from the tatami room that has a western chair and ottoman, plus a small sofa. A big deal to us is air conditioning and apparently it is not turned on yet because it only allows the heat function. We were told to open the door if we wanted it to be cooler. Big help honey, we could have figured that out ourselves.
We're not quite sure what was going on with the meal selections, but whatever we chose for tomorrow requires us to go downstairs and be taken to a restaurant in a private car. Meals are included, so that's fine, but the options weren't clear when we chose the type of meal. Tonight we have to go downstairs to the hotel's restaurant, tomorrow we go to an outside restaurant, and we have no idea what happens the third night. Breakfast is always in the restaurant, but we knew that in advance. However, you still have to pick a time for both dinner and breakfast, just like on a cruise with two seatings.
Right now, we aren't thrilled with this place, but we'll see if it grows on us. We are happy to have larger bathrooms here than we did in the first ryokan, but the service is somewhat impersonal. Everyone is polite and nice, but it is more like the service in a hotel than we had in the previous ryokan.
Dinner time rolled around, so we went down one floor to the restaurant. Each group gets their own private tatami room in the simulated village. The tables have leg wells with heaters in them. No need for the heaters, but the leg wells make it easier to sit on the floor for almost two hours. Click for "Tonight Menu".
The young woman serving us spoke rudimentary English and she is very nice, so we had no problems communicating with her. The servers are not as subservient as they were at the first place. There was no bowing to the group during dinner at all. Not that we are into that, but it is part of a traditional experience.
You can read the descriptions for the various courses from the menu posted above, so we will just state what course it is with each photo. Appetizer, Appetizer Sushi, Appetizer Bottom, Wild Plants, Soup, Raw Fish, "Care for a shrimp?", Grilled Fish, Grilled Pan, Noodles, Rice and Miso Soup, Dessert.
This meal was far superior to what we had at the first ryokan in quality. The presentation was about the same and at the first place the quantity was larger, but the flavors tonight were delicious. At this place the broths actually have a flavor. The beef we grilled ourselves at the table was outstanding. The service was prompt and polite, but we didn't have any interaction with the waitress other than the usual pleasantries. Nothing wrong with her, just pointing out that this experience is quite different than the more traditional one.
All in all, we might prefer dining in this manner because we don't have to talk to anyone. She just brings the food, sort of explains how to eat it and leaves. At the end she confirmed our breakfast time for tomorrow and that we are to return to the restaurant then. Another difference in service here is that we will not have the same person serving us throughout our stay. We're not sure we like that since that means getting used to each person's language skills all over again.
By the way, we were told to wear our yukata to dinner, but we didn't. We only saw a few other people and we'd say only half were wearing them. We liked the version with pants at the other place better. The ones here require an obi to be tied around them to keep them closed, so we probably just won't bother. Another observation about wearing the yukata outside in the streets: Nobody does it. We have seen not one single person in any city where ryokan are located walking around the streets in yukata. Don't believe what you read, it may be permissible, but you'll stand out like a sore thumb.
When we returned to the room the futons were laid out in place of the table. These are the same as the ones at the first place except there are fluffier pillows than the rocks we had there. As we expected, the maid had closed all the windows, so it was too warm in the room. We opened everything up again. As long as it is cool at night we should be OK. The semi-open air bathroom is a lot nicer than the other one, so we might use it instead even though the toilet is in the indoor bath.
We didn't go out after dinner even though we read that walking through the old part of town at night is "atmospheric". It is only two small blocks away across a small river, so we will probably do it tomorrow if we aren't worn out from touring around all day.
Dave tried soaking in the huge stone tub in our open-air bathroom tonight. He started running the water to fill it before he started showering. You have to be clean in Japan before getting in the bath, that's the rule. The tub is so large that the water was only about six inches deep after fifteen minutes of running the water full blast from a huge faucet. Talk about a waste of water. But, it was very relaxing!
Friday, April 10 - Takayama, Japan - Honjin Hiranoya Kachoan Ryokan
It's another warm and sunny day in Takayama!
There is an advantage to going downstairs to the restaurant for breakfast...nobody barges into the room at the crack of dawn to put the beds away. This place is definitely not a traditional ryokan experience, but it is starting to grow on us. The carpet in the lobby is still filthy, but we're not staying down there.
When we stepped out of the elevator our keeper was there with clipboard in hand to be sure we went to the right place for breakfast. Come on, we're not that stupid! Anyway, we were ushered into the same private dining room we had last night (we think we have this room for the duration of our stay). We selected the Japanese breakfast after our success with the one at the first ryokan.
The table was already full of the food you see in the photo above when we sat down. Then the waitress brought miso soup, an entire steamer full of rice, scrambled eggs, green tea, and plum gelatin with a whole plum in it. We got a different kind of tea at the end of the meal. The stuff on the brown leaf on top of the little grill is Hoba Miso, which is a specialty in Takayama. It is sort of a thick Miso paste with green onions. It is cooked over a flame on a leaf (sorry, we forgot what kind, but it looks sort of like a magnolia leaf) until it is bubbly. You eat it with plain rice as a topping. After removing the leaf from the grill, we had to cook a whole river fish that had been opened up flat. The entire meal was wonderful. Nothing was inedible or boring. So, the food here continues to be excellent. The woman who served us was very friendly also.
We seem to be breaking through a bit of the officiousness that greeted us, so it isn't quite as awkward as it was yesterday. Part of the problem is the English-speaking keeper who follows us around to be sure we are OK. She is very nice, but we would prefer to be left alone. We know they are just trying to make things easier for us, so we would never complain, but it is an annoyance.
After breakfast we set off to explore the morning market in front of Takayama Jinya, the only remaining old government building in Japan. It is only about a block away from the hotel, so our location is perfect. The market was pretty much pointless in our opinion. We can't imagine anyone finding this an attraction. There were at the most twenty booths of locals selling vegetables and crafts, but they were all selling the exact same things. Well, OK, to be fair, one woman was selling flowers and another some kind of meat, but everything else was the same. There is a large market along the river we will check out tomorrow.
The market is held directly in front of the Jinya, so we wandered in to look at it. It is the familiar Japanese design we have seen before except on a larger scale. Considering its age, it is probably in better condition than our hotel, which is relatively new. The building is a rambling affair of corridors, shoji screened rooms, waiting rooms, kitchens, offices, living quarters, and even a torture room. Outside is a store house housing various artifacts of the era and showing where the rice collected as taxes was stored. It wasn't crowded at all, so it was enjoyable.
After taking the tour of the Jinya, we wandered over the nearby bridge, stopping to watch some huge carp in the rushing river below. A big yellow one was trying to figure out how to get up over the low waterfall. Some big orange ones were looking for food just beyond the bridge.
On the other side of the river is the old merchant houses preservation district. It comprises several blocks along the river. The houses are similar to the one we visited in Kyoto where the owner showed us around and explained how the front can be opened to the street as a shop. The ones here are still being used for that purpose, or as restaurants, sake breweries, or ryokan. It was interesting to us having learned the layout because many of the shops we went into still have the interior courtyard gardens from their days as private homes. It could be they still are private homes since the upper floor and the back were off limits. We found some interesting small items for souvenirs in two of the shops.
After walking the length of the old houses and back, we hopped in a taxi and drove the short distance to Hida no Sato, the Hida Folk Village. They have collected very old farmhouses and other buildings from villages all over the Hida district for preservation here. The setting is lovely around a big pond that was originally a source of irrigation water for Takayama.
Upon entering the grounds a nice young woman offered to take our picture with our camera and then with the village's camera. The photo was available a few minutes later for purchase, but it was nice that there was no pressure to buy it. She had all sorts of stereotypical props such as coolie hats and paper umbrellas to use, but we declined all except the lucky monkey dolls she pretty much forced us to pose with.
After the photo session we wandered through the village poking into all of the different houses. There is no way in hell you could have something like this anywhere else. There is no one to prevent you from stealing the implements on display or otherwise vandalizing the buildings. They keep oak fires smoldering in the hearths unattended. The smoke preserves the buildings and keeps the humidity at a proper level to keep the ropes tight that hold the roof together. If we didn't know better we would swear this was a real village and not a collection. We spent over an hour wandering around.
There is also a craft village where you can watch artisans at work and we did look at the demonstrations, but they didn't hold our interest at all. Plus it felt weird when we were the only people there. We'd say that there were never more than ten people in the entire village at any one time. That made it even better to imagine that it was a real village.
We asked the girl who took our photo if we could walk to the Takayama Museum of Art down the hill. she indicated that we could easily do that, so off we went. In the distance we could see the snow-capped peaks of the Japanese Alps (they probably have an official name but everything we have calls them that). We skipped the museum of teddy bears that we passed on the way. Everything seemed to be either closed or out of business. It looks like there must be crowds at some time of the year because there are parking areas for busses and large touristy shops. We didn't go into any of the shops, but some were open.
Walking to the art museum was easy and only took a few minutes going downhill. The museum houses a collection of glass, plus a Lalique fountain that came from a shopping arcade in Paris. The woman selling tickets was shocked that we had ¥2000 notes. We asked if they were new or old and she said they don't make them anymore. When we used them one time to pay for a taxi the driver seemed shocked to see one, but he took it without any problems. We have used them a couple other times and nobody reacted, but apparently they are rarely used. We have a whole stack of them, so we might pay for one of the hotels with the rest of them so we don't keep freaking people out.
The museum had some beautiful pieces of glass: perfume bottles, vases, lamps, etc. In our opinion they could have been displayed and lighted a whole lot better, but we enjoyed looking at the collection anyway. The other gallery in the building houses decorative arts from the 1900's. The pieces looked like they just came off a showroom floor they were so perfect.
The museum is very modern, but fairly small. We didn't see anyone else in the galleries the whole time we were there. About six people were in the tea room on the ground floor. Nobody was in the shop. All in all, there were more people working there than visiting and it looks like that may be the norm. We were glad we came.
Because the museum is so dead all the time there are no taxis waiting, so we decided to walk back to the hotel. It took about thirty minutes, but it was over flat ground so wasn't a big deal. It wasn't particularly pretty along busy city streets, but it wasn't unpleasant either. Plus, we got to see some local shops and other things one would miss just hopping from attraction to attraction.
Finally back in the vicinity of the hotel, we bought some weird fruit juice drinks from a vending machine. These machines are literally everywhere, so there is no danger of going thirsty. We have no idea what some of the stuff is, but the machines dispense both hot and chilled beverages. We even saw a machine selling floral arrangements.
When we arrived at the ryokan there were two manager-types out front, four women in kimono, our keeper, and then two more men to push the button in the elevator. If we had received a welcome like that yesterday when we arrived we might have had a better first impression of the place.
A major drag of staying in this type of place is that you are constantly bothered by the staff. We got to our room hot and tired as you would expect. Two minutes later the keeper and the room attendant were ringing the doorbell to bring us sweets and green tea. Then they sat down and wanted to chat. We wanted to be left alone. But, of course, we were pleasant to them and we do appreciate the effort to be hospitable, but it does get tedious after a while. We are happy that we don't have the meals in the room at this place because we have a bit more control over comings and goings.
The keeper asked us something about what we wanted for breakfast tomorrow...something involving either a boiled egg or a steamed egg. When she could find the right words to explain the difference she said it in Japanese that Dave happened to understand. That finally broke the ice with the maid, so maybe we can bypass the interpreter from now on. We confirmed that we have to be downstairs at 6:20PM to be driven to a "sister restaurant" for dinner, that we want the Japanese breakfast tomorrow with some sort of eggs we have no idea what they are, and that we can go as we are to the restaurant (dressed as slobs basically).
Fast forward two hours and we are ready to go to dinner. Down in the lobby were about six people waiting to grab at us, take our shoes and be sure we made it the twenty feet to the car parked right in front of the door. We were driven about five minutes away. Even we could have walked, but that option wasn't offered to us.
There was a woman standing outside the entrance bowing to us as the car drove up. Inside there were a couple more manager types welcoming us. The restaurant was called "The Alice" and it looks like someplace that tried to be hip, but failed, so now they are doing weddings and occasions.
Here is where it gets weird. We were shown to our table which was the only table set for dinner. There was no one else in the place except us and the waitress. The upholstery on the chairs and the banquet was absolutely filthy. We didn't even want to sit on it, but since these were our slob clothes anyway we did. This place looked like it hadn't been touched up since it opened years ago. The decor was contemporary and would have been really nice if it wasn't so run down. Obviously it is owned by the same people who own the ryokan since they are in the same general condition.
The sole employee served us food that came from a dumbwaiter in the back. Everything we had was delicious, including a huge snail shell filled with, um, some sort of giant diced snail, we assume. The fish course was attractively arranged surrounded by vegetables. The big deal for this meal was the Hida Beef that ended the meal. This region is famous for it and it is supposed to be better than Kobe beef. It was fantastic. There was also a cabbage soup and a sorbet course before the beef. Everything was exceptional, but we just couldn't figure out why they would send us there. Did they maybe think we would spread the word or what?
When an American couple walked in and asked for a table the waitress told them the place closed at 8:00PM (it was only 7:15PM) and indicated there were no tables available. That took balls considering that we were the only people there the entire time up until them. This was a Friday night, don't forget. What the heck??? When a monk came in and sat down, he was readily served an entire meal from the menu. Very, very weird.
After dessert we were asked what time we were being picked up, but we didn't even know how we got there let alone what we were supposed to do afterwards. The waitress must have called the hotel because the car came right away and took us back. On the way to the car, about ten feet tops, Bill tripped slightly on the step outside and the driver almost had a stroke. He asked several times if he was sure he was OK, which he was.
We were back at the hotel within a few minutes. This town rolls up the sidewalks after dark. Most shops and restaurants were already closed at 8:00PM. We have a coupon for a discount in the hotel's shop, so we went to see what they have. Not much, didn't buy anything. So, back to the room we went where we stayed for the rest of the evening.
Saturday, April 11 - Takayama, Japan - Honjin Hiranoya Kachoan Ryokan
It's still warm and sunny here in Takayama. We were up early to keep the schedule for our breakfast at 8:30AM.
We had to find our own way the thirty feet from the elevator to the restaurant this morning. We think we might have strained something figuring it out by ourselves, but we'll get over it. The moment we stepped through the curtains we were greeted and taken to a different private room than we had previously, but otherwise essentially the same.
The cold dishes are always waiting on the table when we arrive, then the waitress piles on enough other stuff to fill the entire table with bowls of food. We had to cook our own Hoba Miso this morning, but the fish was already cooked for us. The "onsen egg" was a cold soft boiled egg still sitting in water. We would have attempted to eat it except there was no way to pick it up with the chopsticks and no way was an entire cold, soft egg going in our mouth at once. Pass. Everything else was good, but nothing stood out as special this morning. There is always plenty of food even if it isn't all our favorites.
After breakfast we collected our stuff and went out walking in the opposite direction from yesterday. The hotel is less than a block from the river where the larger of the two morning markets is held, but we had to walk about six block parallel to the river to reach it. On the way out our keeper said to be careful because it will be very busy today and quite crowded. We find that a little hard to believe because it was completely dead yesterday.
We stopped for some photos at the bridge crossing near the market that sports some weird bronze statues, then wandered past the stalls. This market wasn't any more exciting than the one at the jinya except there were more stalls selling identical products. Every fourth of fifth stall might be offering something different such as intricately made candies, plants or flowers and those were the only ones with a "crowd". We're talking three or four people, not throngs. We wouldn't consider the area busy at all, but there were more people walking around than we saw all day yesterday.
The permanent shops fronting the river walk were more interesting than the stalls backing to it. A shopkeeper was offering free samples of his version of peanut brittle. Dave tried it then bought a small package which totally thrilled the man. We like the sweets and desserts in Japan because they aren't as sweet and similar things would be at home. The same is true of sodas from the vending machines. They taste more like, say, orange, than of sugar.
We turned right toward the hills following directional signs in English to the Yatai Kankai, the festival float exhibition hall. Takayama is famous for its festival when fourteen of these huge, intricate floats are carried through the streets. The festival is in a few days, but we won't be here (planned it that way on purpose, by the way). We had to walk past several blocks of old houses and shops similar to those we saw yesterday, but not quite as old.
The float museum is adjacent to a huge shrine, so you can't miss it. At the hall we were offered the chance to have our photo taken to purchase at the end if we like it. These are the most polite, soft sell salespeople on the planet. They literally apologize for bothering to even ask you if you want a photo. We rarely get photos together except on a cruise, so we took her up on it and did purchase it at the end of the tour. It came in a souvenir folder that was quite nice.
At the door into the hall we were offered an English-language audio guide, but we passed on it. Still it was a nice gesture to have it available at no additional charge. The exhibit shows four of the enormous floats as they would look during the festival. These things weight up to 2.5 tons are require 80 people to carry. Well, the big gold one used to, but they have replaced it with a smaller one because they can't find that many people to carry it these days. Each float is owned by a Takayama neighborhood and you can see the tall float barns as you walk around the city streets. The ones on display are rotated every few months to give all of them a chance to be displayed.
These things are HUGE, maybe forty feet tall or more. They feature intricate gold-leaf carvings and some have marionettes that do amazing acrobatics. They are hundreds of years old, but they are so well preserved they look like they were made yesterday.
Included with the ticket to the exhibition hall is admission to the nearby museum housing a complete reproduction of the Nikko shrines. The models are works of art in themselves and they cover a huge room with computerized lighting that is supposed to simulate sunrise and sunset. We waited for the big thrill of the lighting change and almost missed it because it was so exciting. What a yawn. Still the models were beautiful so it was worth the stop for those even if the lighting was not quite what it should be.
The plan next was to follow a walking path through the hills. There are two paths, one that is mostly scenic and another a distance away along a string of old shrines. We were looking for the first one because, well, we're sick of looking at temples and shrines. To be completely honest, we were tired of doing that days ago, so we're way over them now.
We looked at the map and tried to find the path, walking aimlessly through a residential area, to no avail. Eventually we gave up and went back to the temple where we started and tried to find it again. Still couldn't find it, so we kissed that activity off as a bad deal and went to find the pathway through the shrines. We figured it might keep us busy long enough and that the path might be scenic by itself and we could pretend the shrines weren't even there.
Although we did have to walk quite a distance along a small river, we found signs pointing the way to the walking path with no problem. Unfortunately, the pathway once found was not scenic at all, in fact it was mostly back alleys behind some houses. The shrines and temples are literally shoulder to shoulder, but they are not very attractive and the setting doesn't do them justice. There are modern houses butted right up against them.
We did walk past maybe six or seven of them, ending up at one behind a cemetery in the cedar groves that was somewhat scenic. At least it was shady and there was a nice breeze blowing through. By the way, we were literally the only people on this path. We only saw other people when we sat down to rest in the cedar forest for a few minutes. Three old Japanese couples were playing some sort of game on a flat area and the women came by to use the restroom near us. Every one of them said, "konnichiwa," when they walked by. A couple of tourists staggered up the road, but those eight people were all we saw in this area.
It was around 1:30PM by now and we declared ourselves done for the day. Bill is getting over the cold he has had for the past week and Dave is just starting it, so neither of us were particularly energetic. We decided to walk down to the hotel and be done for today. We have seen everything planned for this stop and more. Takayama was somewhat of a disappointment. Nothing here was a "must see", but we did enjoy it. Two days would have been enough though and we would have been happier in a regular hotel.
We stopped to get some drinks from a vending machine, belted those down (it isn't polite to eat/drink while walking in Japan) and kept walking toward the hotel. Takayama is a small town so as long as you are headed downhill it is easy to get everywhere on foot. When we got closer to the hotel we stopped into a convenience store to buy some items for lunch to take back with us. We bought some sandwiches, bananas, ice cream, and some huge donuts and cookies for under $20.
Back at the hotel we sort of surprised them and made the guy at the door scramble to find our shoes. Then there was only one set of the "big slippers" for us, which caused another dilemma. We don't care about any of this, but the managers sure do. We got our key from the front desk and by then our regular keeper was there to tell us she would be up at 2:00PM with the room attendant "for a visit". OK, whatever, suit yourself honey.
That gave us twenty minutes to go to the bathroom and freshen up before we had to "visit". What this means is that the room attendant will bring tea and sweets while the keeper asks what time we want dinner, what version of dinner we want, and things like that. Strangely enough, a man who spoke perfect English came up with the waitress we had at dinner the first night. Where has he been the whole time? His English was very good, not perfect, but good. Our regular attendant and keeper were in the lobby twenty minutes ago, so we have no idea why they didn't come up. That's one of the big problems with this place. There is no continuity with the staff so you can't bond with anyone like we did at the "real" ryokan in Nara. It all seems like a put-on. The downfall of this place is that it is trying to be something it isn't. Pick one. Are you a hotel or a ryokan? You can't be both successfully.
Anyway, the new keeper determined we want dinner at 6:30PM, the Japanese version, and breakfast at 8:00AM, the Japanese version. That prompted him to say, "You really like Japanese food." Well, duh, but most ryokan don't offer you a choice, so we didn't expect an option for dinner. Again, are you a ryokan or a hotel?
We were also informed that check out time is 10:00AM, so we will have to bring our luggage down to the lobby by then and kill an hour before going to the station. The hotel will take us there in their private car, which is nice. They would have picked us up also, but we took a taxi because it was less complicated.
The attendant brought us the traditional thick foamy green tea and a sweet, then regular green tea and another sweet. The sweets here have been packed like something from a store rather than the homemade ones we had at the first place, but they are very good. The one we had upon arrival was an exclusive of the hotel and it was fresh, but that is where it ended for the handmade stuff. She also offered us "today's socks and bath set". We have no idea what the point of this is. Apparently we get whatever color socks we want and a washcloth for each day, but we have no idea why. The same items are provided in a cloth bag and in both of our bathrooms. We're going to assume these are gifts and take them with us. They are packaged as though that is the point. The cloth printed napkin at the first dinner we were told was a "present". The whole experience here is very weird.
Eventually we were left alone, so we pulled out our store-bought lunch. Everything from the store was fantastic. The sandwiches and donuts were so fresh they could have been made right in front of us. The bananas were chilled, perfect after a long walk. We saved the giant cookies for later. We would come back to Japan just for the fantastic western food, let alone the Japanese stuff.
Both of us promptly fell asleep after we ate. That is saying something because the futons are put away during the day. The only furniture we have is a tiny sofa and a rocking chair. Bill conked out on the tatami while Dave hit the sofa by making himself half his normal size. Sounds fun doesn't it?
Actually, we are enjoying the experience and the weirdness will give us something to talk about, that's for sure. We had read somewhere before we came to Japan that it was like being dropped into a "Bizarro World". That's an apt way of describing it. It's logical when east and west don't collide, but when a hotel tries to be both western and Japanese like this one does, something gets lost in translation.
We have neglected to mention a strange feature in Takayama that happens at 10:00AM (or thereabouts) and at 6:00PM. In the morning, some electronic chimes play then a woman's voice makes a very loud announcement that sounds like it might be a prayer or wish for a happy day or something like that. At 6:00PM the same chimes play a short melody that is the same every night. It is so loud it is startling, but it is charming in its own way. It also makes sure we wake up in time to get ready to go down to dinner!
Our room attendant was standing outside of the elevator when it opened on the restaurant floor to bow and usher into our private dining room. We were served by the same young woman who brought tea this afternoon. If she was our attendant all the time we might be having more fun.
Dinner was good again. We preferred the first night's menu, but that's luck of the draw. Everything was nicely presented and was top quality. The food throughout our stay here has been exceptional. Click for "Tonight Menu". You can read the descriptions for yourself, but here are the pictures: Appetizer, (We did not receive the "Wild Plants" Course), Soup (Yes, that is a fish fin sticking up...Bill got the eye staring at him), Raw Fish, Grilled Fish, Grilled Pan, Cold Noodles, Rice Course, Dessert (no photo, we assume you know what fruit looks like).
Although the ryokan experiences have been interesting and we did know what we were signing up for, we're getting tired of the regimentation of it. We enjoyed it, but we wouldn't necessarily want to do it again. Oh yeah, we are doing it again. Oh well.
We returned to the room after dinner and that was pretty much it for today. While we were at dinner the table was moved out of the way and replaced with futons. This happens in reverse while we are at breakfast. The room is cleaned while we are out for the afternoon.
We have to get up a bit earlier tomorrow because of the 10:00AM check out time, but we're usually awake before the alarm goes off anyway.
Click to view the Takayama Photo Gallery.
Sunday, April 12 - Depart Takayama, Japan - Scenic Train to Nagoya, Japan - Nagoya Marriott Associa Hotel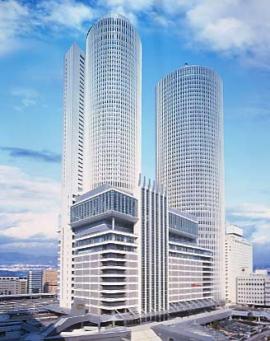 Nagoya is the capital of Aichi Prefecture. A leading industrial city, Nagoya is especially noted for its chinaware, timepieces and machinery. Surrounded by beautiful valleys and attractive historical sites, it is home to Nagoya Castle, built in 1612 and reconstructed in 1959, and Atsuta Shrine, one of Japan's most sacred Shinto shrines. Visit the original Noritake factory museum and the nearby Port of Nagoya Aquarium.

Often regarded as one of the best hotels in Japan, the Nagoya Marriott Associa Hotel is ideally located in the heart of the city center, easily accessible from the all-new Central Japan International Airport. Served by a wide array of transportation network, it is right above 11 floors of JR Takashimaya Dept Store and 2 floors of gourmet outlets. Our own 10 outstanding restaurants and 17 function rooms are a stand-alone state-of-the-art convention center (total of 4,200sq m)! We have the largest, luxuriously-appointed guest rooms in Nagoya, featuring complimentary high-speed internet-access and panoramic views in all its 774 regular rooms, Concierge rooms and suites. It is no wonder that this is the most popular and convenient hotel for both business and leisure visitors!
What is with this warm weather? So much for heavy jackets in Takayama. The weather has been perfect all three days. It is pleasantly cool at night which is a good thing because our ryokan hasn't turned on the air conditioning yet.
Breakfast was at 8:00AM this morning since we have to check out by 10:00AM. Again there was no one outside the elevator to show us where the restaurant was just in case we forgot in the last twelve hours. We were seated in yet another private room and the service began. This time we waited until the entire breakfast was placed before us for the photo. If you manage to eat everything they give you, you'll be stuffed by the end of the meal. The cook-it-yourself Hoba Miso has been served at every meal.
Dave is getting sick, a cold most likely. Bill is just starting to recover from his. It seems like 90% of Japan has a cold judging by the sneezing and hacking going on, so this is no big surprise. We're surprised we escaped it this long. Luckily we have nothing to do except sit on a train for a bit over two hours to reach our next destination, Nagoya. This stop was planned specifically because there isn't anything important to do there. In fact, the two tourist attractions of any interest at all are closed on Monday. That is a great excuse to do nothing except catch up on sleep.
This ryokan is very regimented. No lolling around in the room past check-out time here. We had to go out and wander around to kill an hour before the complimentary ride to the train station in the hotel's Mercedes. The street are slightly more crowded today, but nothing we would consider off putting. All we did was walk through the old town again, browse a furniture store, and sit on a bench and make fun of tourists for an hour.
Back at the ryokan we waited a few minutes for the car to return from dropping someone else off at the station. They shoved our luggage in the trunk and off we went. The keeper we had the whole time and a manager-type man stood on the sidewalk bowing until the car was out of sight. They must cringe when the light doesn't change quickly.
We arrived at the tiny station about twenty minutes before our train departed, so we had enough time for a bathroom stop. Then we boarded the train and sat there for two hours until arriving back in Nagoya where we started this leg. This train wasn't as new as the one we had to get here, but there was plenty of legroom and nothing to complain about. The trains like this have a beverage cart similar to what you would find on an airplane, but we didn't buy anything.
We reached Nagoya station precisely on time at 2:01PM. The Marriott starts on the fifteenth floor of one of the huge towers connected to the JR station, so it couldn't be any more convenient. We expected it to be hard to find the elevator to the hotel lobby based on guidebooks we read beforehand. We have no clue how anyone could have difficulty finding the hotel elevators. There are red Marriott signs on every single overhead sign from the train platform to the elevator lobby. In other words, we walked directly to it and were at the fifteenth floor lobby within minutes of disembarking from the train.
When we rounded the corner from the elevators and started toward the front desk that was perhaps fifty feet away, three hotel employees rushed over and insisted on carrying our luggage to the front desk. Check-in was speedy, no problem at all, and they didn't even ask for our credit card. We had two 5,000yen Marriott checks to apply to the bill, which was no problem. Or we think it wasn't a problem since we didn't get a receipt.
We asked about our luggage delivery and the bellwoman ran off to check on it. She came right back and said it was already placed in our room. That service is fantastic! It costs about $20 to send two huge bags from hotel to hotel anywhere in Japan. If we did that at home it would cost hundreds of dollars and we'd probably never see it again. The concierge at the Granvia where we sent the luggage from even called the Marriott to let them know our luggage was coming. And remember, no tipping here!
One of the reasons we chose this hotel was because of the free internet. Imagine our annoyance when there was a sign on the desk saying, "NEW, high speed internet for only 45yen a minute!" That's about 50-cents a minute by the way. Dave called the front desk and informed them that the confirmation we had in hand said internet service was complimentary. She immediately said, "No charge for you because you booked before we started charging for it." Now we'll see if she really prevents us from being charged or we have to argue to have it removed. This hotel is very expensive, so charging for internet service is very petty in our opinion.
Otherwise, the hotel is beautiful and the service very gracious and attentive. Everyone spoke English well and was friendly and pleasant. They're actually more personable than the people at the ryokan we just left. The room was quite spacious especially by Japanese standards. We have a deluxe twin on the 41st floor. Twin beds are more common in Japanese hotels than kings, but they are wider than our twin beds. The decor is opulent and the bathroom has every amenity one can imagine. We have a view over the city beyond the shinkansen tracks far below. It should be spectacular at night. Nagoya is a large, modern industrial city. Toyota had its original factory here that is now a tourist attraction nearby the hotel. Nagoya castle is also nearby, but it is a reproduction. Here is a scan of a postcard of the hotel tower and the attractive lobby.
To view a video of the Nagoya Marriott, CLICK HERE.
Being both tired and somewhat sickly, we planned to do nothing except get our laundry ready to send out and rest. We called room service and had a very good, but expensive, meal. That's about it for today!
Monday, April 13 - Nagoya, Japan - Nagoya Marriott Associa Hotel
It's a beautiful day in Nagoya. Warm and sunny. We can see for miles from our 41st floor perch.
We started our day by calling for a laundry pickup, then went down to the 15th floor Pergola Restaurant for breakfast. Looking around the lobby on the way to the restaurant, this is a very beautiful hotel. The elevator lobbies are different on each public floor and even the doors are beautiful. There is a huge concourse where the ground floor elevators arrive for the offices below us. It is a soaring space with glass elevators. From the 15th floor to the 52nd floor is the Marriott Associa Hotel.
The Pergola restaurant was pleasant and very large. We haven't seen many other guests so it doesn't appear that the hotel is very busy. We opted for the buffet this morning. It was fine and the pastries were outstanding as we have found all over Japan. The service here is top-notch, but that is the norm everywhere we have been. You can't walk twenty feet without someone asking if you need help finding something. We thought the price of the buffet, about $25 each, was reasonable for a hotel like this.
After breakfast we wandered around the lobby to take a few more pictures, went out to the concourse for some photos of the view, then down to the street level to wander around briefly. This is a sick day, so all we're doing is resting. Dave had brought some prescription flu medication with him and it seemed to work because he's functional today. Yesterday and last night was fevers and chills, but nothing like that today. He'll live.
We purposely planned this stop as a break from the sometimes frustrating travel issues in a foreign country. This hotel is beautiful, but there is nothing Japanese about it so it could be anywhere. That's exactly what we had in mind.
We happened upon a garden show along the plaza above the entrance to the JR station below the hotel. It was a pleasant diversion as we wandered around outside. Nagoya is very nice for a big city. There isn't much to do here for tourists, but it is a good stopover place for a few days break from traveling.
The JR station concourse was buzzing with activity this morning. This part of the station is relatively new, so the signs are easy to follow. The shinkansen tracks are the farthest away, but signs point the way. We will be taking a shinkansen tomorrow to our next destination.
We were trying to kill time while our room was cleaned, but they were still working on it when we returned. That gave us another opportunity to explore the hotel, so we went up to the 52nd floor lounge that all the guide books tout as being a must. They had just opened the doors for a lunch buffet, but we were the only guests there. We sort of freaked out the hostess by walking in just to look around, but such is life. The smell of cigarette smoke lingering in the fabrics was enough to signal us that no way would we be going up there when it is open.
Our room was cleaned after that brief detour, so we went back and camped out for the rest of the afternoon. Other than napping and receiving our fresh laundry from the most impeccably uniformed hotel employee we have ever seen, nothing happened.
We did manage to get dressed and go downstairs to the Pergola Restaurant for dinner. They offer a choice between a buffet and ordering from the menu. We chose the menu option. Everything was very good, so the trend of excellent western food continues. Bill horrified the waitress by ordering two enormous ice cream sundaes. We've seen how much Japanese people can eat, so she shouldn't have been all that surprised.
After dinner we just went back to the room to pack up for our trip to Hakone-Yumoto tomorrow. The shinkansen ride is a little over an hour, then we have to change to the local train to get to our final destination.
Click to view the Nagoya Photo Gallery.
Tuesday, April 14 - Depart Nagoya, Japan -train & Shinkansen to Hakone-Yumoto, Japan - Hotel Kajikaso
Hakone is one of the most popular sightseeing areas in Japan. With Mt. Fuji as its backdrop and featuring Ashino-ko Lake, intriguing museums and traditional hotels and ryokan, Hakone's varied geographical features and famous hot springs (onsen) are must experiences for all travelers.

Since the Meiji Period, Hakone has been a hot spring resort area for domestic and overseas tourists. During the Edo Period, Hakone prospered as a bridge town connecting the east and west of Japan. It was one of the fifty-three Tokaido stations operating from Edo Nihombachi in Tokyo to Sanjou-oohashi in Kyoto. Prominent visitors to the area have included the likes of Charlie Chaplin and Helen Keller. With one of the most famous hot spring resort areas and amazing views of Mt. Fuji, Hakone is a must-experience destination for tourists from around the world.

Hotel Kajikaso is proud to offer a wide range of Onsen Hot Springs facilities including, an open-air bathing area, a rock-lined bathing area, and a large bathing spa with wooden bathtubs made of Hinoki (Japanese cypress). We also provide guest rooms with open-air bathing facilities, so you can enjoy the luxurious and relaxing Onsen experience in private. Exceptional Japanese cuisine is also another outstanding feature of Hotel Kajikaso, where you can enjoy traditional Japanese cuisine with fresh seafood from Sagami Bay.
It was pouring rain this morning and that is the expected weather condition for tonight, as well. No matter, we are traveling to our next destination from Nagoya and all we have to do is get there and sit down.
We went to the breakfast buffet in the lobby restaurant again this morning. It was good, as usual. The hotel doesn't seem to be very busy because there were not many guests in the restaurant and nobody was at the front desk checking out. We brought our large pieces of luggage down with us on the way to breakfast to forward to Tokyo Disneyland Hotel. That was no problem and was taken care of quickly without any hassle at all.
Our shinkansen reservation has us leaving Nagoya at 11:22AM, so we went down to check out of the hotel at 10:30AM. There were no internet charges posted to our account, as promised, so we were quite happy not to have to argue about it. They had also properly reduced our room rate to ¥23,000 from the original price of ¥28,000 by applying the two Marriott Rewards certificate we had turned in when we arrived. We didn't realize it until later, but the price when we booked the room was ¥36,000, so not only did they adjust the price downward without being asked, but it made this hotel a real bargain by Japanese prices.
All we had to do to get to the shinkansen station was to take the elevator down to the station concourse and find the right place to stand. The signs in Nagoya station must be newer than those in Kyoto because they make a lot more sense to a non-Japanese person. We quickly found the sign marking our train and where to stand for our car.
As mentioned before, the shinkansen system is very modern, but what's up with turning up the heat? It had to be at least 80°, if not 85°. We're sure it was heated to that temperature because it was raining and pleasantly cool outside. It was so hot it was all we could do to keep from stripping down to our underwear. Really, it was that hot.
After riding in the hermetically sealed oven for just over an hour, we arrived at Odawara station where we have to change to the private Odakyu train system for the short trip to Hakone-Yumoto. There was a train waiting at the platform, so we hopped on, but had to stand for the fifteen minute ride. At least there were four stops on the way where the doors opened to let in the fresh air once in a while.
We knew we had arrived at the proper station because it was covered with scaffolding and partially under construction. The recently completed section of the remodel project is very nice. There were English translation on all of the important signs so it was no problem to find the taxi stand. We would have walked to the hotel which was visible up the street, but it was pouring rain when we arrived.
To view a video of Hotel Kajikaso, CLICK HERE. To view some Hakone area promotional videos, click the title: Welcome to Hakone, The Nature of Hakone, Getting Around Hakone. The same videos in RealPlayer format: Welcome to Hakone, The Nature of Hakone, Getting Around Hakone.
The taxi ride to Hotel Kajikaso took maybe three minutes, if that. But still, it was raining so we can be forgiven for our laziness just this once. When we booked this hotel we knew it was a hotel and not a traditional ryokan. Unlike that place we stayed in Takayama that claims it is a ryokan, but is really a hotel.
The lobby is large and a bit worn, but not bad. The girls at reception freaked out because neither of them spoke enough English to help us and Dave wasn't in the mood to let them know he could understand them. One of them ran off to get a manager who did speak English. He told us that check in time is 3:00PM, but today they could get our room ready by 2:00PM. That was fine with us, only about forty-five minutes to hang around in the lobby waiting. When we sat down a waitress brought us tea. Everyone who arrived after we did got the same treatment.
At exactly 2:00PM a man came and told us our room was ready. He spoke enough English to tell us what we needed to know, plus he had an English language printout telling us they are sorry nobody speaks English and they hope we will understand that they will do their best in any case. The rest of the information was about how to behave in a Japanese hotel, which we already know. He gave us choices for dinner and breakfast times, so we chose the same we have had all along, 6:30PM for dinner and 8:30AM for breakfast. Meals are served in the room here and he told us to be ready for them thirty minutes before the actual time so they can set the table. That sounds good to us.
We booked this place because it is a hybrid of Japanese and Western rooms. We have one of the better rooms in the hotel and unlike the lobby it looks brand new. You walk into a small foyer where you lose your shoes. Step up to the wood floor and you can go to either the toilet booth, straight ahead to the sinks and bathing area, then keep on going to the outside onsen spa on the balcony overlooking the river. The living areas are huge. We have a tatami room where the usual low dining table is located, a sitting area with a wood floor, a sofa and two chairs, plus a stunning view above the cherry blossoms to the misty hills beyond. Out the other window is the river.
Attached to this is a bedroom with two semi-double beds, which was precisely the reason we booked this place. We knew we would have had enough of sleeping on the floor by now and we were right. We're still glad to get the Japanese meals, but the futon thing we can live without. There is also a mini-bar and two large flat screen televisions. We haven't figured out how to work the air conditioning yet, but the windows open and it is cool outside, so it isn't a big deal.
As promised, our room attendant arrived with green tea and sweets to welcome us. She is very nice and friendly, but doesn't speak a word of English. That doesn't stop her from talking to us though, but we have no clue what she is talking about. Well, OK, at one point Dave did figure out that she was telling us the schedule for the public baths and that we can wear the large sized yukata she brought to go to them. We booked this room with the private onsen to avoid the public baths, so that wasn't information essential to us.
Hakone-Yumoto is the entrance to the Hakone area and is a cute little mountain town. The direct train from Tokyo terminates at the station here, then you have to transfer to the small train we took from Odawara to continue up the mountain to the various sites. Since it is raining today, we are waiting until tomorrow to go out. That will give Dave another day to recover from the flu also. Those pills sure did the trick. Most symptoms went away by this morning, but he does start to fade earlier than he usually does.
This hotel has the most elaborate electronic toilet yet. When you reach for the seat it springs open by itself. Want the lid and the seat up? A push of a button on the wall and voila! You even get two options for flushing, big and small, at the touch of another set of buttons. We still can't get used to the toilet spraying back though and the heated seat is just gross. Sometimes we have figured out how to turn that feature off, but this hotel isn't geared to foreigners at all, so no luck reading the labels this time.
Our room at Hotel Kajikaso is very beautiful besides being huge. They did a good job of blending traditional Japanese design with modern conveniences. Now to see if the food lives up to the room. Dinner and breakfast are included as in most ryokan. We know we will be served in the room, but we're not sure if the entire meal arrives at once or is served in courses. The printed information we received at check-in isn't clear about that part of the meal service.
We can't even begin to tell you what even half of the things were that we were served for dinner. Our attendant came in and set the table, then laid out a huge array of food. What we started with included a square divided dish with various appetizers in the sections. One was a huge snail in its shell that looked and tasted vile. There was also a little pot of something that looked like pickled clams with sesame seeds, but it was awful also. On the side was a bowl of what was probably fish roe of some sort, but all we know is that you could have put an entire fish in a blender and it would have been more palatable. We also started with a pottery cooker to cook the beef with vegetables. It was very good, but very fatty also. We don't think that relates to poor quality though, that's just how it is.
There was also a huge platter of sashimi that was surrounding the intact shell of a lobster. Everything was OK except the little pile of God only knows what. Do people really eat this stuff or are they just trying to gross us out? We didn't have anything this weird up until now.
Next she piled on a broth with dumplings and broiled lobster, both of which were good and nothing to freak out over. Then came the thing we have all been waiting for...the boiled fish head! Yes, we finally got it, teeth, eyes and all. Check out the close up photo...those are teeth on the right and an eye in the center. Yummy! Actually, the meat part of it was pretty tasty once you got past what it was. We also got rice and miso soup at the end.
This type of meal works better when it isn't all laid out in front of you at once. You don't realize how much food it is when they bring each course one by one. On the other hand, the meal doesn't take two hours either, so it's a toss up.
We were told to call the front desk when we were finished and the attendant would come back and take away the dirty dishes. We did and she did, also bringing us a slice of melon and a pitcher of cold water for the night. She also showed us where there is tea if we need it during the night. Dave attempted to ask her how the air conditioning worked and that resulted in her closing all of the windows and turning on the heat. At least we know that air conditioning means heating and does not cool until they switch over the entire hotel. That has been the case almost everywhere so far and it is a real drag. We like to be chilled at night especially when they pile the beds with down-filled duvets. Oh well, now we know to stop asking. Unfortunately, there is too much traffic noise here to leave the bedroom window open all night, but maybe the sound of the river will drown it out.
The next debacle was calling the front desk to see if they could turn down the heat on the toilet seat. It isn't so bad in and of itself, but it heats up the entire room because it is on all the time. Someone came right up and looked at all the buttons, but he couldn't figure it out. He knew what we wanted, we think. Then a maintenance man came up who tried everything he could think of with the same result. Nothing changed. Dave thinks he said he would come back tomorrow and work on it. What is it with the heated everything around here? We're always about to melt from the heat. It's not like it is 20 below outside at the moment. It is raining, but it isn't cold.
Speaking of rain, it poured non-stop all day and late into the night. The weather forecast called for over an inch of rain during the day and another inch over night. Sure looks like that will hold true. It didn't make any difference to us today, but if it continues we will have to change our touring plan for the area tomorrow. Everything to see here is outdoors.
Wednesday, April 15 - Hakone-Yumoto, Japan - Hotel Kajikaso
No more rain today, but it is pleasantly cool and partly cloudy. The traffic noise didn't bother us at all last night, so we were able to leave the windows open to keep us cool enough. Still, the comforters that every hotel in Japan provides are so thick and insulating that we are always too hot at some point during the night. It is a science to figure out which part of your body to stick out and what to cover up to achieve the right balance.
Our room attendant arrived at 8:15AM to set up our breakfast. As at the other ryokan we stayed at, the assortment of food and the quantity were amazing. Breakfast wasn't as weird as last night's dinner we are happy to report.
After breakfast the English speaking man from the front desk came up to ask what time we want dinner tonight and to explain some coupons the attendant gave us. She had already told us they were for either free coffee or tea in the lounge downstairs. This seems to be the substitute for her serving us tea upon our return. We don't have too much trouble understanding what the point is that she is trying to make, but it is nice of the hotel to make an effort to accommodate us. Unlike at Kachoan, the interpreting here isn't annoying at all and he doesn't hang around after he is finished telling us whatever it is we need to know.
We dawdled around until 11:00AM, then started walking toward the train station where we intended to get a taxi to the post of Moto Hakone. Our 3-day passes allow us to ride certain busses, but the information we have said it takes forty minutes to reach the port on the bus.
We took a moment to go to the middle of the bridge that is adjacent to the front entrance to Hotel Kajikaso. Our room in this photo is the one on the corner with the open windows, the third floor from the top. Did that make any sense? Oh well. The river is fairly nice and the sound of the water rushing over the rocks is pleasant. There isn't a lot of traffic, but what there is has been mostly drowned out by the river sound.
The sidewalks of Hakone Yumoto are covered like they were in other heavy snow areas we have visited. The shops here are more high end than in other touristy places. As usual, most tourists are Japanese, not foreigners. The Hakone area has been a tourist destination almost since time began which is why there is such an established transportation network. All of the "circuit" transportation is owned by a private company and it all seems a bit Mafioso to us. Every effort is made to sell you the passes, which are a good price. What that does is force you to only ride on this one company's modes of transport. There are others in the area, but their signs were only in Japanese and were not geared toward foreigners at all.
The area outside the train station is torn up for remodeling the station, so it was difficult for us to figure out how to get across the busy highway to the area where taxis were waiting. We stumbled upon the bus stops where there were several English-speaking guides greeting each person and asking where you were headed. We told him and he pointed to where we should stand. When the bus arrived he came and got us to be sure we got on the right bus. Also, we did look at the signs with the schedules and all of them had easy to understand English translation on them. We're baffled why so many reviews and travel guides say getting around this area is difficult.
While we were waiting for the bus we wandered over to the river for some photos of the man-made falls from the bridge.
On the bus we wove through the winding roads through the mountains. There were many places to stop, but since no one pushed the button to alert the driver we only stopped about three times. So, the trip to Moto Hakone only took thirty minutes. We were glad we saw the mountains and villages this way, but we wouldn't do it again necessarily.
The small port towns of Moto Hakone and Hakone Machi are tourists enclaves on the shore of Lake Ashi, a beautiful crater lake that is one of the major draws of Hakone National Park. Moto Hakone is the more attractive of the two, but neither have much to offer except souvenirs and restaurants. Our goal was to complete the tourist circuit that is round trip from Hakone-Yumoto using various modes of transportation all included in our pass.
First we wanted to walk along the Old Tokaido Highway, an ancient roadway lined with mossy stones and lined with massive cedar trees. The trees were planted to protect travelers from the snow and sun as they passed through the Hakone Checkpoint up ahead. The tree-lined pathway is very scenic, but the mood is shattered by the modern highway literally just ten feet away running parallel to it.
Next up was a detour through the Detached Palace Garden. This public park was once the garden of a palace that was destroyed in an earthquake. It offers beautiful views of the shoreline and has many interesting features. Of note are the huge trees that are sculpted into bonsai shapes, manicured shrubs as far as the eye can see, and of course blooming cherry trees. We followed the mossy stone steps up to the main grounds, then wandered around to find the viewpoint gazebo. The park wasn't crowded at all, so it was very pleasant.
Even the locals couldn't find their way around which we found out when we followed a group of old ladies trying to locate a forest trail. Unlike most parks, this one was laid out in a very casual way with only vague trails to follow. It was hard to believe that all of these trees and shrubs were planted and not natural. Even more amazing was that they can find enough manpower to keep all these shrubs in shape!
On the other side of the garden is the Hakone Checkpoint and Museum. This is a recreation of the original checkpoint along the highway during the Edo period (we don't know what that is either, so look it up if you care). Let's just say that the museum and the checkpoint recreation are thirty minutes of our lives that we'll never get back. What a waste of time! Oh well, at least they had restrooms and vending machines.
Next on the circuit was a scenic boat ride across the lake to Togendai on the distant shore. The boats are extremely kitschy reproductions of pirate ships complete with staffers dressed as pirates for photos and such. The boats are nice and clean, so if you want something different this is it. The real point is to take the scenic cruise across the large lake to reach the ropeway, which is the next part of the circuit. We saw three of the pirate ships and there was a replica of a Mississippi paddlewheeler in the drydock.
The ropeway terminal is attached to the boat dock, so transferring is easy. There are restaurants and shops at each of these places of course. We wouldn't want to be here when it was really crowded, but that wasn't the case today.
The ropeway carries visitors to the station at Owakudani, which is volcanic area that belches poisonous sulfur gasses. The ropeway itself is very nice. We had no intention of stopping since the time was running out for today. But, we had to change ropeways at Owakudani station anyway, so we walked out on the terrace to look at it. What a disappointment that was! From all the hype we thought this was something fantastic, but most of it is just a big strip mine sort of thing where they are experimenting with whatever you do at volcanoes. Is it really a good idea to drill holes down into a steaming volcanic valley? Maybe there is more to it if you walk the trail to the vents themselves, but we weren't up to that today. Maybe tomorrow.
There are dramatic views down the mountain to Gora on the ropeway down the other side of the mountain. Before reaching Gora you have to change to a funicular that takes you steeply down the mountainside. All of this is included in the pass and it is supposed to be part of the fun of coming here, but we weren't having all that much fun having to stand the entire time (everyone gets a seat on the ropeway, after that is it every man for himself).
At the end of the funicular in Gora, is the terminus of the Hakone Tozan Train that takes us back to Hakone Yumoto and later to the shinkansen station in Odawara. There was a huge group of school girls in uniform waiting for the train, so again we had to stand for the entire ride while they hogged all of the seats and fell asleep all over one another. We can't blame them for falling asleep. The trip took what seemed like forever, stopped in all sorts of tiny places in the mountains. We were so glad we chose to stay in Hakone-Yumoto and not have to use this old train all the time. Call us jaded, but this rickety old train had no allure for us. OK, so maybe we're tired and a tad sickly, but we still doubt we'd like it much even energized and ready to go.
At least we landed back at the station where we started. It is about a three block walk to Hotel Kajikaso, which is pretty far when you are about to drop dead. However, we made it much to the amusement of the welcoming committee out front and the kimono clad woman at the entrance. There is a group of some sort arriving, so they were out for them, not us.
You have to leave your room key at the front desk in these kind of places, so we stopped to pick it up. There was a note to ask us what time we want breakfast tomorrow. Then the English speaking man came out and asked if we knew what sukiyaki was and would that be OK to serve us for dinner tomorrow. God yes! Bring on something we can recognize.
We stayed out way later than we should have considering Dave isn't quite up to snuff today. He managed to crash the moment we arrived at the room to try to revive in time for dinner service in about an hour. After a coughing fit that did seem to help his overall outlook on life once it subsided, the dinner was brought in.
Ugh, goo and slime AGAIN? Actually, most of it wasn't too bad and was recognizable, we're just touchy tonight. There was lobster to grill ourselves on a tabletop burner, the usual assortment of unrecognizable things, soup with dumplings and things like that. Then came the big treat...an entire abalone steak served in its shell. That is not something you want to eat when you're not running at 100%. There was also a nice teriyaki beef steak, so it wasn't a total loss. Basically what we've boiled all of this ryokan stuff down to is that it is great to do it for the experience once or twice, but that's about it. We're glad we did it, but we won't be lining up to do it again anytime soon. The room here is the nicest we have had so far, but we're really tired of playing the food game. The rest of it is tolerable and sometimes enjoyable.
As far as the Japanese food goes that we were served at ryokan (not counting this one that is VERY weird stuff), the only items Bill can't stomach are the Japanese pickles served with literally everything and the rice mixed with tea we were served for breakfast at the first place. Dave can't handle sashimi that has a snap to it and/or gets bigger as you chew it, and he's really tired of those slimy pots of God-only-knows-what that look like something he hacked up. We'd say that probably 50% of what we have been served in these places is pretty good once you get past how it looks or what it is, but the rest of it is so bizarre or so bland that it is hard to believe anyone would eat it deliberately.
That wraps up another day in a Japanese style hotel. We did muster the strength to wander down to the lobby to look at it more carefully. It needs a refurbishment soon, but it isn't as run down as the last place. It was probably pretty flashy when it was new. The public areas have nice water features and fountains throughout. The area outside the public baths looks nice with trickling water falls and plants. It all needs a sprucing up to match the rooms and upper floors though. The carpeting in the hallways looks new and our room is fantastic. The service is good, but not cloying like it was at the last place. It is quite apparent that they are not used to dealing with non-Japanese guests though. They all seem uncomfortable and unsure around us, all except our room attendant who continues to be delightful. Everyone is very nice to us, as has been the case since we arrived.
Here's another amusing sign we saw today. Make up your own jokes.
Thursday, April 16 - Hakone-Yumoto, Japan - Hotel Kajikaso
It's a beautiful sunny day here in the mountains, but Dave is down for the count with his flu/cold/whatever thing. Taking the mountain climbing train to the outdoor museum doesn't seem like the best idea this morning. Our itinerary from Michi Travel says, "Relax at your ryokan today." Sounds good!
Unlike the ryokan we stayed at previously, the primary draw to the ones here is the inn itself, onsen, etc., so they don't expect you to go out and sightsee. Every morning after breakfast we are asked if we are going out so they can either clean right away or wait until we leave. We told them we were staying in.
A swarm, OK two plus our regular attendant, of maids rushed in to clean up the room. One of them closed the sliding doors to the bedroom area so we wouldn't have to see something as unsightly as an unmade bed. When she opened them a few minutes later the whole room was done. It probably took them fifteen minutes, if that.
We are so lucky that this place is comfortable for westerners! It would be dreadful to be sick and have to sleep on the floor and have no where to lie down during the day. Both of us spent the day lounging around on the sofa and/or in bed trying to muster the strength to venture to Tokyo Disneyland tomorrow. At least we know that hotel will have air conditioning, recognizable food, and room service. Of course, we won't be as inclined to stay in our room there, so this is the time to rest. All we can hope for is that the heat isn't turned up in the oven of a shinkansen we are taking to get there.
Nothing happened except a lot of whining on Dave's part for the rest of the day. The setting is sure nice here and we'd say our room has about the best view there is. So, just sitting here enjoying the place was enough for us.
Dinner didn't arrive until 7:15PM amid many apologies and bows. We didn't care except all Dave wants to do is go to bed. Recall that we were promised sukiyaki tonight. Yes, we did get it, but first we had all of this stuff, including those whole dried/salted fish. Dave ate three bites of the sukiyaki and four spoonfuls of rice while Bill ate everything else by himself. Almost everything, even he wouldn't eat the whole fish.
When our room attendant returned later to clear the dishes, she brought us a HUGE lacquer bowl (we're talking punchbowls here), covering a rack of beautiful fresh fruit. Talk about being a mind reader. That was exactly what Dave needed tonight. She said she thought it would put some color back in his cheeks. How nice is that? She continues to speak Japanese to us as though we have a clue, which is kind of charming. Sometimes Dave can pick out a word so he gets the gist of what she is asking, but most of the time he just smiles and say, "Hai" (yes). Maybe that's how we got the boiled fish heads? Hmmmmm.....
We expect people to be nice to us at a Disney resort, but every single person we have dealt with in Japan has been so kind and sincere it really made the whole trip worthwhile. Old ladies talked to us in parks, shop keepers were pleasant, strangers on the street helped us if we looked confused, and service in all of the hotels was way over the top in attentiveness. For that alone we'd say come to Japan. Everything else you experience is a bonus.
Click to view the Hakone Photo Gallery.
The story continues on the Tokyo Disney Resort page, Click Below.